Lebendige Vergangenheit - Mark Reizen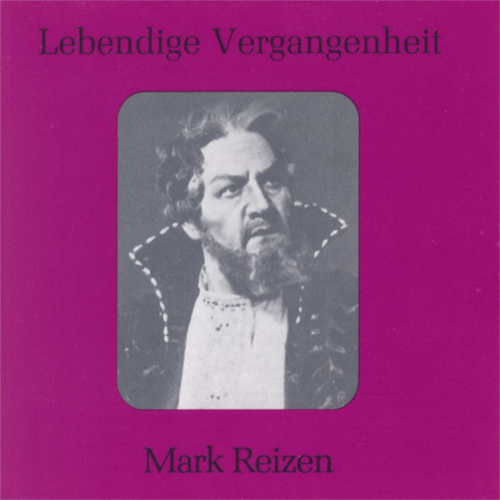 | | |
| --- | --- |
| Artist | Mark Reizen |
| Title | Lebendige Vergangenheit - Mark Reizen |
| | |
| Release Date | Monday, August 14, 2006 |
| Genre | Classical > Choro |
| | |
| Composers | Nicolai Rimsky - Korsakov, Alexander Sergeyevich Dargomijksy, Mikhail Ivanovich Glinka, Alexander Porfirjewitsch Borodin, Sergej Wassiljewitsch Rachmaninoff, Peter Ilyich Tchaikovsky, Arthur Rubinstein, Modest Mussorgsky |
| Songwriters | Mark Reizen / Orchestra of the Bolshoi Theatre, Orchestra of the Bolshoi Theatre / Mark Reizen |
| | |
| Copyright | © Preiser Records |
| Country | AUSTRIA |
Update Required
To play the media you will need to either update your browser to a recent version or update your
Flash plugin
.
Promotion Text
Lebendige Vergangenheit
Just as Enrico Caruso has become the yardstick for every subsequent Italian tenor, so Feodor Chaljapin is generally regarded as the incarnation of the "Russian bass". This vocal category is associated with a special operatic genre which is not really comparable to the premises relevant in "western" music dramas. Operas like Tchaikovsky's "Pique Dame" in which - in analogy to Italian and French opera - the tenor is the lead character, are the exception rather than the rule in Slavic opera. Generally the leading male voice is the bass-baritone, a tradition which goes back, ultimately, to the progenitor of all Russian national operas, namely the peasant leader Ivan Sussanin in Glinka's "A life for the Czar" (1836). However, the fact that the operas of Glinka, Mussorgsky, Borodin et al. - in short all those operas that we now associate with the term "Russian National Opera" - for a long time met with resistance in their own country, should not be ignored. Even in the declining years of the Czar's reign, there were influential people who thought that Russian Opera lacked noblesse and culture. In his autobiography, Chaljapin quotes a statement by the director of the Imperial Opera: "Every time Russian opera is performed, there is a disgusting smell of cabbage soup and gruel and already during the overture an unbearable stench of vodka spreads through the theatre." The fact that this cliché of uncouthness, primitivity and unrestrained boisterousness of Russian music in general and operatic art in particular has gradually been superseded is no doubt also due to the artistry of the great singers of this culturally so incredibly fertile country. The Ukrainian artist, Mark Reizen, was one of the most important basses after Chaljapin. Already during his early childhood, he heard the songs sung by the workers of the coal mine where his father was employed as an operation manager. These plaintive songs, this true-to­ life expression, was a formative experience for him. There was, however, no thought of any musical training during his childhood or indeed his adolescence. But the urge to become a singer was so overwhelming that at the age of sixteen he joined a group of strolling players, who acquainted him with the diversity of theatre life. Reizen's vocal prowess was soon evident and he found sponsors who enabled him to undergo regular tuition. At first, however, he had to do his military service and fought in the First World War. From 1917 to 1919 he studied at the conservatoire in Charkov. In 1921 he made his debut at the local opera house, singing Pimen in "Boris Godunov". Subsequently he sang Gremin in "Bugen Onegin", the eponymous hero in Rubinstein's "Demon", and Orlik in Tchaikovsky's "Mazeppa". Soon he was also singing Mephisto in Gounod's "Faust" and Basilio in the "Barber of Seville" - both traditionally favorite roles of Russian basses. From 1925 to 1930 he sang at the Leningrad Opera (subsequently known as the Kirow theatre) and added many big roles - primarily Russian ones - to his repertoire, including Boris .., Godunov, which he first sang in Leningrad in 1928. Among his other stage assumptions were Dosifei in "Khovanshchina", Ruslan in Glinka's "Ruslan and Ludmilla", Ssobakin in "The Czar's Bride" and Salieri in "Mozart and Salieri" (both by Rimsky-Korsakov), as well as some other roles in operas by Soviet composers, none of which have managed to establish themselves in the repertoire. In 1930 he was engaged at the Bolshoi theatre in Moscow and he remained a revered member of the ensemble for more than twenty-five years, receiving many awards and decorations. Guest performances took him to Monte Carlo (1930 where he sang Boris and Mefistofele in Boito's opera) to Berlin, Dresden, Budapest and Paris. Apart from his operatic activities he was also an acclaimed recitalist. Mark Reizen enjoyed an exceptionally long career. Indeed, in honor of his 90th birthday in 1985 he sang the role of Gremin in "Bugen Onegin" at the Bolshoi theatre - a feat that would appear to be unique in the annals of vocal history. His recording career was extraordinarily diverse. His huge yet elegantly sumptuous voice can be heard in many recordings of arias as well as complete opera sets.
Amazon, iTunes, Spotify & Co.