Lebendige Vergangenheit - Mario Sammarco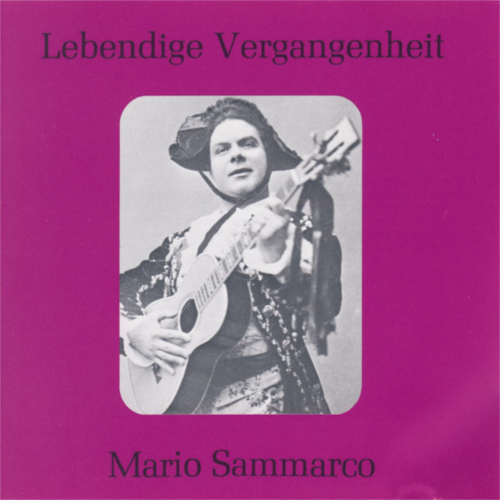 | | |
| --- | --- |
| Artist | Mario Sammarco |
| Title | Lebendige Vergangenheit - Mario Sammarco |
| | |
| Release Date | Monday, September 11, 2006 |
| Genre | Classical > Choro |
| | |
| Composers | Gaetano Donizetti, Francesco Cilea, Giuseppe Verdi, Alberto Franchetti, Amilcare Ponchielli, Giacomo Meyerbeer, Francesco Antonio Costa, Ruggiero Leoncavallo, Umberto Giordano, Ermanno Wolf - Ferrari, Wolfgang Amadeus Mozart, Ambroise Thomas |
| Songwriters | Mario Sammarco, Mario Sammarco / Marcella Sembrich |
| | |
| Copyright | © Preiser Records |
| Country | AUSTRIA |
Update Required
To play the media you will need to either update your browser to a recent version or update your
Flash plugin
.
Promotion Text
Lebendige Vergangenheit
Italien hat am Beginn unseres Jahrhunderts eine große, für heutige Begriffe geradezu unwahrscheinlich anmutende Fülle von Gesangstalenten hervorgebracht. Diese kaum überschaubare Anzahl durchwegs hervorragender Kräfte macht es aus heutiger Sicht kaum möglich, eine gerechte Würdigung und Wertung dieses Zeitalters vorzunehmen. Viele der einstigen Operngrößen sind unverdientermaßen gegenüber einigen anderen markanten Sängernamen ins Hinter­ treffen geraten, sie werden oft nur als Randerscheinungen zu den Wirkungszeiten einiger Immortalitäten angesehen. Doch ist gerade die Auseinandersetzung mit den etwas weniger berühmten Namen mitunter lohnend, denn man kann auf diesem Wege echte Überraschungen und Entdeckungen erleben. Eine solche Operngröße, deren Ruhm in unseren Tagen etwas verblasst erscheint, ist der italienische Baritonist Mario Sammarco. Bereits in jungen Jahren fiel das Gesangstalent des Sizilianers auf, und nach einer Ausbildung in Mailand (bei Antonio Cantelli) konnte Sammarco im Alter von einundzwanzig Jahren als Opernsänger debütieren. Dies war im Jahre 1894 im Mailänder Teatro Dal Verme in Puccinis Oper "Le Villi". Noch im gleichen Jahre trat er an der Mailänder Scala auf. Sammarco schloss sich einer Opern-Stagione an, die ihn durch eine Anzahl italienischer Städte führte. In der Folgezeit wirkte er hauptsächlich in Mailand, wo er am 28. März 1896 bei der Uraufführung von Giordanos Oper "Andrea Chenier" die Partie des Gerard sang (Scala). Am 10. November 1900 kreierte er die Rolle des Cascard anlässlich der Premiere von Leoncavallos "Zaza" (Teatro lirico). Am 11. März 1902 wirkte er neuerlich bei einer Uraufführung mit, und zwar in Franchettis "Germania", als Partner von Enrico Caruso und Amelia Pinto (Scala). Am 19. Oktober 1904 erschien er zum ersten Mal auf der Bühne der Covent Garden Opera London. Seine Antrittsrolle war der Scarpia in Puccinis "Tosca". Sammarco war an dieser Bühne fortan bis 1914 engagiert, und erschien dort auch noch als Gast bis zum Jahre 1919. Im Jahre 1912 wirkte er sowohl bei der Londoner als auch bei der amerikanischen Premiere (Chicago) von Wolf-Ferraris Oper "Der Schmuck der Madonna" mit. Ab 1907 war er in den Vereinigten Staaten zu hören, und zählte in der Zeit von 1907 bis 1910 zu den Spitzenkräften des von Hammerstein geleiteten Manhattan Opera House. Ab 1910 war auch die Metropolitan Opera seine Wirkungsstätte. Bedeutende Erfolge hatte der Künstler auch in Philadelphia und im Teatro Colon von Buenos Aires zu verzeichnen. Sammarco vermochte sich vor allem als Interpret der großen Baritonpartien in den Verdi-Opern Berühmtheit zu erwerben, er reüssierte aber auch in den Verismo­ Opern. Die Stimme Mario Sammarcos, auf einer Anzahl bemerkenswerter Tonaufnahmen erhalten, zeichnet sich durch reiches Metall, musikalische Prägnanz und erlesenen Klang aus. Charakteristisch für den Gesangsstil dieser Zeit ist das für unsere Ohren etwas ungewohnte "wellige Vibrato" und die - bei nahezu allen italienischen Baritonisten dieser Ära feststellbare - unergiebige Tiefe. Sammarco, der im letzten Abschnitt seines Lebens einen Posten im Direktorium der Mailänder Scala besaß, kann mit Recht als eine der hervorragendsten Erscheinungen in der Gesangs­ geschichte unseres Jahrhunderts betrachtet werden. Italy, at the turn of this century, produced, for our present day notions, an almost improbable profusion of talented singers. Due to this barely comprehensible number of superlative artists, it is almost impossible to consider that era with the correct appreciation and judgement. Many of these once-greats in opera have been pushed into the background in relation to other more prominent singers. They often just appear as marginal notes in the biographies of the immortal stars. But it is exactly this study of the lesser known names that is rewarding, ·because in this way one is often surprised by the discoveries one makes. One such opera "great", whose fame appears to have paled in our day, is the Italian baritone Mario Sammarco. The vocal talents of this Sicilian were noticeable even at an early age. After his education in Milan (with Antonio Cantelli), he made his operatic debut already at the age of 21 in Puccini's opera "Le Villi" in the year 1894 at Milan's Teatro dal Verme. In the same year he debuted at La Scala in Milan. Sammarco joined an opera company which took him to a number of Italian cities. Following that he worked chiefly in Milan, where he sang the part of Gerard at the premiere of Giordano's opera "Andrea Chenier" (La Scala) on 28 March 1896. On November 10, 1900 he created the role of Cascard for the premiere of Leoncavallo' s "Zaza" (Teatro lirico). Another world premiere followed on March 11, 1902, in Franchetti's "Germania" in a cast that included Enrico Caruso and Amelia Pinto (La Scala). His first appearance at London's Covent Garden was on 19 October 1904 as Scarpia in Puccini's "Tosca". From then until 1914 Sammarco was engaged at that opera, and after that he continued to appear there as a guest soloist until the year 1919. In 1912 he took part in both the London and the American (Chicago) premieres of Wolf-Ferrari's opera "Tue Jewels of the Madonna". From 1907 on he sang in the United States, and from 1907-1910 he was one of the best talents at the Manhattan Opera House under the direction of Hammerstein. After 1910 he also sang at the Metropolitan Opera. This artist also had major successes in Philadelphia and at the Teatro Colon in Buenos Aires. Sammarco was most famous as an interpreter of the great Verdi baritone roles, but he also had success in verismo operas as well. The voice of Mario Sammarco, which has been captured on a number of noteworthy recordings, is characterized by a rich metallic timbre, musical precision, and a carefully chosen sound. Characteristic for the vocal style of the time is - for our ears - a somewhat unusual "wavy vibrato" and .: typical for almost all Italian baritones of the era - a lack of low notes. Sammarco, who held a position on the board of La Scala in his later years, can truly be held to be one of the most outstanding figures in the vocal history of our century.
Amazon, iTunes, Spotify & Co.