Lebendige Vergangenheit - Mario Filippeschi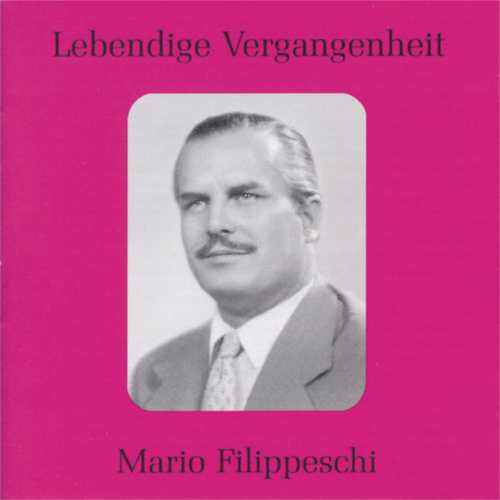 | | |
| --- | --- |
| Artist | Mario Filippeschi |
| Title | Lebendige Vergangenheit - Mario Filippeschi |
| | |
| Release Date | Monday, November 20, 2006 |
| Genre | Classical > Choro |
| | |
| Composers | Gioacchino Rossini, Giuseppe Verdi, Giacomo Puccini, Vincenzo Bellini, Giacomo Meyerbeer, Umberto Giordano |
| Songwriters | Orchestra and Chorus of Radio Italiana, Turin / Giuseppe Taddei / Giorgio Tozzi / Mario Filippeschi, Orchestra and Chorus of Radio Italiana, Turin / Mario Filippeschi, Mario Filippeschi / Orchestra of Radio Italiana, Turin, Mario Filippeschi / Orchestra Sinfonica di Milano, Mario Filippeschi / Orchestra of Radio Italiano, Rom / Giulietta Simionato, Orchestra and Chorus of Radio Italiana, Turin / Giuseppe Taddei / Mario Filippeschi, Orchestra and Chorus of La Scala, Milan / Paolo Caroli / Mario Filippeschi, Giulietta Simionato / Caterina Mancini / Giulio Neri / Rolando Paneral / Mario Filippeschi / Orchestra of Radio Italiano, Rom, Orchestra of Radio Italiana, Turin / Mario Filippeschi |
| | |
| Copyright | © Preiser Records |
| Country | AUSTRIA |
Update Required
To play the media you will need to either update your browser to a recent version or update your
Flash plugin
.
Promotion Text
Lebendige Vergangenheit
Because of the large number of Italian tenors who enjoyed successful international careers in the period between the World Wars and in the post-war period, many singers with extraordinary qualities and abilities were not offered the venues and media they deserved, especially in the form of recordings. Mario Filippeschi was one of them. He was an outstanding and versatile tenor with a brilliant high range, a singer who not only would be an absolute superstar today but also one who was a rara avis even in his own time. He possessed a solid vocal technique that gave him a perfect transition in the difficult range of f' – f-sharp' – g', the prerequisite for a free and resonant high range. One indication of his fine technique is the fact that Filippeschi kept his squillo – the radiant sound at the top – right to the end of his career. Others are his sonorous mid-range and excellent low notes: singers who force the voice in their high range inevitably lose their lows. In addition Filippeschi was endowed with an attractive appearance and bore a striking resemblance to Douglas Fairbanks, Sr. This was in keeping with the ideal of male beauty at the time, and film actors such as Errol Flynn and Clark Gable also sought to emulate it. (So much for the frequently repeated but unfounded opinion that all the singers of earlier times were overweight and unattractive.) Mario Filippeschi was born at Montefoscoli near Pisa on 7 June 1907, the fourth child of a farming family. Although opera was a popular entertainment in Italy in those days – only six years after Verdi's death and a time when such composers as Puccini, Mascagni and Giordano were active and widely admired – Montefoscoli was too small to host any of the numerous travelling opera companies. Little Mario encountered music and singing for the first time in the local church choir. In 1924, at the age of 17, he started to play the clarinet. Three years later he began three years of military service with Carabinieri units in Monza and Lanza d'Intelvi. His unusually fine voice was discovered by accident when he sang Tuscan songs for his fellow soldiers and officers. Shortly after completion of his military service, Filippeschi heard that a Neapolitan singing teacher named Vicidomini was training young singers in Milan and preparing them for their stage debut. He was accepted as a pupil and studied from 1930 to 1935 with Vicidomini, who allowed his students to sing only vocalises and exercises, never songs and arias. The teacher focussed on training the naturally brilliant high range of the young tenor. When Vicidomini suddenly left for Rome, Filippeschi continued his studies with Pessina in Milan and began learning operatic roles. Choristers at La Scala heard the unknown tenor and recommended him to a provincial impresario who just happened to be planning a season for small Italian towns, and he hired Filippeschi on the spot. Thus after seven (!) years of study, the thirty-year-old tenor made his overdue debut on 19 July 1937, as Edgardo in Donizetti's Lucia di Lammermoor at the theatre of Colorno near Parma. His success was as big as the theatre was small. The local newspaper wrote of the "lengthy applause" and especially praised his performance in the curse scene "Maledetto sia l'istante" and in Edgardo's death scene, "Tu che a Dio spiegasti l'ali". This is quite remarkable, given the fact that the two scenes mentioned by the paper are extremely difficult from a technical and stylistic point of view and have been the undoing of many an established tenor. The next day Filippeschi appeared as the Duke in Rigoletto in the tiny Teatro Verdi in Busseto. He sang the same role again on 24 July 1937 with the great Lina Pagliughi as his partner, this time for a large audience at an outdoor performance on the square in Busseto. The Corriere Emiliano praised his "outstanding vocal qualities" and predicted a "brilliant future as an artist". Filippeschi was intelligent enough in the early days of his career to limit his repertoire to strictly lyric roles. He sang Pinkerton in Madama Butterfly, Rodolfo in La bohème, Alfredo in La traviata, Faust in Mefistofele – all roles with which one would not necessarily associate him from the vantage point of today. The choice of roles also reflected the fact that this young voice with its "silvery timbre" was technically excellent, equipped with a radiant high range, but still of limited volume. Only in the years of intensive stage activity that followed did the voice develop "muscles", becoming the tenore robusto that made Filippeschi famous, although he retained his ability to sing a piano with carrying power and execute convincing diminuendi. In June 1940, just as Filippeschi was making his first tour of Spain, Italy entered World War Two on the side of Germany. He temporarily found refuge with his famous colleague Giacomo Lauri Volpi, who in 1935 had settled at Burjasot near Valencia and continued to live there until his death in 1979. After returning to Italy, Filippeschi sang his debut in 1941 as Alfredo in La traviata at the Teatro Reale dell'Opera in Rome (formerly Teatro Costanzi, after the war Teatro dell'Opera). In La Spezia in March 1942, he met Anna Pucci, the daughter of an industrialist, and they married in nearby Genoa. In the same year he sang Pinkerton in Madama Butterfly in Rome in the presence of the Japanese emperor, Hirohito. During the war years, which were difficult in every respect, Filippeschi occasionally toured Greece and Germany but also performed in Italy. In 1944 he was arrested twice in Liguria, once each by the Italians and Germans, but in both cases he was immediately released when he demonstrated with his singing that he was a professional singer. After the war …
Amazon, iTunes, Spotify & Co.