Lebendige Vergangenheit - Mario Chamlee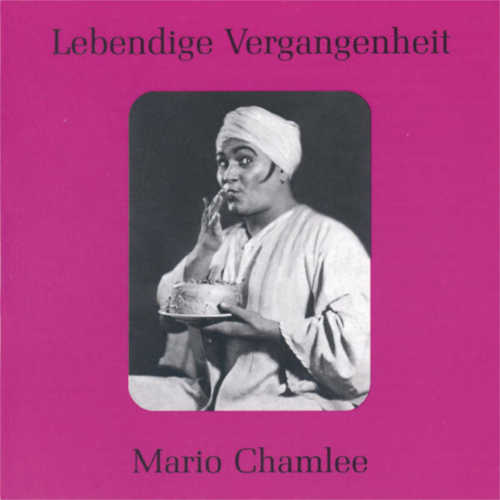 | | |
| --- | --- |
| Artist | Mario Chamlee |
| Title | Lebendige Vergangenheit - Mario Chamlee |
| | |
| Release Date | Tuesday, September 5, 2006 |
| Genre | Classical > Choro |
| | |
| Composers | Giuseppe Verdi, Charles Gounod, Michael Wiliam Balfe, Daniel - François Auber, Eduardo di Capua, Jules Massenet, Gaetano Donizetti, Amilcare Ponchielli, Giacomo Meyerbeer, Giacomo Puccini, Arturo Buzzi - Peccia, Pietro Mascagni, Georges Bizet, Ruggiero Leoncavallo, Francesco Paolo Tosti, Friedrich von Flotow, Teodoro Cottrau, Richard Barthélemy |
| Songwriters | Richard Bonelli / Mario Chamlee, Mario Chamlee, Sigrid Onegin / Mario Chamlee |
| | |
| Copyright | © Preiser Records |
| Country | AUSTRIA |
Update Required
To play the media you will need to either update your browser to a recent version or update your
Flash plugin
.
Promotion Text
Lebendige Vergangenheit
The era of Giulio Gatti-Casazza as director of the Metropolitan Opera between 1908 and 1935 meant well with American singers. To quiet down at least some of the accusations that the MET would be invaded by Italians, Gatti-Casazza sought to bring American singers to the MET and introduce works of American composers. Among tenors, Riccardo Martin (1907-15), Paul Althouse (1913-21 and 1934-41), Charles Hackkett (1919-22 and 1934-40), Orville Harrold (1919-24) and Maria Chamlee all were able to hold their own against their illustrious competitors. Chamlee was a well established member of the ensemble from 1920 to 1928 and later returned to the MET with great success from 1936 until his farewell in 1939. Maria Chamlee came to his stage-name with some roundabouts. As Archer Ragland Cholmondeley he was born in Los Angeles on May 29th 1892. His first musical love was the violin, which he began to study at the age of eight until he was twenty. In a student "Ministrel Show" his voice attracted considerable attention and he was advised to audition for the famous singing teacher, Achille Alberti. Thanks to his extraordinary natural talent he was able to make bis debut as Edgardo in "Lucia di Lammermoor" at the National Grand Opera Company of Los Angeles on January 12th 1916. The success of his debut _enabled him to go to New York for further studies with Gabriele Sibella, Dellera and tenor, Giuseppe Agostini, who had been the Rodolfo of the first American performance of "La Boheme" in 1897. It was Agostini, who created Chamlee's first stage name by telling him: "If you are lucky enough to be able to debut as Maria Cavaradossi or Rodolfo, you'll make it." - thus young Archer Cholmondeley became Maria Rodolfi. Agostini, then the leading tenor of Milton Aborn's Opera Company, recommended his 24-year old pupil to the director of the company, who immediately engaged him for the 1917 spring season. A certain Richard Bunn was the leading baritone of the company, who soon changed his name into Richard Bonelli and was to record two duets with Chamlee some ten years later. The soprano was a promising young American singer, who appeared under the name Francesca Milana, but whose real name was Ruth Miller and who became Chamlee's wife in 1919. In the meantime the United States had entered World War I, which saw the tenor at the French front most of the time, where he put together an entertainment group, which also performed for the delegates of the Parisian Peace Conference in 1919. After the War it was another famous singer who gave a new impulse to Chamlee's interrupted career: Antonio Scotti heard the young singer in an opera-satire and offered him a contract for his newly found Scotti Grand Opera Company. There, Chamlee sang with the great stars and changed his name into Archer Chamlee, which finally became Mario Chamlee. Scotti was so impressed with the success of his young tenor that he recommended him to Gatti-Casazza, who lost no time in offering him a contract, (The obvious resemblence of Chamlee's timbre to that of Caruso's might have been one decisive reason.) On November 22nd 1920 Chamlee's debuting role actually was Cavaradossi, his partners were Geraldine Farrar and his mentor, Antonio Scotti. During eight seasons - until the end of 1927/28 Chamlee well held his own against Gigli, Lauri-Volpi and Martinelli, to name just a few. The main reason, why his name might not be too common among collectors is that he was under exclusive contract with Brunswick, whose star-tenor he was, but who were badly represented in Europe and by 1930 had stopped their production of classical records. Brunswick's "Hall of Farne" also featured stars such as Elisabeth Rethberg, Maria Ivogün, Sigrid Onegin, Florence Easton, Karin Branzell, Tino Pattiera, Giuseppe Danise, Michael Bohnen, Friedrich Schorr and John Charles Thomas. Unlike Chamlee, they all recorded for other labels as well. At the MET he was a star - together with Farrar, Jeritza, Galli-Curci, Scotti, De Luca, Ponselle and Bori he sang most of the lyric roles from the Italian and French repertory. In 1923 he was heard in Europe for the first time in Prague and at the Volksoper of Vienna. The summer months were mostly spent at Ravinia, where the summer opera-seasons reached their peak in the Twenties. In San Francisco, too, he had an enthusiastic crowd of fans, who were able to hear him almost every year. His particular success in French roles resulted in his moving to France after his last MET season in 1928. At the Opera Comique his debuting role was Des Grieux in "Manon" on April 11th 1929, followed by Rabaud's "Märouf', which he repeated with great success on all major French stages, as well as in Brussels and Liege. Nellie Melba, who was present at Chamlee's debut at the Opera Comique, observed that "one will hardly find a more consummate singing-actor among the younger tenor-generation". San Francisco now became his new artistic headquarter in the United States, in 1932 he even attempted two Wagner roles, Lohengrin and Stolzing. Chamlee had started a second career as a radio-star back in 1929/30 when, together with Frances Alda and Pasquale Amato, he was invited to present abridged versions of all Puccini-operas. The old Broadway-saying "They never come back" was not at all true for this singer: after an absence of eight seasons Chamlee made a triumphant return to the stage of the Metropolitan Opera in the spring of 1936 in an English version of Smetana's "The Bartered Bride". On February 4th 1937 he created the title role in the world premiere of "Caponsacchi", an opera by Richard Hagemann (with Lawrence Tibbett and Helen Jepson) and on May 21th of the same year he finally was able to present himself to the MET - ...
Amazon, iTunes, Spotify & Co.