Lebendige Vergangenheit - Mariano Stabile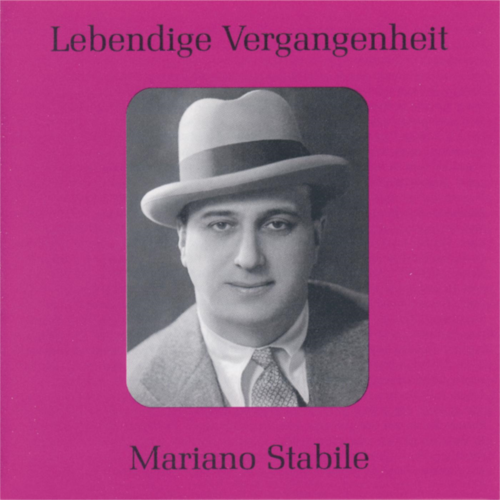 | | |
| --- | --- |
| Artist | Mariano Stabile |
| Title | Lebendige Vergangenheit - Mariano Stabile |
| | |
| Release Date | Monday, September 4, 2006 |
| Genre | Classical > Choro |
| | |
| Composers | Wolfgang Amadeus Mozart, Giacomo Puccini, Giuseppe Verdi, Arrigo Boito, Riccardo Zandonai, Gaetano Donizetti, Umberto Giordano |
| Songwriters | Mariano Stabile, La Scala Orchestra / Luciano Donaggio / Giuseppe Nessi / Afro Poli / Mariano Stabile, Mariano Stabile / Rina Agozzino, Natalia De Santis / Mariano Stabile, Emilio Venturini / Mariano Stabile / Giuseppe Nessi, Giuseppe Nessi / Mariano Stabile, Aristide Baracchi / Romeo Boscacci / Mariano Stabile, Pia Pagliarini / Erminia Rubadi / Salvatore Baccaloni / Mariano Stabile, Martin Lawrence / Mariano Stabile, La Scala Orchestra / Mariano Stabile |
| | |
| Copyright | © Preiser Records |
| Country | AUSTRIA |
Update Required
To play the media you will need to either update your browser to a recent version or update your
Flash plugin
.
Promotion Text
Lebendige Vergangenheit
The baritone Mariano Stabile was born into a highly distinguished family in Palermo/ Sicily on May 12th 1888. His early desire to study singing did not match at all what his family had planned for their son's future. He eloped to Naples where he soon was found out by the police and brought back to Palermo. Stabile's determination finally overcame his parents' resistance and he was allowed to study at the Accademia Santa Cecilia in Rome with the great Antonio Cotogni. Later, he continued his studies with private lessons and made his debut in October 1909 as Marcello in "La Boheme" at the Teatro Biondo in his home town where he soon advanced to Amonasro. In the years before World War I he was engaged at various ltalian stages where he made himself known in roles such as Lescaut, Alfio, Zurga and Valentin but also "bigger" roles like Barnaba, Nevers in "Gli Ugonotti" or Alfonso in "La Favorita". 1912 marked the beginning of a close friendship, on and off stage, with Aureliano Pertile whose career then was just about to take off. In 1918 at the Teatro Colon in Buenos Aires he first appeared (then still in the role of Ford) in Verdi's "Falstaff' which undisputedly was to become his most famous leading role. Falstaff was then sung by Giacomo Rimini who, much to Stabile's distress, also was cast in the complete recording from 1932 under Lorenzo Molajoli. For the historical Scala-reopen1ng on December 26th 1921 Arturo Toscanini chose "Falstaff'. After a short audition he was instantly impressed with Stabile's interpretation and personally worked with him to give his portrayal the last finishing touch. Stabile's engagement at this historical event caused quite a sensation. Never before had a relatively young and unknown singer been launched in such an important role. The opening night of the following seaSon again saw Stabile as Falstaff - practically over night he had become one of Italy's most sought after singing actors. In 1923 he was entrusted with the leading role in the world premiere of Respighi's opera "Belfagor". Especially roles which were both vocally interesting and histrionically taxing were a welcome challenge to this thorough and sensitive "moulder" of characters. His portrayals of Iago, Gerard in "Andrea Chenier" and Scarpia were as convincing as Mozart's Don Giovanni, Figaro and Count Almaviva and in the buffo-roles Gianni Schicchi, Dottore Malatesta in "Don Pasquale" and Rossini's Figaro Stabile displayed a unique sense for comedy. The singer's versatile repertoire also contained the roles of Beckmesser and the father in "Louise". He was Italy's first Klingsor in "Parsifal" at the Opera House in Rome and sang the Barber in Strauss' "Die Frau ohne Schatten" in the first Italian performance at La Scala in 1938. Thomas' Hamlet of which he sang only a handful performances in the Netherlands remained abrief experiment. Although his portrayal of the Danish prince was received with great enthusiasm he felt uncomfortable with the high tessitura of the role. Stabile made guest appearances in Paris, London, Amsterdam, Brussels and Vienna an appeared at the Chicago Opera House during the season of 1928/1929. He regularly was heard at the Teatro Colon, at the Maggio Musicale Fiorentino and in the Arena di Verona. In 1931 he sang for the first time at the Festival in Salzburg where under Bruno Walter he once and for all established himself as an excellent Mozart singer. As Don Giovanni, Figaro and Falstaff, too, the singer remained a regular guest at the Salzburg Festival during the following 25 years and also sang these roles (in addition to Don Alfonso in "Cosi fan tutte") at the Festival in Glynde­ boume. In 1943 he made a "Falstaff'-tour through Germany, the Netherlands and Belgium and was among the first Italian singers to appear in London after the War. In 1950 he recorded a complete "Don Giovanni" (available on PREISER 90166) for the Haydn-Society in Vienna and was the partner of Maria Callas in the EMI recording of "II Turco in Italia" in 1954. Stabile gave his official farewell performance as Falstaff in 1961 but continued to appear sporadically until 1963. Mariano Stabile died in Milan on January 11th 1968. Stabile's second wife was the Italian soprano Gemma Bosini. Shortly before her death in 1982 she gave an interview in which she repeated what Antonio Cotogni had imparted to his pupil for his future career: "Your voice may become larger and darker, but I think this is highly improbable. Remain in the lyric domain and stray only when the interpretation is more important than the vocalizing." "Cotogni gave him a long list with roles to be avoided", she went on, "and Mariano was strong enough not to be tempted." His portrayal of Falstaff was Stabile's masterpiece. But what was it exactly that to many connaisseurs made him surpass the great Falstaffs of Maurel, Scotti, Tibbett, Valdengo, Warren, Gobbi or Taddei? The voice itself could not compete with those of most of his illustrious colleagues. The low range remained colorless trough­ out his career, his middle range later had a certain harshness and the high notes tended to be affected by a tremolo when he fully sang out. Stabile was a singing chameleon. On stage he was not merely a singer who played a role, he actually was the character and was able to provide in a flash by just a little gesture of nuance a total insight into the character he portrayed. He also was a master of recitative and declamation ("canta parlando" as Italians say). Even without having ever seen him on stage this singer's records express a spontanuous and quicksilvery liveliness which is a combination of perfect diction and ·an incredible variety of shades and colors without the slightest hint of routine or calculation. The singer Mariano Stabile may not be among the greatest voices of our century, his artistic performance as an actor (both vocal and histrionic) will range among the most refined. accomplishments of our century.
Amazon, iTunes, Spotify & Co.