Four Famous Italian Baritones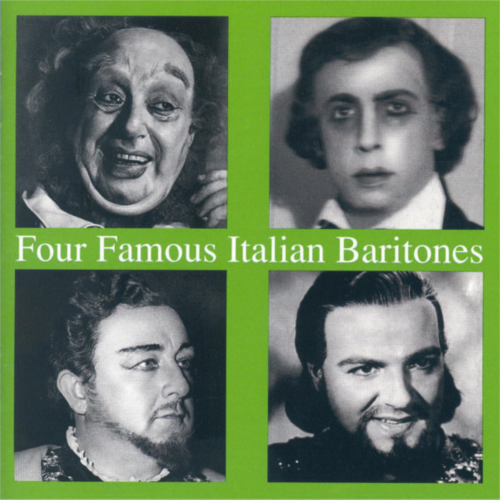 | | |
| --- | --- |
| Artist | Mariano Stabile / Carlo Tagliabue / Antenore Reali / Paolo Silveri |
| Title | Four Famous Italian Baritones |
| | |
| Release Date | Tuesday, September 12, 2006 |
| Genre | Classical > Aria |
| | |
| Composers | Umberto Giordano, Giuseppe Verdi, Vincenzo Bellini, Amilcare Ponchielli, Ruggiero Leoncavallo, Charles Gounod, Francesco Cilea, Gioacchino Rossini |
| Songwriters | Umberto Giordano, Giuseppe Verdi, Vincenzo Bellini, Amilcare Ponchielli, Ruggiero Leoncavallo, Charles Gounod, Francesco Cilea, Gioacchino Rossini |
| | |
| Copyright | © Preiser Records |
| Country | AUSTRIA |
Update Required
To play the media you will need to either update your browser to a recent version or update your
Flash plugin
.
Promotion Text
Lebendige Vergangenheit
Mariano Stabile derived from a distinguished Sicilian family and was born in Palermo on May 16th 1888. He was a pupil of the great Antonio Cotogni at the Accademia di Santa Cecilia in Rome. When the self-willed pupil refused to take the obligatory courses of piano and counterpoint he was denied further access. Stabile continued his studies with private lessons and made his stage debut in October 1909 at the Teatro Biondo in Palermo in "La boheme" which was followed by a performance as Amonasro in "Aida". Slowly but surely the singer built up his career at various Italian opera houses during the next twelve years. In 1919 he sang for the first time in "Falstaff' - yet, it was still the role of Ford. Until 1921 Stabile's repertory consisted mainly of roles from the charakterfach. When Milan's Scala was to be reopened in 1921 after having been closed for some time, Toscanini chose "Falstaff'' for the opening night. He invited several artists to audition for the title role and to everybody's surprise the conductor chose Stabile, who from the first moment on had made a deep impression on him. Virtually over night Stabile was considered Italy's greatest singing actor. From that moment on he focused on the major baritone roles, especially those which required eminent histrionic skills. The baritone's career continued even after the end of World War II. At the age of 62 he sang Don Giovanni in a complete recording by the "Haydn Society" andin 1955 he recorded Rossini's "II Turco in Italia" together with Maria Callas; Only in 1958 did he give his farewell performance as Gianni Schicchi at the Teatro La Fenice in Venice. Mariano Stabile died on January 11th 1968 in Milan. Apart from his birth date, June 17th 1897 in Verona, hardly any biographical details can be found about the musical upbringing of the Italian baritone, Antenore Reali. He made his stage debut in 1925 and undertook an extensive tour through lndonesia one year later. Having returned to Europe he appeared at various Italian stages. Between 1930 and 1935 the singer enjoyed great success at the Opera Italiana in the Netherlands. The year of his debut at the Scala of Milan is given with 1936, although his name does not appear in the Scala's chronologies until 1938/39. During this season Reali was heard in "La traviata", "I pagliacci", "Fedra" by Pizzetti and "II piccolo Marat". Until 1947 he remained with the Scala where his repertory included works such as "Cavalleria rusticana", "La fanciulla del West", "La forza del destino", "Tosca", "Carmen", "La tempesta" by Lattuada, and several times the role of Hans Sachs .in "Die Meistersinger von Nürnberg". Considering the impressive row of first rank baritones at the Scala during this period, such as Mariano Stabile, Carlo Tagliabue, Armando Borgioli and Gino Bechi, some years later Giuseppe Taddei and Paolo Silveri were to arrive, Reali seems to have kept up quite well with this heavy competition. The baritone frequently sang at the Opera House of Rome and appeared at the Arena di Verona (1939 and 1946) as well as at the Maggio Musicale Fiorentino. Guest performances abroad brought him to London, Brussels and Vienna. Between 1938 and 1950 the singer took part in several opera productions of the RAI, such as in "Tristan und -Isolde", "Rigoletto" (with Tagliavini and Carosio), "Tosca", "Lucrezia" by Respighi, "L'arlesiana" (with Pederzini), "Giulietta e Romeo" by Zandonai, "La fanciulla del West" and in 1949/50 as Michele in Puccini's "II tabarro" (with Clara Petrella and Glauco Scarlini under Giuseppe Baroni). The latter production was officially published by Cetra which also issued a selection of Ponchielli's "La gioconda" with Reali in the role of Bamaba. The singer gave several concerts in the Netherlands in 1952, but was forced to give up his career due to a stroke which he suffered in Winter 1958. Antenore Reali died in January 1960 in Milan. Carlo Tagliabue was born on January 13 1898 in Mariano Comense, a small village approximately 30 kilometers north of Milan. He studied with Ghidotti and Gennai, received a stipend from the publishing house Sonzogno in Milan and made his debut in 1921 in Lodi as Amonasro in "Aida". After numerous appearances in various theatres he came to La Scala in 1929 at Toscanini's behest (debut role: Hermann in "Loreley"). He appeared in thirty-nine different roles at La Scala alone. The conductors he sang under include Giordano, Mascagni, de Sabata, Serafin, Marinuzzi, Guamieri, Votto and Karl Böhm, who had special admiration for his interpretation of Wolfram. Rome, the Arena di Verona, Rio de Janeiro, San Paolo, Lisbon, the May Festival in Wiesbaden and Vienna were further stations in his career. In 1936 he sang at Covent Garden in a Gala Performance on the occasion of the coronation of George VI. From 1937 to 1939 he was a celebrated guest at the Metropolitan Opera in New York, where he appeared in "Aida" (with Milanov and Gigli), "Rigoletto" (with Kiepura) and "La Boheme" (with Moore and Landi). His real artistic home however remained the Scala, whose ensemble he belonged to for almost thirty years until his farewell in 1958 as Germont (with Maria Callas and Gianni Raimondi). He was certainly one of the most prominent figures in the history of this esteemed house. His career lasted over four decades, thanks to his technique (above all his flawless breath control), which allowed him to span two generations of singers - a phenomenon reserved for only a few. He was thus partner to such singers as Muzio and Caniglia as well as Callas and Tebaldi, Zenatello and Lauri Volpi as well as del Monaco and Di Stefano. His last performance took place in Forli in 1962, where he bade farewell to the opera stage at the age of 64 …
Amazon, iTunes, Spotify & Co.