Four Austrian Sopranos of the Past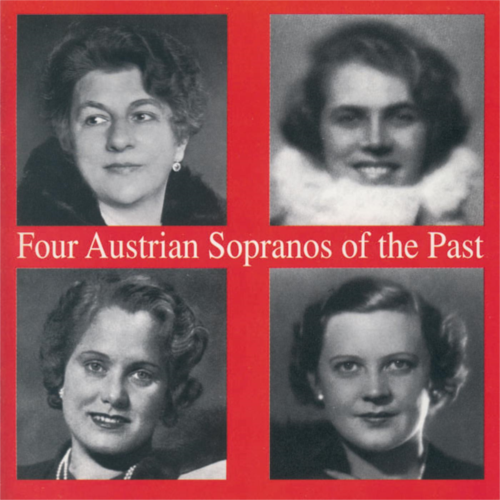 | | |
| --- | --- |
| Artist | Maria Reining |
| Title | Four Austrian Sopranos of the Past |
| | |
| Release Date | Saturday, September 9, 2006 |
| Genre | Classical > Choro |
| | |
| Composers | Giacomo Puccini, Wolfgang Amadeus Mozart, Richard Wagner, Ruggiero Leoncavallo, Carl Maria von Weber, Georges Bizet, Richard Strauss, Charles Gounod |
| Songwriters | Luise Helletsgruber, Berta Kiurina, Hilde Konetzni, Maria Reining |
| | |
| Copyright | © Preiser Records |
| Country | AUSTRIA |
Update Required
To play the media you will need to either update your browser to a recent version or update your
Flash plugin
.
Promotion Text
Lebendige Vergangenheit
In the latter half of the 1950s, when Herbert von Karajan became director of the Vienna Opera, something happened which had never occurred before in Vienna's musical life: the opera business was put on an international basis, a move which brought about the dissolution of the traditional Vienna ensemble. There is no point today in discussing whether this was a disaster or a blessing; in the final analysis it was a matter of pure necessity caused by the prevailing cultural conditions. Assimilation in almost all sectors of the arts was an unstoppable Europe-wide symptom. Today the old ensemble opera which once dominated theatrical life in German-speaking Europe is only of historical interest, and it is called to mind mainly by old theatre programmes, music reviews from bygone days - and of course recordings. The four artists on this release belong to an epoch in which the Vienna Opera was in a position to maintain its recognized standard as one of the world's leading opera houses under its own power and with its own singers. The careers of these exponents of the lyric and lyric-dramatic repertoire form an unbroken line extending from the days of the court theatres to the First Republic, the corporative state, the "Third Reich", the world war and on to the post-war years. Whatever the vicissitudes of Austria's contemporary history, the Vienna Opera and its ensemble ideal were not affected by economic collapses and political debacles. Not even the destruction of the opera house itself forced an interruption, for in the ten years after 1945 there was one final efflorescence of the Vienna Ensemble. Not until the year of the State Treaty, 1955, and the advent of "modern" Austria, did this continuous line run out. Berta Kiurina (1882-1933) was born in Linz. In 1905 Gustav Mahler engaged her for the Vienna Opera; with a few interruptions, she remained a member of the company until 1929. As a Mozart singer (Cherubino, Zerlina, Fiordiligi) she soon gained the public's affection and admiration. Others of her best-known roles were Micaela in "Carmen", Margarethe in Gounod's "Faust", the name part in "Madame Butterfly", and Sulamith in Goldmark's then popular opera "The Queen of Sheba"; but she also sang coloratura roles such as Gilda in "Rigoletto" and the Page Oskar in "A Masked Ball". Later she added such demanding parts as the Empress in "Die Frau ohne Schatten" and Chrysothemis in "Elektra". Her perfectly trained voice was frequently heard on the concert stage, too, for example in Mahler's Eighth Symphony, Verdi's Requiem and Beethoven's Ninth Symphony. One of the peaks of her career was the role of Liu in the first performance in Vienna of Puccini's "Turandot" in 1926. After Berta Kiurina, this role went to Luise Helletsgruber (1901-1967), who was a member of the Vienna Opera company for twenty years, from 1922 to 1942. The daughter of a teacher; she grew up in Trautmannsdorf an der Leitha in Lower Austria. After studying at the Vienna Conservatory she joined the Vienna State Opera at the age of just 21, quickly developing into an ideal portrayer of lyrical characters. In addition to Liu, one of her most soulful performances, she sang many other parts taken over from her predecessor Berta Kiurina: Micaela, Margarethe, Nedda, Cherubino, Pamina. Her artistry was just as fully present in small parts (Woodbird in "Siegfried"). Between 1928 and 1938 she was heard every summer at the Salzburg Festival, where she sang Marzelline in all the performances of "Fidelio"; from 1934 on, she added Donna Elvira in "Don Giovanni". In Salzburg she was able to work with such outstanding conductors as Franz Schalk, Clemens Krauss, Richard Strauss, Bruno Walter, Hans Knappertsbusch and Arturo Toscanini. In 1934, when the Glyndeboume Festival was founded, she was engaged by its musical director Fritz Busch and sang Mozart roles there until 1937. She can be heard as Cherubino, Donna Elvira and Dorabella on three complete Mozart recordings under Fritz Busch, which are still authoritative today. After retiring from the stage, Luise Helletsgruber worked as a singing teacher. She lost her life in an automobile accident. In the mid-1930s, two sopranos who were favourties of Richard Strauss left the Vienna Opera: Lotte Lehmann shifted the focal point of her activities to the United States in 1934 and quit the Vienna company for good in 1938; Viorica Ursuleac followed her.,husband Clemens Krauss to Berlin in 1934. The Vienna Opera directors (Felix von Weingartner, later Erwin Kerbler) found replacements for them in two Vienna-born sopranos, Maria Reining and Hilde Konetzni. Maria Reining (1902-1991) got her first stage experience in operetta at Vienna's Volksoper. In 1931 she was hired for small roles at the State Opera, but in 1933 she began accepting engagements in Germany. From 1937 on she was again a member of the Vienna Opera ensemble and one of that institution's leading singers. For roughly a quarter-century, Maria Reining sang in Vienna and at the Salzburg Festival, appearing first and foremost in Mozart, Strauss and Wagner roles. As the Countness in "Tannhäuser", Elsa in "Lohengrin", Sieglinde in "Die Walküre", Desdemona in "Otello", she gave unforgettable performances. An importarit part of her career was devoted to characters in Richard Strauss operas: Ariadne, Arabella, the Marschallin and Daphne. Many of Maria Reining's roles were also sung by Hilde Konetzni (1905-1980), who in 1929 made her opera debut in Chemitz as Sieglinde, which was later to be one of her starring roles. After engagements in Gablonz and at the Deutsches Theater in Prague, she joined the Vienna State Opera company in 1936 …
Amazon, iTunes, Spotify & Co.