Lebendige Vergangenheit - Maria Olszewska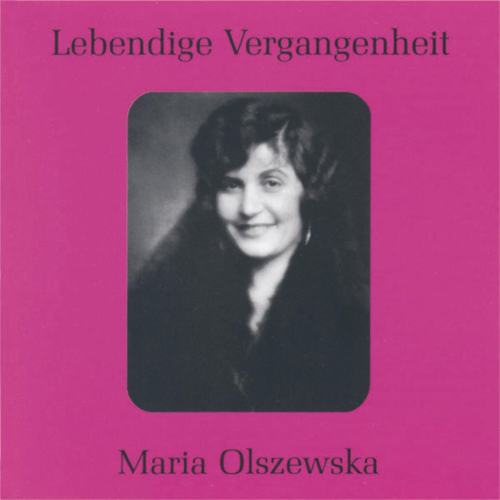 | | |
| --- | --- |
| Artist | Maria Olszewska |
| Title | Lebendige Vergangenheit - Maria Olszewska |
| | |
| Release Date | Tuesday, September 5, 2006 |
| Genre | Classical > Choro |
| | |
| Composers | Giacomo Meyerbeer, Giuseppe Verdi, Christoph Willibald Gluck, Johannes Brahms, Georges Bizet, Richard Wagner, Camille Saint - Saens, Georg Friedrich Händel, Franz Schubert |
| Songwriters | Maria Olszewska, Josef Wenzig, Maria Olszewska / Orchester der Berliner Staatsoper, Ludwig Rellstab, Matthias Claudius, Hans Schmidt, Maria Olszewska / Emil Schipper, Maria Olszewska / Genia Guszalewicz / Else Knepel / Orchester der Berliner Staatsoper |
| | |
| Copyright | © Preiser Records |
| Country | AUSTRIA |
Update Required
To play the media you will need to either update your browser to a recent version or update your
Flash plugin
.
Promotion Text
Lebendige Vergangenheit
The distinct need for independence of Maria Olszewska's self-willed personality strongly influenced her remarkable singing career. Apart from Olszewska's artistic achievements, her bot-tempere character and her seductive appearance, which led to several ajfaires in her private life, contributed much to the timeless popularity of this artist. Olszewska's real name was Maria Berchtenbreiter. Born in Ludwigsschweige near Donauwörth/ Bavaria on August 12th 1892, she studied singing for three years with Karl Eder in Munich. She made her first stage appearances in operetta and gave her operatic debut as the page in "Tannhäuser" in 1915 at the Stadttheater of Krefeld, where her two-year contract already included such big roles as Amneris, Carmen and Ortrud. Arthur Nikisch tried to secure her services for Leipzig, but the Opera House of Hamburg came first and offered her a three-year contract. In Hamburg she already performed all those roles, which later were to become her most famous ones and she created the role of Brigitte in the world premiere of Erich Korngold's "Die tote Stadt" on December 4th 1920. During her engagement in Hamburg Olszewska thrilled the Viennese public with performances at the State Opera as Amneris, Azucena, Brangäne and Ortrud and especially as Carmen on November 10th 1921. In Berlin on January 27th 1922 she sang in the world premiere of the cantata "Von deutscher Seele" by Hans Pfitzner. From 1923 to 1925 the singer was engaged at the Munich State Opera and in those years started to make her name known to an international public. In 1923 she sang for the first time at the Teatro Colon and in 1924 at Covent Garden, where she made her debut as Brangäne in "Tristan und Isolde". Guest performances in Spain, Paris, Milan and at the Städtische Oper Berlin followed, until in 1924 Franz Schalk was able to bind her to Vienna for some years. One of the most memorable events during these years was Olszewka's debut in the role of Oktavian in "Der Rosenkavalier" in 1924, which, not least because of her striking looks and her boyish charm, became one of the roles most closely associated with her. In 1933 she recorded excerpts of it with Lotte Lehmann, Elisabeth Schumann and Richard Mayr. Among her most acclaimed roles in Vienna also were Selica in "L' Africaine", Carmen, Amme in "Die Frau ohne Schatten", Klytämnestra, Herodias, Fides in "Le Prophete" and Orpheus. Her marriage with the baritone, Emil Schipper, in 1925 did not last too lang. In 1928 she was appointed Kammersängerin. Olszewska appeared at most of the major operatic stages around the world, but, as the stations of her career clearly show, a certain restlessness never allowed her to stay in one place for a lang time. Still during her engagement in Vienna (her contract was allowed to elapse in 1930 due to several misunderstandings) she gave her first performance in North America as Carmen in Chicago on October 31th 1928. She remained in Chicago until her debut at the Metropolitan Opera on January 16th 1933 as Brangäne. During the following three seasons she enjoyed great success not only in her Wagner-roles, but also as Amneris, Azucena, Klytämnestra and Oktavian, but in 1935 became one of the victims of Edward Johnson's cost-cutting policy. At the age of not yet 44 Maria Olszewska bade farewell to the stage for the time being and spent the War-years in Groß-Gmain. In 1947 she accepted a teaching post at Vienna's State Academy for Music and Performing Arts. From both this post and her editorial function at the Vienna State Opera, which she had taken over in 1948, she withdrew after two years. From 1951 to 1955 she returned to the stage of the Vienna Volksoper, where she was heard as Agricola in the Strauß-operetta "Eine Nacht in Venedig" in over 145 performances. Not much was heard about Maria Olszewska from then on. She spent her last years in Baden near Vienna and died on June 22nd 1969 in Klagenfurt.
Amazon, iTunes, Spotify & Co.