Lebendige Vergangenheit - Maria Nemeth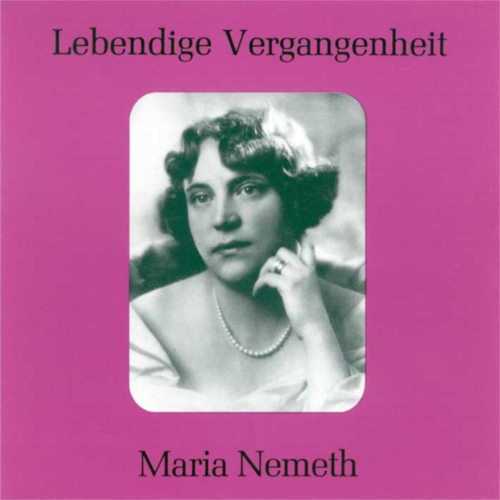 Update Required
To play the media you will need to either update your browser to a recent version or update your
Flash plugin
.
Promotion Text
Lebendige Vergangenheit
Kammersängerin Maria Nemeth, aus Körmend in Ungarn stammend, absolvierte zunächst die Handelsakademie in Preßburg. Dort wurde ihre Stimme entdeckt, die sie sodann in Budapest bei Georg Anthes und Laszlo ausbilden ließ. Im Jahre 1924 hörte sie der Direktor der Wiener Staatsoper Franz Schalk in Budapest als Leonore in "Troubadour" und engagierte sie sofort an die Wiener Staatsoper. Sie debütierte in dieser Rolle am 22. September 1924, der sie am 4. Oktober 1924 die Aida folgen lies. Nach halbjähriger Fortsetzung ihres Gesangstudiums bei dem berühmten italienischen Sänger Fernando de Lucia in Neapel trat sie am 10. März 1925 anlässlich der 50. Wiederkehr der Uraufführung der "Königin von Saba" von Carl Goldmark als Sulamith unter der Leitung Franz Schalks auf und errang einen Sensationserfolg. Ihre große, ja geradezu übermächtige, jedes Orchester und Ensemble siegreich überstrahlende Stimme bot vereint. mit dem Tenor des neuentdeckten Trajan Grosavescu ein geradezu akustisches Phänomen und führte zu einer durch Jahre dauernden Renaissance der schönen Gesangsoper Carl Goldmarks. Maria Nemeths Stimme war aber genauso gut eines wunderschönen tragfähigen Kopftones und Pianos fähig, und selbst die hohe Schule der Koloratur-Technik hatte kein Geheimnis vor ihr. Maria Nemeth setzte die große Gesangstradition der dramatischen Koloratur-Sängerin fort. Man konnte von ihr mit Recht erwarten, dass sie in diesem Fach die Nachfolgerschaft legendärer Primadonnen, wie der Pasta, der Giulia Grisi oder der Lilli Lehmann antreten würde. Allerdings zog es die Künstlerin dann später vor, sich mehr dem dramatischen Fach zuzuwenden. So entwickelte sie sich, besonders zu Beginn ihrer Karriere, zu einer, wenn man so sagen darf, Allround­ Sängerin, deren Fach von der Königin der Nacht bis zur Brünnhilde reichte. Ihre stimmliche Entwicklung wurde von Direktor Schalk genau überwacht und die Partien langsam zugewiesen. So übernahm sie bald die Donna Anna in "Don Giovanni", die Constanze in der "Entführung aus dem Serail" und auch die Königin der Nacht in der "Zauberflöte", die Valentine in den "Hugenotten", aber auch die Senta im "Fliegenden Holländer" und die Elisabeth in "Tannhäuser". Anlässlich der Neu-Inszenierung von Richard Wagners "Ring des Nibelungen" wagte Direktor Clemens Krauss das Experiment, ihr die Brünnhilde in "Siegfried" anzuvertrauen, und sie erfüllte auch hier die hochgespannten Erwartungen. Ihren vielleicht weitreichendsten Erfolg erzielte die Künstlerin mit ihrer phänomenalen Turandot, in welcher sie so recht ihre glanzvollen hohen "C" durch das Haus schwirren ließ. Pflichttreue und Unermüdlichkeit in der Übernahme neuer Rollen zeichneten sie besonders aus. So gab sie eine ausgezeichnete Heliane in "Das Wunder der Heliane" oder Tosca. Im Mittelpunkt ihres Wirkens blieben aber die Rollen in den Verdi-Opern, wie die Leonore in "Troubadour" und in der "Macht des Schicksals", die Amelia in "Maskenball" und in ,,Simone Boccanegra", vor allem die Aida, die sie durch fast 20 Jahre mit allen berühmten Tenören der damaligen Zeit, wie Alfred Piccaver, Giacomo Lauri-Volpi und Benjamino Gigli als Partnern sang. Noch im Jahre 1944 sang sie einige ihrer Lieblingsrollen, wie die Tosca und die Turandot. … Maria Nemeth was born in Körmend, Hungary and initially studied at the Trade Academy in Pressburg. When her vocal talent was discovered, she continued her studies in Budapest with Georg Anthes and Laszlo. In 1924 Franz Schalk, the director of the Vienna State Opera, heard her as Leonora in "Trovatore" and immediately offered her a contract to sing at the Vienna State Opera. She made her debut there as Leonora on September 22, 1924, going on to sing Aida on October 4, 1924. After continuing her studies for six months with the legendary tenor Fernando de Lucia in Naples she sang Sulamith on March 10, 1925 on the occasion of the 50th anniversary of the world premiere of Goldmark's "Queen of Sheba". Her conductor was Franz Schalk and Maria Nemeth's performance was generally deemed a triumph. Her expansive voice, which could soar radiantly above both orchestra and full ensemble, fused with the thrilling voice of the then newly discovered tenor Trajan Grosavescu and brought about a fairly long lease of stage life for Goldmark's melodious opera. Maria Nemeth, moreover, had a wonderful piano and head voice ability and she was also well-able to execute intricate coloratura passages. Thus she was able to continue the grand vocal tradition of the dramatic coloratura soprano. Justifiably one could suppose that she would follow in the path of such legendary primadonne as Pasta, Giulia Grisi or Lilli Lehmann. Yet Maria Nemeth eventually decided to concentrate on more dramatic parts. Initially, then, she was an all-round artist, whose repertoire ranged from Queen of the Night to Brünnhilde. Her vocal development was closely supervised by Franz Schalk who knew exactly when to entrust her with which new roles. She eventually sang Donna Anna, Konstanze and the Queen of the Night, Valentine in "Les Huguenots" as well as Senta and Elisabeth in "Tannhäuser". On the occasion of a new production of the "Ring" Clemens Krauss entrusted her with the "Siegfried" Brünnhilde and she more than fulfilled expectations. Perhaps her greatest success was her grandiose Turandot, where she projected radiant top C's through the auditorium. Her career was notable for her sense of duty and incessant hard work in studying new roles. Thus she was an exemplary Heliane in "Das Wunder der Heliane" and Tosca. …
Amazon, iTunes, Spotify & Co.