The Art of Maria Müller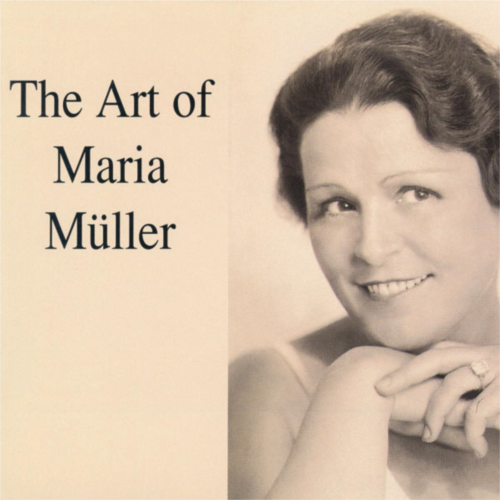 | | |
| --- | --- |
| Artist | Maria Müller |
| Title | The Art of Maria Müller |
| | |
| Release Date | Thursday, September 14, 2006 |
| Genre | Classical > Choro |
| | |
| Composers | Giacomo Puccini, Richard Wagner, Franz Schubert, Johannes Brahms, Carl Maria von Weber, Max Reger |
| Songwriters | Maria Müller / Berliner Staatsopern Orchester, Bayreuth Festival Orchestra / Maria Müller / Berliner Staatsopern Orchester / Sigismund von Pilinsky / Herbert Janssen, Michael Raucheisen / Maria Müller, Bayreuth Festival Orchestra / Maria Müller / Franz Völker, Maria Müller / Berliner Staatsopern Orchester / Tino Pattiera, Maria Müller, Maria Müller / Berliner Staatsopern Orchester / Jaro Prohaska / Margarete Klose, Maria Müller / Berlin Civic Orchestra, Maria Müller / Berliner Staatsopern Orchester / Jaro Prohaska / Ludwig Hofmann, Bayreuth Festival Orchestra / Maria Müller / Berliner Staatsopern Orchester, Maria Müller / Berliner Staatsopern Orchester / Franz Völker |
| | |
| Copyright | © Preiser Records |
| Country | AUSTRIA |
Update Required
To play the media you will need to either update your browser to a recent version or update your
Flash plugin
.
Promotion Text
Lebendige Vergangenheit
Anyone who has a certain amount to do with historical voice recordings comes to realize that records do their job of culture-historical documentation only to a very limited extent. Arbitrariness on the part of record companies in their choice of singers plays too great a part; some artists are given preferential treatment, while others are engaged , far too rarely. Favoritism and neglect often have little or nothing to do with the artistic powers of the singers in question. Maria Müller is a case in point, a soprano who at her time was at the absolute peak of the young dramatic category, who bad an i> international career - and of whose voice only relatively few recordings exist. Maria Müller was born in the Sudetenland. She trained first at the Prague Conservatory, and subsequently was taught singing and stage deportment in Vienna by Erik Schmedes and Anna Bahr-Mildenburg, two of the celebrities of the Court Opera..Preparing for her career took many years, with the result that she was already thirty when she stood for the first time on the operatic stage. She made her debut in 1919 at the Linz Stadt­ theater as Elsa in "Lohengrin". From 1920 to 1921 she was at the Stadttheater in Brno, and from 1921 to 1923 at the Deutsches Theater in Prague. She was working in Prague when she got an offer from the Metropolitan Opera, an invitation she turned down for artistic reasons. From 1924 to 1925 Maria Müller sang at the Munich State Opera where she bad a number of grateful roles, especially in Wagner operas. Her debut as Sieglinde at the Metropolitan on 25 January 1925 was an enormous success. Fora decade she was heard regularly in New York, first and foremost in the German repertoire in the big Wagner roles (Elsa, Elisabeth, Sieglinde, Senta, Eva). Others included Octavian and Agathe, as well as such Italian showpieces as Aida, Mimi and Madame Butterfly. Maria Müller also took part in numerous Met first performances and world premieres, among them Montemezzi's "Giovanni Gallurese", Alfano's "Madonna Imperia", Pizzetti's "Fra Gherardo" and in Mussorgsky's "Sorochintsy Fair". She earned especially lasting success at the Met for her performances of Marie in Smetana's "Bartered Bride", a role particularly suited to her as a bom Bohemian and in which she could fully develop her acting capabilities. Bruno Walter engaged Maria Müller for Berlin in 1926, casting her in a wide variety of interesting roles. From this time on, Berlin was to be the artistic focal point of her career. In 1928 she sang the main part in Strauss's "Egyptian Helen", and expanded her repertoire to include Desdemona, Amelia in "Simone Boccanegra", Margarethe and Jenufa. In 1930 Maria Müller was heard for the first time in Bayreuth; her debut role was Elisabeth in "Tannhäuser" under Toscanini. She took part in the Wagner Festival every year until the end of the war, earning worldwide fame as a Wagner interpreter both for her expressive singing and her poetic stage presence. Guest appearances took her several times to La Scala, to London's Covent Garden Opera, to Vienna, Paris, Brussels, Dresden and Amsterdam. She was engaged by the Salzburg Festival to sing such roles as Elvira, Euridice and Rezia in Weber's "Oberon". And she was also a highly regarded song recitalist. After the war Maria Müller lived in seclusion in her residence in Bayreuth, but she returned to the Berlin Opera for a brief period in 1950. Her comeback as Ariadne, Sieglinde and Elisabeth showed that she was still vocally at a very high level.
Amazon, iTunes, Spotify & Co.