Lebendige Vergangenheit - Maria Jeritza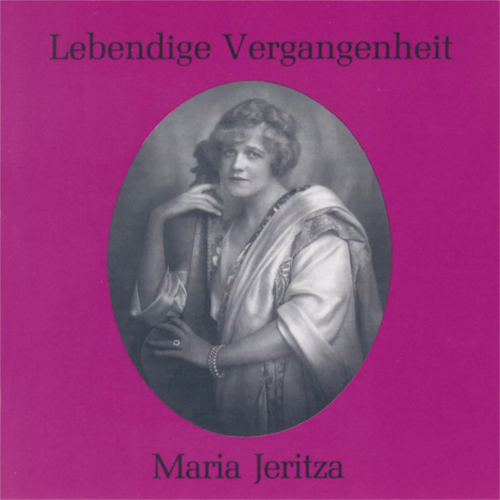 | | |
| --- | --- |
| Artist | Maria Jeritza |
| Title | Lebendige Vergangenheit - Maria Jeritza |
| | |
| Release Date | Thursday, September 7, 2006 |
| Genre | Classical > Choro |
| | |
| Composers | Jules Massenet, Rubin Goldmark, Giacomo Puccini, Richard Wagner, Leo Delibes, Carl Maria von Weber, Amilcare Ponchielli, Umberto Giordano, Pietro Mascagni, Erich Wolfgang Korngold |
| Songwriter | Maria Jeritza |
| | |
| Copyright | © Preiser Records |
| Country | AUSTRIA |
Update Required
To play the media you will need to either update your browser to a recent version or update your
Flash plugin
.
Promotion Text
Lebendige Vergangenheit
Maria Jeritza - ein Künstlername, der wie blaues Feuer gegen einen roten Himmel brennt, eine aufschäumende Kaskade, ein Wort- und Tonsymbol. Dahinter leuchtete die faszinierendste künstlerische Erscheinung dieses Jahrhunderts. Sie durfte alles, auch falsches machen, im Spiegel ihres Talentes verwandelte sich alles in strahlende Helle. Die junge Choristin des Brünner Stadttheaters, die durch ein strahlendes hohes C im großen Ensemble der "Aida" die berühmte, gastierende Sopranistin beschämt hatte;' kam über Olmütz und München an die Volksoper, deren Direktor; Rainer Simons, sie nur die Hälfte der Micaela Arie singen ließ. Als sie sich beschwerte, er hätte sie wenigstens zu Ende singen lassen •sollen, da entgegnete der Gefürchtete mit stoischer Ruhe: ,,Aber Kind, Sie sind engagiert". Sehr bald gelang es Mizzi Jeritza, wie sie damals noch hieß, durch tapferes Einspringen als Margarethe die Aufmerksamkeit auf sich zu lenken und mit der Elsa in "Lohengrin" stellte sich ein Sensationserfolg ein. Der Direktor stellte ihr immer neue Aufgaben, die Agathe, die Manon in Puccini's "Manon Lescaut", die Blanchefleur im "Kuhreigen" und viele andere Rollen folgten. Die Natur hatte der Künstlerin alle Gaben für eine exzeptionelle Wirkung verliehen. Die große schlanke Gestalt, mit leuchtenden blauen Augen und silberblondem Haar, die strahlend-jauchzende Stimme, ein immer in Atem haltendes Bühnenspiel und vor allem die Gabe, sich dieser Mittel auch zu bedienen. Ihrem Talent war es gegeben, ebenso glaubhaft verrucht dämonisch zu sein, wie in reiner Engelsunschuld zu versinken, oder auch nur einfach herzlich und menschlich zu sein. Das Erstaunlichste blieb es aber, dass auch ihre herrliche, besonders im hohen Register mit einzigartiger Leuchtkraft geradezu explodierende Stimme alle diese Nuancen hergab und sich allen Erfordernissen anzupassen fähig war. So hörte sie Kaiser Franz Joseph im Ischler Kurtheater als Rosalinde, er verlangte begeistert die Wiederholung des Czardas und wünschte ihr Engagement an die Hofoper. Sie kreierte an dieser die Aphrodite von Max Oberleithner und bald trat sie in die erste Reihe dieses Ensembles herrlicher Stimmen. Die Größen der Bühnenwelt waren schon aufmerksam geworden, 1912 sang sie unter der Regie Max Reinhardt's die "Schöne Helena" von Offenbach in München. Richard Strauss erwählte sie 1912 für die Uraufführung der "Ariadne auf Naxos" in Stuttgart. Und 4 Jahre später sang sie die Ariadne i!]. der Uraufführung der Neufassung im Oktober 1916. Die großen Komponisten dieser Ara bestürmten sie, ihre Opern zu singen. Manchen Opern Carl Goldmark's, Wilhelm Kienzl's, Max v. Schillings', … Maria Jeritza - a name that shines like blue fire against a red sky, like a scintillating cascade, like a veritable icon. Not only was she one of the most fascinating artists of the century. She was also granted every conceivable license - even to err. Tue mirror of her talent metamorphosed everything into radiant brilliance. As a young chorister at the Municipal Theatre in Brno she had upstaged the famous guest artist singing Aida by emitting a brilliant top C in the great ensemble. Via Olmütz and Munich she soon reached the Vienna Volksoper. The .Director, Rainer Simons, stopped her halfway through Micaela's aria. When she complained that he might at least have the courtesy to listen to the whole aria he answered calmly: "Dear child, you're engaged." Very soon Mizzi Jeritza as she was then known succeeded in attracting attention by substituting as Marguerite at the last moment for an ailing colleague. Her subsequent success as Elsa in "Lohengrin" was overwhelming. The Director gave her ever more frequent opportunities of proving her worth - Agathe, Manon' Lescaut, Blanchefleur in Kienzl's "Kuhreigen" and many other roles soon followed. Nature had afforded her all gifts necessary for exceptional success. A tall, slim figure with bright blue eyes and silvery-blonde hair, a jubilantly radiant voice, breathtaking histrionic talents and, above all, the ability to put these gifts to best possible use. She could be demonic, angelically innocent or simply warm-hearted and humane. Tue most astonishing aspect was her gorgeous voice which, especially in the top range, soared with unique radiance and was capable of adapting to every requirement. The Austrian Emperor Franz Joseph heard her as Rosalinde in the Kurtheater in Bad Ischl and not only enthusiastically demanded an encore of the 'Czardas' but insisted that she be engaged to appear at the Court Opera. There she was the first Aphrodite in Max Oberleitner's opera and became the most lauded artist of the ensemble. The directors and composers of her day soon recognized her talent. In 1912 she sang Offenbach's "Belle Helene" in Munich, directed by Max Reinhardt. That same year Richard Strauss chose her to sing Ariadne in Stuttgart in the world premiere of bis opera. In October 1916 she sang Ariadne again in the world premiere of the revised version. Many operas by Carl Goldmark, Wilhelm Kienzl, Max v. Schillings, …
Amazon, iTunes, Spotify & Co.