Lebendige Vergangenheit - Maria Galvany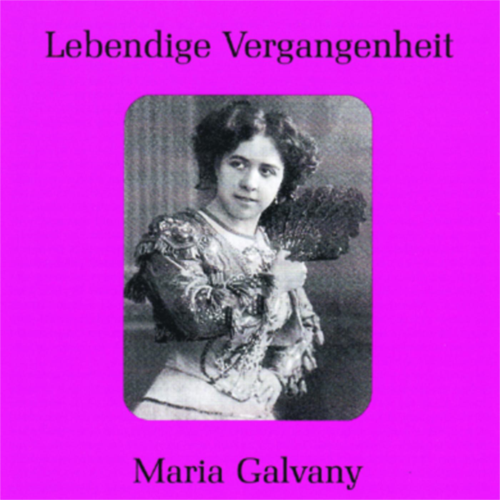 | | |
| --- | --- |
| Artist | Maria Galvany |
| Title | Lebendige Vergangenheit - Maria Galvany |
| | |
| Release Date | Tuesday, August 29, 2006 |
| Genre | Classical > Choro |
| | |
| Composers | Leo Delibes, Gioacchino Rossini, Luigi Arditi, Gaetano Donizetti, Vincenzo Bellini, Dufau, Ruperto Chapi y Lorenta, Giacomo Meyerbeer, Charles Gounod, Giuseppe Verdi, Heinrich Proch, Ambroise Thomas |
| Songwriters | Maria Galvany, Maria Galvany / Aristodemo Giorgini, Maria Galvany / Andreas Perello de Segurola, Maria Galvany / Remo Andreini, Maria Galvany / Fernando De Lucia |
| | |
| Copyright | © Preiser Records |
| Country | AUSTRIA |
Update Required
To play the media you will need to either update your browser to a recent version or update your
Flash plugin
.
Promotion Text
Lebendige Vergangenheit
Es ist erstaunlich, wie wenig konkrete Daten wir über eine Sängerin besitzen, die durch ihre Schallplatten so legendär geworden ist. Sogar ihr Geburtsdatum ist un­sicher; allgemein wird 1878 angenommen, andere Quellen verzeichnen 1874. Sie studierte jedenfalls am Konservatorium von Madrid und debütierte 1897 in Cartagena als Lucia di Lammermoor (wodurch das Geburtsjahr 1878 als logischer zu betrachten ist). Sie wurde sofort ein Liebling des spanischen Publikums und sehr bald auch des italienischen. Merkwürdig ist, daß sie nie an der Mailänder Scala gesungen hat, obwohl dies oft fälschlich behauptet wird. In Mailand sang sie nur am Teatro Dal Verme (1901), dann 1903 mit größtem Erfolg im schwierigen Parma als Sonnambula (mit Schiavazzi), in Genua und allen anderen wichtigen Theatern Italiens. Besonders erfolgreich war ihre Ophelia aus "Hamlet" in Venedig 1908. Außerhalb Italiens und Spaniens sang sie wiederholt in Lissabon, Nice und unternahm 1905 eine große Tournee durch Belgien und Holland als Star der Castellano Gesellschaft, welche auch Frankreich mit einbezog. Ihr Tenorpartner war Nicola Zerola, die dramatische Diva Adelina Agostinelli. 1909 sang sie im Londoner Drury Lane, es wird aber auch eine Saison am Coliseum genannt, mit Elvino Ventura und Antonia Sabellico als Partnern, wo sie besonders als Sonnambula glänzte. Außerdem war sie besonders beliebt in Rußland, wobei sie wahrscheinlich nicht in Moskau und St. Petersburg gesungen hat; wir finden sie in Odessa, Kiev, Tiflis und Baku. Südamerika war dann besonders das Territorium ihrer Erfolge. Ganz unerwartet tauchte sie dann 1918 in San Francisco auf (in New York scheint sie nie gewesen zu sein) wo sie im Vaudeville auftrat. Danach dürfte sie sich in Rio de Janeiro als Gesangslehrerin niedergelassen haben, wo sie auch am 2. November 1949 in einem Altersheim, dem San Luis Asylum, gestorben ist. Ihr Tod wurde nie durch die Presse gemeldet; sie war damals gänzlich vergessen und die Tatsache ihres Ablebens wurde nur durch Zufall entdeckt. It is astounding how little concrete data we possess about a singer who has, through her gramophone records, become such a legend. Even the date of her birth is uncertain: in general 1878 is accepted, but other sources record 1874. In any event, she studied at Madrid Conservatory and made her debut in Cartagena in 1897 as Lucia di Lammermoor (suggesting the birth date of 1878 as more logical). She immediately became a favourite of the Spanish public, and very soon also of the Italian. It is re¬markable that she never sang at La Scala, Milan, although this is often incorrectly asserted. In Milan, she sang only at the Teatro Dal Verme (1901), and then in 1903 with the greatest of success in difficult Parma as Sonnambula (with Schiavazzi), in Genoa, and in all the other important theatres of Italy. Particularly successful was her Ophelia in "Hamlet" in Venice in 1908. Outside Italy and Spain, she sang repeatedly in Lisbon and Nice, and undertook a large tour through Belgium and Holland as the star of the Castellano company, which also included France. Her tenor partner was Nicola Zerola, and the dramatic diva was Adelina Agostinelli. In 1909, she sang in London's Drury Lane, and a season at the Coliseum is also mentioned, with Elvino Ventura and Antonia Sabellico as her partners, in which she shone particularly as Sonnambula. As weil as this, she was especially loved in Russia, although she probably never sang in Moscow or St. Petersburg: we find her in Odessa, Kiev, Tiflis and Baku. South America then became particularly the territory of her successes. Later, she turned up completely unexpectedly in San Francisco, where she appeared in Vaudeville (she seems never to have been in New York). After this she may have settled in Rio de Janeiro as a singing teacher, where she also died on 2 November 1949 in an old people's horne, the San Luis Asylum. Her death was never reported in the press: she was completely forgotten, and the fact of her passing was discovered only by accident.
Amazon, iTunes, Spotify & Co.