Lebendige Vergangenheit - Maria Caniglia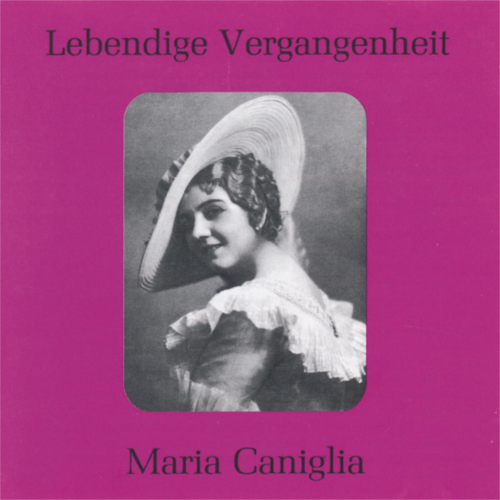 | | |
| --- | --- |
| Artist | Maria Caniglia |
| Title | Lebendige Vergangenheit - Maria Caniglia |
| | |
| Release Date | Tuesday, September 5, 2006 |
| Genre | Classical > Choro |
| | |
| Composers | Giacomo Puccini, Umberto Giordano, Amilcare Ponchielli, Giuseppe Verdi, Francesco Cilea, Pietro Mascagni, Richard Wagner, Alfredo Catalani |
| Songwriters | Maria Caniglia, Maria Caniglia / La Scala Opera House Orchestra, Maria Caniglia / E.I.A.R. Symphony Orchestra Turin, Orchestra of the Opera House Rome / Maria Caniglia, Maria Caniglia / Orchestra of the Opera House Rome, La Scala Opera House Orchestra / Maria Caniglia |
| | |
| Copyright | © Preiser Records |
| Country | AUSTRIA |
Update Required
To play the media you will need to either update your browser to a recent version or update your
Flash plugin
.
Promotion Text
Lebendige Vergangenheit
Maria Caniglia (geboren am 3. Mai 1905 in Neapel, gestorben am 16. April 1979 in Mailand) Den Schallplattensammlern ist die Sopranistin Maria Caniglia hauptsächlich als Partnerin Benjamino Giglis bekannt. Zusammen mit Gigli hat sie nicht nur eine Anzahl von Duett-Aufnahmen, sondern auch in mehreren Opern-Gesamtaufnahmen ("Maskenball", "Aida", "André Chénier", "Tosca") mitgewirkt. Höher als diese zum Teil bereits in der Spätzeit der Sängerin entstandenen Aufnahmen werden von den Experten ihre in früherer Zeit entstandenen Solo-Einspielungen gewertet, die das reiche, füllige Organ in noch unverbrauchtem Zustand demonstrieren. Maria Caniglia hat ihre gesangliche Ausbildung am Konservatorium ihrer Geburtsstadt Neapel erfahren, ihr Lehrer war Agostino Roche. Am 1. Jänner 1930 erfolgte ihr Bühnendebüt in Turin in der Rolle der Chrysothemis in "Elektra" von Richard Strauss. Nach einigen Stationen in Rom (Teatro Reale), Florenz und Bergamo fand sie bald den Weg in die Mailänder Scala, der sie seit Jänner 1931 angehörte und wo sie in der Rolle der Rosaura in Mascagnis Oper "Le maschere" ihren ersten großen Erfolg erntete. Um diese Zeit entstanden bereits ihre ersten Schallplatten-Aufnahmen für die Firma Columbia. In den zwei Jahrzehnten, die sie der Mailänder Scala angehörte, vermochte sie als Sängerin des lyrischen und des dramatischen Sopranfachs zu höchstem künstlerischem Rang aufzusteigen. Neben den Standardrollen aus dem Bereich der italienischen Oper wirkte sie mit besonderer Vorliebe auch im Wagnerfach, sie sang die Elsa im "Lohengrin" (eine ihrer am meisten gerühmten Darstellungen) und die Eva in den "Meistersingern". Maria Caniglia war überdies oftmals in Aufführungen zeitgenössischer Komponisten beschäftigt und wirkte bei mehreren Opern-Uraufführungen mit. Ein umfangreiches Kapitel ihrer Karriere nimmt ihre Gastspieltätigkeit ein. Sie sang in vielen großen Opernhäusern Italiens, war mehrmals bei den Freiluft-Aufführungen in der Arena von Verona eingesetzt. 1935 trat sie unter Arturo Toscaninis Leitung bei den Salzburger Festspielen als Alice in Verdis "Falstaff" auf, 1938 bis 1939 war ihre Kunst an der Metropolitan Opera zu erleben, aber auch das Londoner Covent Garden Opera House, das Teatro Colón in Buenos Aires und viele andere große Opernhäuser zählten die international hochgeschätzte Künstlerin zu ihren Gästen. Nach ihren Scala-Jahren verlegte sie ihr Wirken hauptsächlich nach Rom, wo sie noch viele Jahre mit gleichbleibender Anerkennung als Opernkünstlerin tätig war. Ihre Karriere dauerte mehr als drei Jahrzehnte. In Maria Caniglias Repertoire standen die Verdi-Partien an erster Stelle, die Sängerin wurde oftmals als Besitzerin der idealen "voce verdiana" bezeichnet. Zu den am häufigsten von ihr interpretierten Verdi-Partien gehörte die Aida. Weitere große Caniglia-Rollen waren die Tosca, Santuzza, Madeleine in "André Chenier", Adriana Lecouvreur (Cilea), Francesca da Rimini (Zandonai), La Wally (Catalani). Nach Beendigung ihrer Bühnenlaufbahn widmete sich die Künstlerin dem Unterricht. Die letzte Zeit ihres Lebens verbrachte sie in Mailand. Maria Caniglia (3 May 1905 in Naples – 16 April 1979 in Milan, Italy) For LP-collectors the soprano Maria Caniglia is known mainly as the partner of Benjamino Gigli. Together with him she not only made a number of recordings of duets, but also sang many roles in recordings of complete operas ("The Masked Ball", "Aida", "Andrea Chénier", "Tosca"). Even more highly rated than these recordings, which were partially made at the end of her career, are her solo recordings which were made earlier when her rich, full voice was still fresh and unused. Maria Caniglia received her vocal training at the conservatory in Naples, the town of her birth, with Agostino Roche as her teacher. Her debut was in Turin on 1 January 1930 in the role of Chrysothemis in "Elektra" by Richard Strauss. After performances in Rome (Teatro Reale), Florence, and Bergamo, she soon found her way to La Scala in Milan, where she became a member of the company in January 1931. She earned her first success in the role of Rosaura in Mascagni's opera "Le maschere". From this period come her first recordings made by Columbia. In the two decades that she sang at La Scala, she was able to rise to the highest artistic rank as a lyric and dramatic soprano. Besides singing the standard roles in Italian operas, she also had a special love for Wagnerian roles, of which she sang Elsa in "Lohengrin" (one of her most famous parts) and Eva in "Meistersinger". Maria Caniglia was also often involved in productions of contemporary composers and performed in many operatic world premieres. An extensive chapter of her career belongs to guest performances. She sang in many of the large opera houses of Italy and often performed in the open-air arena in Verona. In 1935 she sang Alice in Verdi's "Falstaff" at the Salzburg Festival under the conductor Arturo Toscanini. Her artistry was heard at the Metropolitan Opera in 1938 and 1939, but she was also a guest at London's Covent Garden, the Teatro Colón in Buenos Aires, and many other large international opera houses. After her years at La Scala, she lived mainly in Rome, where she continued to perform as an operatic artist with the same recognition she had earlier. Her career spanned more than three decades. Verdi roles stood in first place in Maria Caniglia's repertoire; she was often characterized as the possessor of the ideal "voce verdiana". Aida belongs to those Verdi roles that she most often performed. Other great roles she sang were Tosca, Santuzza, Madeleine in "Andrea Chénier", Adriana Lecouvreur (Cilea), Francesca da Rimini (Zandonai), and La Wally (Catalani). After quitting the stage, the artist dedicated herself to teaching. The final part of her life was spent in Milan.
Amazon, iTunes, Spotify & Co.