Lebendige Vergangenheit - Margarete Teschemacher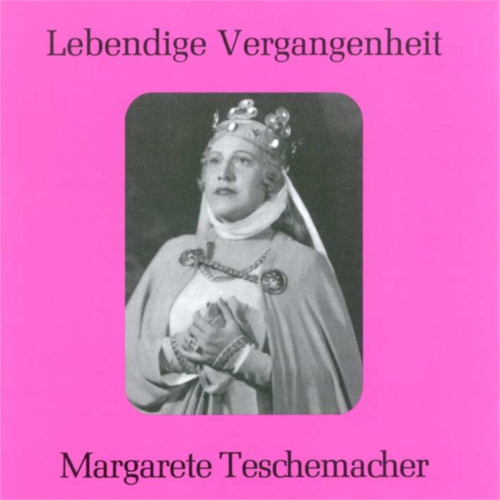 | | |
| --- | --- |
| Artist | Margarete Teschemacher |
| Title | Lebendige Vergangenheit - Margarete Teschemacher |
| | |
| Release Date | Friday, September 1, 2006 |
| Genre | Classical > Choro |
| | |
| Composers | Giuseppe Verdi, Richard Strauss, Richard Wagner, Albert Lortzing, Carl Maria von Weber, Wolfgang Amadeus Mozart |
| Songwriters | Margarete Teschemacher / Orchester der Staatsoper Berlin, Orchester der Staatsoper Berlin / Margarete Teschemacher / Irma Beilke, Orchester der Staatsoper Berlin / Margarete Teschemacher, Sächsische Staatskapelle / Margarete Teschemacher, Städtische Oper Berlin / Margarete Teschemacher, Orchester der Staatsoper Berlin / Margarete Teschemacher / Marcel Wittrisch |
| | |
| Copyright | © Preiser Records |
| Country | AUSTRIA |
Update Required
To play the media you will need to either update your browser to a recent version or update your
Flash plugin
.
Promotion Text
Lebendige Vergangenheit
Eine der populärsten Gesangskünstlerinnen zur Zeit der späteren Dreißigerjahre und während des Zweiten Weltkrieges war die Sopranistin Margarete Teschemacher. Ohne Zweifel entsprach ihr spezieller Typus dem damaligen Zeitgeschmack in ganz besonderem Maße. Die Wärme und Herzlichkeit ihres Vortrags, der kraft­ volle, füllige, und dennoch sehr frauliche Klang ihres Organs, - dies alles kan:i der damaligen Idealvorstellung von der deutschen Frau sehr entgegen. Die Beliebtheit der Künstlerin wirkte sich nicht zuletzt auf dem Sektor der Schallplatte aus, und Margarete Teschemacher wurde zu einer ausgesprochenen Platten-Favoritin, zu einer echten Stütze der Rundfunkkonzerte während dieser Ära. Genau genommen gab es für sie kaum Fachgrenzen, sie sang auf ihren Plattenaufnahmen Arien aus den Spielopern, aus den Wagner- und Straussopern, und sie war auch sehr ein­ drucksvoll mit Puccini- und Verdipartien zu hören. Besonders beliebt war auch ihre Mitwirkung bei Ensemble- und Duettaufnahmen, letztere meistens mit Marcel Wittrisch als Tenorpartner. Mag uns auch heute an ihrem Vortrag ein gewisser hausbackener Grundzug auffallen, so kann dies der Gesamtbedeutung der Künst­ lerin nicht den geringsten Abbruch tun: Margarete Teschemacher darf durchaus zu Recht als eine der hervorragendsten deutschen Sängerinnen der neueren Zeit angesehen werden. Besondere Hervorhebung verdient der Umstand, dass ihre erstaunliche Vielseitigkeit nicht allein auf den Tonaufnahmen zutage trat, sondern dass sie all die lyrischen, heroischen und hochdramatischen Partien auch wirklich auf der Opernbühne - mit dem schönsten Erfolg - gesungen hat. Bei ihr findet sich jener Gleichklang an Bühnen- und Plattenwirkung vor, der bei Opernsängern in der Regel viel seltener anzutreffen ist, als man anzunehmen geneigt ist. Margarete Teschemacher entstammt einer alten rheinischen Theaterfamilie. Schon sehr früh machte sich ihr schauspielerisches und gesangliches Talent bemerkbar. Otto Klemperer, damals Generalmusikdirektor in Köln, hörte die Siebzehnjährige anlässlich eines Vorsingens, und gab ihr den Rat, ernstlich Gesangsstudien zu betrei­ ben. Nach den Lehrjahren am Kölner Konservatorium wurde sie im Jahre 1924 als Elevin an das Opernhaus ihrer Geburtsstadt verpflichtet, und erntete als Micaela in Carmen ihren ersten starken Bühnenerfolg. Ihr erstes reguläres Engagement erhielt sie an das Stadttheater Aachen, wo sie von 1925 - 1927 verblieb. Es folgten Dortmund (1927 - 28), Nationaltheater Mannheim (1928 - 31) und schließlich Stuttgart (1931 - 34). Während dieser Jahre hatte sie sich ein überaus reichhaltiges Repertoire angeeignet. Als ihre profiliertesten Darbietungen galten die Pamina, Donna Elvira, Aida, Eisa. Später kamen noch die Sieglinde, Senta, Tosca, Feldmarschallin und noch zahlreiche zeitgenössische Opernpartien hinzu. Die Glanzzeit ihrer Karriere setzte mit ihrem Engagement an die Dresdener Staatsoper ein, der sie von 1934 bis zum Kriegsende angehörte. In die Dresdener Wirkungszeit fällt auch die Uraufführung der Oper "Daphne" von Richard Strauss (1938), in der ihr die Titelpartie anvertraut worden war. Die Künstlerin gastierte auch oft im Ausland, sie sang 1934 in Buenos Aires (Arabella von Strauss), … One of the most popular singers during the 1930s and 40s was the German soprano Margarete Teschemacher. Without a doubt her special type of vocal style suited the tastes of the times to perfection. The warm-hearted femininity of her vocal delivery, the refulgent sheen of her voice combined to form an ideal concept of the German "Frau". Margarete Teschemacher's popularity is evident from the number of grammophone records she made but she was also a favourite broadcasting artist. She was, moreover, not limited to any one particular•vocal category. She recorded arias from German "Spielopern", Wagner and Strauss operas and was also heard to great advantage in Verdi and Puccini roles. She was especially sought as a parti­ cipant in ensemble and duet recordings, the latter mostly with Marcel Wittrisch as tenor partner. Even if we now discern a certain homely trait in her style, this cannot detract from her overall excellence. ••Margarete Teschemacher can quite justifiably be regarded as one of the most outstanding German singers of her time. Special mention must be made of the fact that her astonishing versatility was not only evident in her recordings but that she also sang all these lyric, spinto and dramatic roles on stage - with resounding success, moreover. Here we find a fusion of stage and recording, a fact which is much rarer among opera singers than one might suppose. Margarete Teschemacher was born into a Rhenish theatre family. Her histrionic and vocal talents were evident at an early age. Otto Klemperer, at the time Musical Director in Cologne, heard her audition and advised the seventeen-year-old to envisage a professional career. After her vocal training at the Cologne Conservatoire, she joined the Cologne Opera company. Her real breakthrough came when she sang Micaela. Her first regular engagement was at the Municipal Theatre Aachen, where she remained a member from 1925 - 1927. Subsequently she was engaged in Dortmund (1927 - 28), at the National Theatre Mannheim (1928 - 31) and finally Stuttgart (1931 - 34) During these years she managed to learn a huge repertoire. Among her most memorable successes were Pamina, Donna Elvira, Aida and Elsa. Later she added Sieglinde, Senta, Tosca, Feldmarschallin and numerous contemporary roles to her repertoire. The culmination of her career was when she joined the ensemble of the Dresden State Opera, where she remained a member from 1934 to the end of the war. In 1938, during her time in Dresden, Richard Strauss entrusted her with the role of Daphne in the world premiere of that opera. Margarete Teschemacher often ventured abroad. In 1934 she sang in Buenos Aires (Arabella), in Barcelona, …
Amazon, iTunes, Spotify & Co.