Lebendige Vergangenheit - Margarete Matzenauer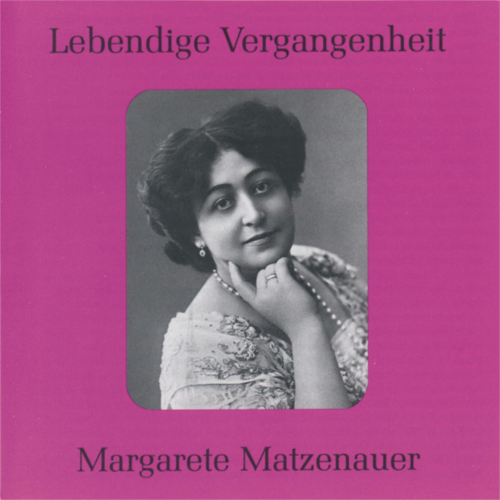 | | |
| --- | --- |
| Artist | Margarete Matzenauer |
| Title | Lebendige Vergangenheit - Margarete Matzenauer |
| | |
| Release Date | Tuesday, September 5, 2006 |
| Genre | Classical > Choro |
| | |
| Composers | Richard Wagner, Charles Gounod, Giacomo Meyerbeer, Georges Bizet, Gaetano Donizetti, Ambroise Thomas, Giuseppe Verdi, Camille Saint - Saens, Friedrich von Flotow, Amilcare Ponchielli |
| Songwriters | Margarete Matzenauer, Margarete Matzenauer / Pasquale Amato, Melanie Kurt / Margarete Matzenauer, Margarete Matzenauer / Paul Bender, Heinrich Knote / Margarete Matzenauer |
| | |
| Copyright | © Preiser Records |
| Country | AUSTRIA |
Update Required
To play the media you will need to either update your browser to a recent version or update your
Flash plugin
.
Promotion Text
Lebendige Vergangenheit
In his book, "Memories of the Opera", Giulio Gatti-Casazza, for many years the director of the Metropolitan, writes about Margarete Matzenauer that she possessed a wonderful appearance, a wonderful voice, and a truly unique musicality. He goes on to give a telling example of her musicality, an episode which occurred in her very first Metropolitan season (1911/12): Tue Metropolitan, writes Gatti-Casazza, had announced a performance of "Parsifal" with Fremstad as Kundry. Two days before the performance, Fremstad rang him up to say that she would have to cancel because of illness. This created a difficult situation because the Metropolitan had in its company no other singer for the role. But somebody advised Gatti­ Casazza to ask Miss Matzenauer whether she had studied the part. That he did not consider necessary, Gatti-Casazza replied, for he knew that she had never sung it; at the time, "Parsifal" was performed only in Bayreuth. Alfred Hertz, who was scheduled to conduct the Metropolitan's "Parsifal", told him to try anyway; if Miss Matzenauer had in fact studied the role , they could risk it with a couple of piano rehearsals, for she had an incredible security. The gamble paid off. Margarete Matzenauer, who had studied the role of Kundry years before but had never sung it on the stage, saved the performance thanks to her musical security - and not only that: from the first performance on, Kundry was one of her most brilliant accomplishments. "Parsifal" was by no means the only coup de main which Margarete Matzenauer brought off in the course of her long career, and in which her phenomenal musical memory stood her in good stead. As a musician she was at home in many fields. For example, she was able to sight-read the most difficult compositions at the piano and even to play them by ear, without the music in front of her. Some of this ability could, however, be said to be due to inheritance. Both her parents were musicians: her father, Ludwig Matzenauer, was a conductor and composer; her mother, Ottilie Krone, an opera singer. Both were of Austrian origin; Margarete Matzenauer can therefore correctly be termed an Austrian, too, though her birthplace, Temesvar, often led to her being considered a Hungarian. Like a real "backstage child", she quickly gained a knowledge of acting, singing and dancing. Her father gave her piano lessons and, while still a youngster, she occasionally appeared as a singer, without having had any regular vocal training. Finally, she turned to opera exclusively, studying with Georgine von Januschowsky-Neuendorff in Graz and later with Franz Emmrich in Berlin. On 15 September 1901 she made her debut as Puck in Weber's "Oberon". Next came a number of small roles, but soon she was singing such major parts as Azucena, Carmen, Mignon, Waltraute, Erda and Ortrud. After several successful guest tours (one of which took her to Tue Netherlands) she joined the Munich Court Opera in 1904, remaining a member of that company until 1911. During this period she also gave guest performances in Berlin, Vienna, Stuttgart, Brussels, Prague, Hamburg, Leipzig and many other cities. As a dramatic alto and mezzo she became famous all over Europe. Ortrud, Amneris, Orpheus and Delilah were among her most outstanding roles. At this time, however, she was already studying dramatic soprano parts and trying them out at smaller opera houses: Brünnhilde in Braunschweig (1907), Leonore ("Fidelio") in Regensburg (1909). Tue vocal scope of this unusual artist thus extended from contralto to high-dramatic soprano. In 1910 Margarete Matzenauer was Enrico Caruso's partner in "Carmen" in Munich. That year also saw her only season at the Bayreuth Festival, as Waltraute, Flosshilde and Second Norn. From 1911 on, Margarete Matzenauer spent most of her time in the United States. She was engaged by Gatti-Casazza at the Metropolitan and made her debut there on opening night, 13 November 1911, as Amneris in an "Aida" which included such stars as Destinn, Caruso, Amato and Didur, under the baton of Arturo Toscanini. In her nineteen seasons at the Metro­ politan she sang all the big roles that were already in her repertoire and added such major parts as Kundry, Brangäne, Fides in Meyerbeer's "Le Prophete", Ulrica in "Un Ballo in Maschera", Santuzza, Marina in "Boris Godunov", Eboli in the first Metropolitan production of Verdi's "Don Carlo" (1920), Laura in "La Gioconda", the Sacristan in "Jenufa", etc. Her performances of soprano roles became more and more frequent, but this did not denote a change in her artistic direction but rather an expansion of her repertoire: the Countess in Mozart's "Figaro", Leonore in "Fidelio", Brünnhilde in "Die Walküre" and "Siegfried", and finally lsolde Margarete Matzenauer, one of the great representatives of the Metropolitan's "Golden Years", was so intimately associated with that opera house, its company and public that the boycott which went into effect against German artists at the outbreak of the First World War did not apply to her. She stayed at the Metropolitan during the war years and for many seasons afterwards, and gave her farewell performance on 17 February 1930 as Amneris. This was by no means the end of her singing career. For ten more years she appeared in her stellar roles at other opera houses in the United States, gave concerts, sang oratorios and song recitals. She retained her healthy, powerful voice until her very last years as a singer. Her acting talent brought her roles in films, and in her final years she turned to teaching. In this field, too, she was highly successful, for several of her pupils, among them Blanche Thebom, made notable careers. Margarete Matzenauer was married three times, but only briefly. One of her husbands was the opera singer Ernst Preuse, a well-known bartitone. Fora while, she adopted both names, calling herself Preuse-Matzenauer.
Amazon, iTunes, Spotify & Co.