Lebendige Vergangenheit - Marcel Journet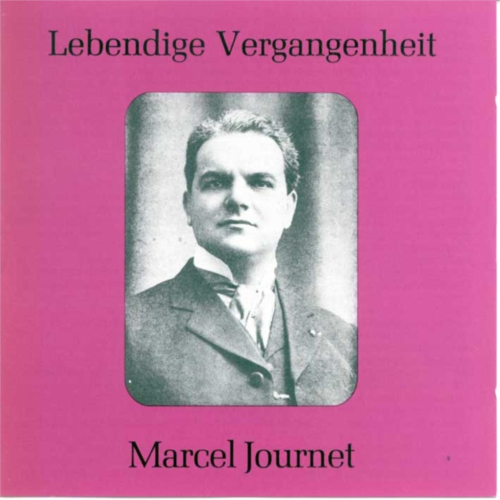 | | |
| --- | --- |
| Artist | Marcel Journet |
| Title | Lebendige Vergangenheit - Marcel Journet |
| | |
| Release Date | Wednesday, August 30, 2006 |
| Genre | Classical > Choro |
| | |
| Composers | Omer Letorey, Charles Gounod, Georges Bizet, Jean Luce, Jules Massenet, Hector Berlioz, Richard Wagner, Gustave Charpentier, Gioacchino Rossini |
| Songwriters | Marcel Journet, Fernand Ansseau / Marcel Journet, Michael Cozette / Marcel Journet |
| | |
| Copyright | © Preiser Records |
| Country | AUSTRIA |
Update Required
To play the media you will need to either update your browser to a recent version or update your
Flash plugin
.
Promotion Text
Lebendige Vergangenheit
Marcel Journet was born at Grasse in the Alpes-Maritimes on 25 July 1867 and died at a spa, Vittel in the Vosges, where he had gone to undertake a cure, on 2 September 1933. His active career spans 42 years of increasingly distinguished activity that lasted up until a few months before bis death. Unlike most singers who experience a decline in their later years. Journet found himself a true international star following World War I and continuously involved in the heroic bass-baritone and even baritone repertory. The vocal survival of Journet into bis 60s is a phenomenon difficult to match. Journet's first appearance was inconspicuous, at Beziers in the Midi, where in 1891 he sang Balthasar in "La favorite". In 1892. he joined the Monnaie in Brussels, where he served a diligent apprenticeship." During the first stage of bis international career he served as a subordinate to Edouard de Reszke and Pol Plancon, popular artists"both in London and New York, and bis chances at big parts came mainly when these singers were not available. He first appeared at Covent Garden in d'Erlanger's forgotten "Inez Mendoza" (10 July 1897). His first appearance with the. Met was in Los Angeles during a pre-New-York-season tour, on 9 November 1900, as Colline in the first performailce of "La Boheme" by the Met. Significantly, Colline was the role he sang most frequently during his sojourn with that company. The retirement of Edouard de Reszke (from London in 1900; from New York, 1903) somewhat alleviated Journet's subordinate position. Though Plancon did not return to Covent Garden after 1904; he endured at the Metropolitan as long as Journet - until 1907 - 08. That final season at the Met, Journet's predicament was complicated by the arrival of Chaliapin, who pre-empted roles that Journet would normally have been assigned - Leporello, for instance. In the middle of the 1907 - 08 season, following a Plunkett in "Martha" on 5 February 1908 (with Sembrich and Bonei), Journet abruptly withdrew. Journet' departure from the Met set him on the path to the celebrity that had so far eluded him. He made his debut at the Paris Opera on 2 October 1908 as Heinrich in a French "Lohen.: grin". As a Wagnerian, Journet made a formidable rival to Delmas, a reigning "baritone-noble" whose voice was badly worn, and he disclosed in triumphant series his Landgraf (1909), Hunding (1909), Wotan in "Walküre" (1910), Hans Sachs (1927), Gurnemanz (1928), Der Wanderer (1928), Hagen (1928), and even in the Wotan in "Rheingold" (first in 1922, but again in March 1933!). His Wagnerian made memorable impressions appearances formed only one strand of Journet's Parisian career, for he made memorable impressions in "Faust" (1909), "Romeo" (1909), "Damnation" (1913), "Samson", as the Grand-Pretre (1919), with a vivid Athanael in "Thais" (1914), as Tonio in "Pagliacci" (1920), as Dosifei in "Khovanchina" (1923), as a deeply moving Tell (1929), and with his striking interpretation of the title-character in Brunel's "La Tentation de Saint Antoine" (1930). Fora quarter of a century he sustained himself as one of the glories of the Paris Opera, and it is with that institution that his name is most intimately allied. Nor was Journet's major career confined to Paris. When operatic activity diminished in Europe during World War I, he returned to the United States to sing three seasons in Chicago between 1915 and 1919 in 1916 he made the first of several trips to Buenos Aires, but he maintained his home ties by appearing in Monte Carlo every year between 1912 and 1920. On 22 February 1917, Journet initiated a particularly notable part of his career when he made his La Scala debut, 22 February 1917, as Alfonso in "Lucrezia Borgia", with Mazzoleni and Bonei. In April 1922 he became a regular member of Toscanini's ensemble there when he returned as Hans Sachs, repeating that part the following year, along with Le pere in "Louise", and in 1924 he created the part of Simon Mago in Boito's "Nerone", becoming a "sine qua non" to the revivals of that opera there and in its tours to such cities as Turin, Rome and Bologna. He returned to La Scala every year until 1928, repeating these roles and also singing Golaud, Escamillo, Dosifei and Wanderer. His final Italian appearances were at the Arena in Verona in 1931 as Hans Sachs.
Amazon, iTunes, Spotify & Co.