Lebendige Vergangenheit - Luise Willer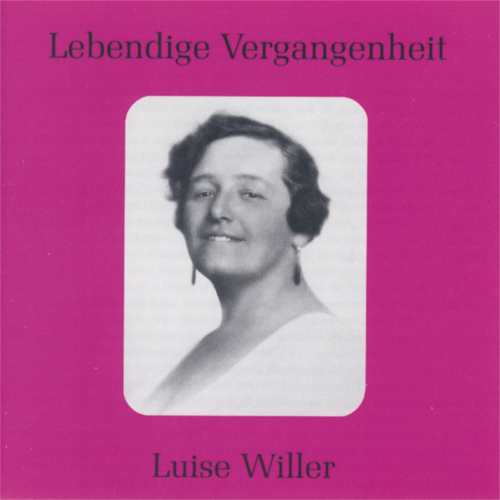 | | |
| --- | --- |
| Artist | Luise Willer |
| Title | Lebendige Vergangenheit - Luise Willer |
| | |
| Release Date | Sunday, September 3, 2006 |
| Genre | Classical > Choro |
| | |
| Composers | Georges Bizet, Richard Wagner, Giuseppe Verdi, Richard Strauss, Carl Bergner, Joseph Marx / Carl Bergner, Camille Saint - Saens, Richard Strauss / Carl Bergner, Weingartner, Georg Friedrich Händel |
| Songwriters | Orchester der Berliner Staatsoper / Luise Willer, Luise Willer / Ludwig Kusche, Luise Willer / Orchester der Berliner Staatsoper, Luise Willer, Münchener Funkorchester / Luise Willer, Carl Hartmann / Jean Stern / Henny Trundt / Luise Willer / Frankfurter Funkorchester |
| | |
| Copyright | © Preiser Records |
| Country | AUSTRIA |
Update Required
To play the media you will need to either update your browser to a recent version or update your
Flash plugin
.
Promotion Text
Lebendige Vergangenheit
Luise Willer wurde am 28. Dezember 1888 als Tochter eines Lehrers in Seeshaupt am Starnberger See geboren. Nach dem frühen Tod des Vaters zog die Mutter mit ihren fünf Kindern nach München. Die Musikalität der jungen Luise Willer zeigte sich sehr bald: sie sang leidenschaftlich gerne und hatte schon frühzeitig das Ziel, Sängerin zu werden. Aber die wirtschaftliche Lage erforderte, dass sie sich ihren Lebensunterhalt selbst verdienen musste. So nahm sie eine Stelle als Buchhalterin an. Ihre ersten Gesangsstunden erhielt sie von der Münchener Pädagogin und Kirchensängerin Maria Heppner-Baermann. Der Chordirektor der Münchener Hofoper Hermann Raßbach hörte Luise Willer, als sie in kleinem Kreise ein Lied zum Besten gab. Er gab ihr den Rat, sich beim Opernchor zu bewerben, denn da könnte sie besser verdienen und noch mehr Zeit auf ihr Gesangstudium verwenden. Raßbach war so interessiert, dass er selbst mit ihr zwanzig Opernpartien einstudierte. Mit der Arie "0 schöne Jugendtage" aus dem "Evangelimann" von Kienzl sang die Willer dem Münchener Generalmusikdirektor Felix Mottl vor; er sagte nur: ,,Die nehmen wir". Ein großer Förderer von Luise Willer war Bruno Walter. Als Walter die Sängerin zum ersten Mal_ hörte, war er noch Kapellmeister der Wiener Oper. Er war von der "Siegfried"-Erda und der Kerkerszene der Amneris so beeindruckt, dass er der jungen Chorsängerin sagte: ,,Wenn Sie hier in München nicht als Solistin genommen werden, nehme ich Sie sofort mit nach Wien". Dann kam Bruno Walter aber nach München, um den inzwischen verstorbenen Felix Mottl zu ersetzen. Seine erste Amtshandlung, nach­ dem er Generalmusikdirektor der Münchener Oper geworden war, bestand darin, Luise Willer als Altistin zu engagieren. Am 4. Januar 1913 debütierte sie als Brangäne in Wagners "Tristan und Isolde". In den ersten Jahren ihrer Solotätigkeit wurde Luise Willer von ihrer Vorgängerin in München, der Sängerin Victoria Blank, dramatisch weitergebildet. Der Vortragsmeister der Münchener Oper, der Konzertsänger Felix von Kraus, widmete sich ihrer Entwicklung mit besonderer Intensität. So erweiterte sich ihr Repertoire schnell; bald sang sie die Fricka und die Carmen, und während der Münchener Opernfestspiele 1913 war sie bereits in fünf großen Partien zu hören. Nach dem Übergang Emmy Krügers ins hochdramatische Sopranfach wurde Luise Willer die unbestritten erste Altistin und Mezzosopranistin der Münchener Oper. Mit einer kurzen Unterbrechung von 1934-1937, als sie in Berlin sang, hat sie der Münchener Oper bis zum Ende ihrer Karriere angehört. München blieb auch das Zentrum ihrer Tätigkeit, als sie internationalen Ruhm erlangte. Sie gastierte in Holland und Spanien, trat 1926 und 1931 … Luise Willer was born on 28 December 1888 in Seeshaupt on the Starnberger See in Bavaria. After the early death of her father, a teacher, her mother moved to Munich with her five children. Luise Willer's musical gifts were soon evident; she loved to sing, and intended from the start to pursue a singer's career. But the financial circumstances demanded that she earn her own living, so she took a job as a bookkeeper. She got her first singing lessons from the Munich pedagogue and church-music soloist Maria Heppner-Baermann. Tue choirmaster of the Munich Court Opera, Hermann Rassbach, heard Luise Willer sing at a small private gathering and advised her to audition for the opera chorus, where she would earn more and have more time to study. Rassbach was so interested that he coached her himself in twenty opera roles. Luise Willer's audition piece for Munich's general music director, Felix Mottl, was the aria "O schöne Jugendtage" ,from "Der Evangelimann" by Wilhelm Kienzl. Mottl's response consisted of three words: "We'll take her". One of Willer's major supporters was Brurio Walter, who was chief house conductor of the Vienna Court Opera when he heard her for the first time. Walter was so impressed by her Erda in "Siegfried" and Amneris in the dungeon scene from "Aida" that he told the young chorister, "If they don't hire you as a soloist here in Munich, I'll take you to Vienna right away." But it was Walter who went to Munich as successor to Felix Mottl, who had died in the meantime. His first official act as general music director of the Munich Opera was to engage Luise Willer for alto roles. On 4 January 1913 she made her debut as Brangäne in Wagner's "Tristan and Isolde". In her first seasons as a soloist, Luise Willer got further dramatic coaching from her predecessor, Victoria Blank. Tue elocution coach of the Munich Opera, the concert singer Felix von Kraus, devoted a great deal of attention to her artistic development, with the result that her repertoire grew quickly. She was soon singing Fricka and Carmen, and during the 1913 Munich Opera Festival she was heard in five major roles. When Emmy Krüger switched to the high dramatic soprano category, Luise Willer became the Munich Opera's uncontested leading alto and mezzo soprano. Apart from a three-year interval from 1934 to 1937, when she sang in Berlin, she remained a member of the Munich Opera until the end of her career, and Munich continued to be the focal point of her work when she became internationally renowned. She gave guest performances in Tue Netherlands and Spain, appeared in London in 1926 and 1931 …
Amazon, iTunes, Spotify & Co.