Four German Contraltos of the Past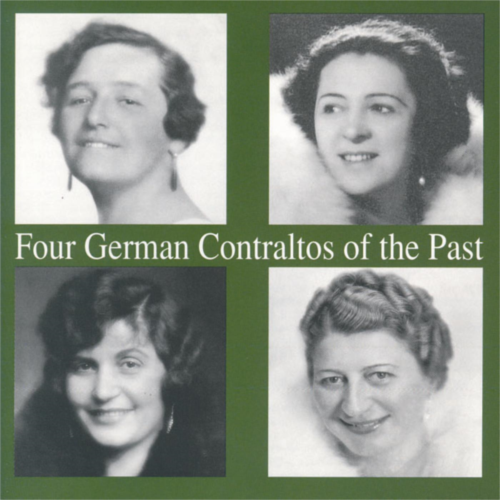 | | |
| --- | --- |
| Artist | Luise Willer |
| Title | Four German Contraltos of the Past |
| | |
| Release Date | Monday, September 11, 2006 |
| Genre | Classical > Choro |
| | |
| Composers | Georg Friedrich Händel, Richard Wagner, Giuseppe Verdi, Christoph Willibald Gluck, Georges Bizet, Camille Saint - Saens |
| Songwriters | Berliner Philharmoniker / Eva Liebenberg, Eva Liebenberg / Berliner Philharmoniker, Marcel Wittrisch / Orchester der Staatsoper Berlin / Margarete Klose, Orchester der Staatsoper Berlin / Margarete Klose / Bruno Seidler - Winkler, Maria Olszewska / Orchester der Staatsoper Berlin, Eva Liebenberg / Orchester der Staatsoper Berlin, Orchester der Staatsoper Berlin / Luise Willer, Luise Willer / Orchester der Staatsoper Berlin, Maria Olszewska / Genia Guszalewicz / Else Knepel / Orchester der Staatsoper Berlin |
| | |
| Copyright | © Preiser Records |
| Country | AUSTRIA |
Update Required
To play the media you will need to either update your browser to a recent version or update your
Flash plugin
.
Promotion Text
Lebendige Vergangenheit
Luise Willer was born on December 28th 1888 in Seeshaupt at the Starnberger See. After the early death of her father, who was a teacher, her mother went to live in Munich together with her five children. Luise had to contribute to her family's living and worked as a girl-apprentice in an office. At this time, already, she dedicated her free time to vocal studies with her teacher Mrs. Heppner-Baermann. By lucky chance the choir master of the Munich Court Opera House, Raßbach, heard her singing at her relatives' house and encouraged her . to enter his choir. After an audition for the director, Felix Mottl, the latter just nodded and said: "We must have her." This way, Luise Willer became a choir member of the Munich Court Opera at the age of seventeen. Apart from this activity she intensively studied the roles from the alto repertoire, always concentrating on a career as a soloist. Felix Mottl died all of a sudden and Bruno Walter, then principal conductor of Vienna's Court Opera came to Munich to succeed Mottl in his position. Munich's General Director, Freiherr von Speidel, who knew Willer's ambition, arranged for her to audition for Bruno Walter. She sang Erda from "Siegfried" and Amneris' big scene from "Aida". Walter expressed his recognition and said: "If they don't engage you here I will instantly take you to Vienna." Within two days she held the contract in her hands. Bruno Walter had hardly taken up office when he let her step in in the role of Brangäne. With this part Willer's career started to take off. Being the last Royal Bavarian Kammersängerin she spent almost her entire career at the Munich Opera House which she left only in 1934 for three years because of disagreements with the management board. Willer accepted an engagement at the German Opera House of Berlin but was brought back to Munich by Clemens Krauss where she remained until the end of the war. In the years from 1928 to 1930 Luise Willer was repeatedly engaged at Vienna's State Opera. One of the most glamorous appearances among female singers during the Twenties in Berlin was Eva Liebenberg. She was born in Stettin on February 15th 1890. At the beginning of World War I she came to Berlin and began to study with the then renown composer and teacher, Hugo Rasch. In 1921 Eva Liebenberg made her stage debut at the Stadttheater of Coburg and impressed her public not only with her voluminous and dark shaded voice but even more with her good looks and her impetuous stage temperament. Strange to say, despite her fascinating stage appearance, she never became known as an opera singer outside of Coburg. Within the first year of her career she established herself as an excellent lied and oratorio singer in Leipzig, Hannover and Dresden. Her success in opera outside of Coburg was rather moderate compared to her activity on concert stage. In 1923. Eva Liebenberg broke her contract with the Stadt­ theater of Coburg but did not accept any permanent engagements at other opera houses. She moved to Berlin and within no time became one of the most popular, although not always celebrated, concert artists of the German capital. lt seems strange for a singer with the qualities of Eva Liebermann who obviously was destined for a career on the operatic stage that she did not take much interest in it. She sang in several guest performances in Berlin, in Bayreuth she sang Erda in "Rheingold" and "Siegfried" and the first Nom in "Götterdämmerung" in 1927 and 1928. The climax of her career was ll: concert in the honor of Johannes Brahms' 100th birthday on May 14th 1933 at the Scala of Milan where she performed the Alto rhapsody. Being of Jewish origin she had to give up her career in Nazi Germany. In the years between 1934 and 1945 her traces cannot be pursued but in 1947 she reappears in Hilversum/Holland where Eva Liebenberg assisted several renown Dutch singers to obtain outstanding success. Maria Olszewska was born in Ludwigsschwaige near Donauwörth in Bavaria on August 12th 1892. She studied singing in Munich and made her first stage experiences in operetta. She accepted an engagement in Krefeld and after two years switched to Hamburg where she sang herself into the front row. The former director, Egon Pollak, carefully guided her steps and enabled Olszewska to thoroughly develop her instrument. Together with Egon Pollak as conductor she introduced herself to Vienna in the Konzerthaussaal in 1921. Her following guest performance at the State Opera gave evidence of her excellent voice as well as her captivating stage appearance. Olszewska was highly successful as Carmen, Amneris, Azucena and Brangäne which was followed by other guest performances as Fricka, Ortrud and Waltraute. Undoubtedly, her most unforgettable achievement in Vienna was the role of Selica in "L'Africana", this dreaded and dangerous role which strains both high and low register of the voice. Together with the recently discovered Trajan Grosavescu and Emil Schipper's overwhelming Nelusco she procured this opera a true renaissance. But her stylish Orfeo, too, as well as her exemplary Fides in "Le Prophete" must be mentioned here. In 1924 Olszewska interpreted the role of Octavian in "Rosenkavalier" for the first time wJ:iich she was to sing for many years. Luckily it has been preserved in a recording of excerpts from 1933 with a splendid cast including Lehmann, Schumann and Mayr, conducted by Robert Heger. The ghost-like nurse in "Frau ohne Schatten", Klytämnestra who is being tortured by her bad conscience or her interpretation of the dazingly beautiful but utterly spoilt Herodias reveal the artist's "secret of trans­ formation". Regrettably she has never sung Dalila in Vienna which …
Amazon, iTunes, Spotify & Co.