Lebendige Vergangenheit - Ludwig Suthaus (Vol.2)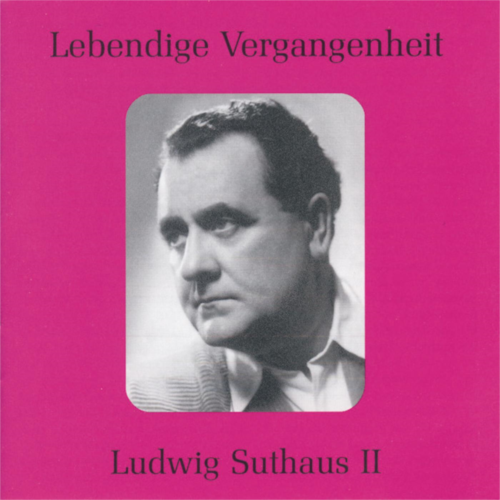 Update Required
To play the media you will need to either update your browser to a recent version or update your
Flash plugin
.
Promotion Text
Lebendige Vergangenheit
If it had been up to Alban Berg the Berlin State Opera would have taken the young tenor Ludwig Suthaus under contract as early as 1929. In September of that year, after the first performance of the revised "Wozzek" in Aix-la-Chapelle, the composer raved in a letter to Erich Kleiber about Suthaus's fabulous high Bs and Cs and asked him if one could not obtain this tenor's services for Berlin. Dr. Kemp, critic of the Aachener Post, was of the same opinion; he even went so far as to call Suthaus's interpretation of the small role of Andres a "vocal masterpiece". Suthaus had not yet turned 23 at the time. Originally a stonemason, he started taking singing lessons with Julius Lenz at the Cologne Conservatory at the age of 16. The tenor fach was still out of reach though. Among the first roles he studied were Wotan, Telramund and Dappertutto in "Les Contes d'Hoffmann" until one day he surprised his teacher with Rodolfo's aria from "La Bohème" and the Postillion's song from Adam's opera. Only after his tenor voice had been discovered did Suthaus seriously consider a professional singing career. From 1926 on he gained his first experiences in the Cologne Radio Chorus and began his stage career on September 15th 1928 as Walter von Stolzing in Aix-la-Chapelle. Tiana Lemnitz, Martha Fuchs, Hanns Heinz Wunderlich, Paul Piro and Richard Bitterauf were his stage partners in a Stadttheater performance typical of the time when opera ensembles were still intact. During his first operatic season 1928/29 Suthaus appeared in 45 performances as Stolzing, Florestan, Julien ("Louise"), Radames, Boris ("Katia Kabanova"), the Italian Singer ("Der Rosenkavalier"), Leopold ("La Juive") and Faust (Gounod). In his second year he added Lohengrin, Don Carlos, Samson, Alfred ("Die Fledermaus"), Andres ("Wozzeck"), Dick Johnson, Erik, Canio, Calaf, Manrico and Lionel. His appearances during each season eventually amounted to 135. After three years in Aix-la- Chapelle in 1931 he took on his next engagement in Essen. At that point his repertoire included 65 roles, among them Adam in Zeller's operetta "Der Vogelhändler", Fenton, Pinkerton, Don José and Assad in "The Queen of Sheba", Hermann in "Pique Dame" and Otello. His real career began in 1932 in Stuttgart where he became the successor to the acclaimed Wagner tenor, Rudolf Ritter. In Stuttgart Suthaus became one of the leading Wagner tenors of his day and from there he also achieved international fame. In 1935 he appeared for the first time at the Berlin State Opera as Otello, in 1936 he sang Alvaro at the open air festival in Augsburg and made his debut at the Vienna State Opera as Tannhäuser in 1938. In 1942 he began his association with Berlin and appeared for the first time at the State Opera. A contract with Heinz Tietjen was something like a knighthood for every German singer since in most cases it also included an engagement at Bayreuth. With his Bayreuth debut as Stolzing in 1943 Suthaus achieved the goal of every Wagner singer. In July 1944 Total War put an end to Germany's operatic life. Those members of the ensemble who escaped call-up to the front had to serve the Reich by appearing in concerts. On April 15th 1945 Suthaus was still to be heard in a concert of excerpts from "Otello" together with Tiana Lemnitz on the stage of the Schauspielhaus, but one last concert scheduled for April 21st did not take place: the centre of Berlin was already being heavily bombed by Russian artillery. Almost exactly two months after this last concert of the "Thousand Year Reich", on June 16th 1945, the state opera ensemble gave its first post-war concert in the building of the radio station. Erna Berger, Margarete Klose, Peter Anders and Ludwig Suthaus were heard in excerpts from "Freischütz", "Zauberflöte", "Carmen", "Samson et Dalila", "La Bohème" and "Aida". This new beginning in 1945 brought an hiccough for Suthaus, however. The State Opera staged no less than ten new productions during its first post-war season but only one opera offered a suitable role for Suthaus. "Tiefland" on December 6th 1945 was his first stage performance after one and a half years and, had he not been able to step in several times at the Städtische Oper as Otello, Florestan and Canio, Pedro in "Tiefland" would have remained his only role for sixteen months. "Sadko" on April 10th 1947, however, offered a welcome change. His first Wagner role after the war was Tristan in October 1947 and two more roles followed in 1948: Samson in October and Stolzing in December. But Suthaus's unbalanced repertoire had fatal consequences for his voice. His singing had always been based rather on personal intuition than on technical understanding. The innate effortlessness of his singing, for which he was envied by his colleagues Willi Domgraf- Fassbaender and Max Lorenz, now became a disadvantage. His repertoire was concentrated more on the middle range of his voice than on exposed top notes and as a result of this the voice developed more in the low register. The already baritonal timbre of his voice became even darker whereas the top began to wane. Only in the late Forties, after lessons with the former heroic tenor Hans Grahl did his vocal emission regain some of its former leanness. Suthaus's engagement at the Städtische Oper in 1949 represented a definite upturn in his career. Under the guidance of his former State Opera director, Heinz Tietjen, Suthaus began his "second" international career in 1949 in Buenos Aires with the "Meistersinger" and "Die Frau ohne Schatten". Over following decade he was part of an already diminished group of heroic tenors who dominated the Wagner repertoire worldwide. He appeared in San Francisco, Chicago, Moscow, Leningrad, London and on the major stages of Italy, Spain and France. Since their Berlin "Tristan" in 1947 Suthaus had become Furtwängler's favourite post-war tenor. Together they recorded four complete operas: "Tristan und Isolde" in 1952, …
Amazon, iTunes, Spotify & Co.