The Art of Lotte Schöne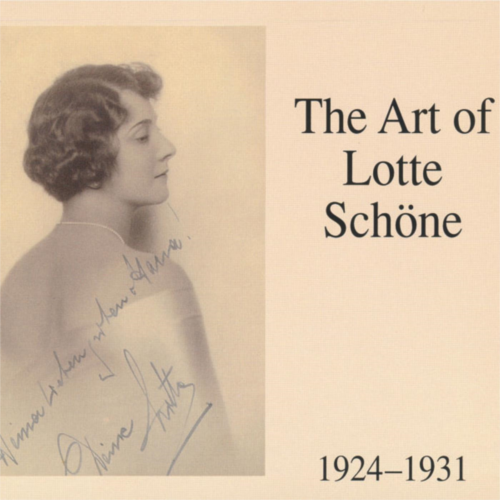 | | |
| --- | --- |
| Artist | Lotte Schöne |
| Title | The Art of Lotte Schöne |
| | |
| Release Date | Thursday, September 7, 2006 |
| Genre | Classical > Choro |
| | |
| Composers | Carl Zeller, Daniel Jones, Gaetano Donizetti, Arthur Rubinstein, Giuseppe Verdi, Johann (Sohn) Strauß, Wolfgang Amadeus Mozart, Otto Nicolai, Giacomo Puccini, Jules Massenet, Franz Schubert, Carl Millöcker, Giacomo Meyerbeer, Joseph Strauß, Franz von Suppé, Gioacchino Rossini |
| Songwriters | Lotte Schöne, Willi Domgraf - Fassbänder / Lotte Schöne, Joseph Hislop / Lotte Schöne, Lotte Schöne / Berliner Staatsopern Orchester, Berliner Staatsopern Orchester / Lotte Schöne, Berliner Staatsopern Orchester / Herbert Janssen / Lotte Schöne |
| | |
| Copyright | © Preiser Records |
| Country | AUSTRIA |
Update Required
To play the media you will need to either update your browser to a recent version or update your
Flash plugin
.
Promotion Text
Lebendige Vergangenheit
Lotte Schöne war eine der ganz wenigen Opernsängerinnen der Zwischenkriegszeit, die Weltruhm erlangten, ohne ihre künstlerischen Heimstätten zu verlassen. Sowohl Wien als auch Berlin hatte sie volle acht Spielzeiten unter Vertrag, bis sie Deutschland 1933 verlassen musste. Festspiele in Salzburg, späterhin Auftritte in Frankreich und seltene Gastspiele in London, Florenz, Holland und Budapest unterstreichen nur die Tatsache, dass Lotte Schöne auf dem Nährboden echten Ensemblegeistes zum Star wurde. Freilich hatte sie das Glück, in Spitzenensembles arbeiten zu dürfen: in Wien unter Schalks Ägide bis 1926, dann unter Bruno Walter in Berlin. Ihre Treue zu "ihren Häusern" (447 Aufführungen in den acht Spielzeiten in Wien, 476 in Berlin) und ein sehr glückliches Familienleben schlossen Reisen weitgehend aus. Sie ermöglichten jedoch die volle Entfaltung ihrer künstlerischen und menschlichen Fähigkeiten, und eine beglückende Erweiterung ihres Repertoires über die Soubretten- und Pagenrollen hinaus, auf die sie anfangs beschränkt war. Ihr zauberhaftes Aussehen, ihre exquisite Kopfstimme und ihr Legato waren wie geschaffen für Mozarts Cherubino und Susanna, für Oscar und Urbain, für Musetta und Norina und für Adele. Ebenso lagen ihr die mädchenhaft-elegischen Partien einer Gilda und eines Gänsemädchens. Die lebhafte Papagena, Blondchen und Philine waren in den frühen Wiener Jahren eine Selbstverständlichkeit. Es war typisch für Bruno Walters Einstellung zur Musik und zu Sängern, dass er unter der Lebenslust und der funkelnden Heiterkeit ihrer Koloratur die essentiell nostalgische Qualität von Lotte Schönes Ausdruckskraft herausspürte und für ihre Antrittsrolle in Berlin nicht Musetta wählte, die sie so oft in Wien gesungen hatte, sondern Mimi - eine Rolle, die man nicht automatisch mit ihr assoziierte. Die acht Berliner Jahre waren die frühe Erfüllung von Lotte Schönes Karriere, die so tragisch durch Verfolgung und Exil abgeschnitten wurde. Hier sang sie nicht mehr Papagena, sondern Pamina. Hier sang sie ihre erste Melisande, und die Liu in der deutschen Erstaufführung. In diesen Rollen erbrachte sie wohl ihre tiefsten, reifsten Leistungen, hier (und mit der Pamina) konnte sie ihre ganze Seele und Feinfühligkeit zum Einsatz bringen. Als Pamina erntete sie Triumphe in Salzburg und Holland. Sie war die erste Liu in London und ein sensationeller Erfolg, und für Frankreich wurde sie die Melisande schlechthin - keine geringe Leistung für eine Ausländerin. Butterfly bedeutete einen weiteren Schritt zur vollendeten lyrischen Ausdruckskraft. Die komische, extrovertierte Seite ihrer vielfältJ.gen Begabung wurde jedoch keineswegs vernachlässigt und sprühte in Rollen wie Annina in "Eine Nacht in Venedig", Adina in Donizettis "Elisir d'Amore", Angelina und Despina. Alle diese Rollen sang sie in den letzten Jahren in Berlin. Bei ihrer Abschiedsvorstellung am 12. Juni 1933 als Gilda… Lotte Schöne was one of the few opera singers in the inter-war years who achieved world fame without having to leave her artistic home. Both Vienna and Berlin had signed her up for eight seasons before she had to leave Germany in 1933. Festival appearances in Salzburg, France and occasional appearances in London, Florence, Holland and Budapest only reinforce the fact that Lotte Schöne achieved stardom on the premise of home-grown experience. Naturally this presupposed that she was fortunate enough to work with peak ensembles: in Vienna under the aegis of Schalk until 1926 and subsequently under Bruno Walter in Berlin. The fidelity to her "stages" (447 performances during eight seasons in Vienna, 476 in Berlin) and most harmonious family life virtually precluded travelling. However, it enabled a complete unfolding of both her artistic and human abilities and an expansion of her repertoire beyond those soubrette and page roles to which she was initially confined. Her enchanting appearance, her exquisite head voice and her legato predestined her for Cherubino and Susanna, Oscar and Urbain, Musetta, Norina and Adele. She was equally lauded in lyric roles like Gilda and the Goose girl. Her lively Papagena, Blonde and Philine were exemplary during her early years in Vienna. It was typical for Bruno Walter's attitude to music and singers that beneath her joie de vivre and the sparkling gaity of her coloratura ability he discerned the quintessential nostalgia of her expressivity and persuaded her not to sing Musette for her debut role in Berlin, which she had often sung in Vienna, but rather Mimi - a role not automatically associated with her. Her eight years in Berlin were the early apex of a career that was to be tragically cut short by persecution and exile. In Berlin she no longer sang Papagena but Pamina; she sang her first Melisande and Liu in the first performance in Germany. To all these roles she brought her deepest, most profound artistry. As Pamina she also triumphed in Salzburg and Holland. In London she was acclaimed as Liu and in France she became the Melisande par excellence- highly unusual for a foreigner. Butterfly was a further extention of her lyric expressivity. The witty, extroverted side of her multiple talents was by no means ignored and was particularly evident in roles like Annina in "A Night in Venice", Adina in "L'elisire d'amore", "Cenerentola" and Despina. All these roles she sang during her last years in Berlin. When she gave her farewell performance on June 12, 1933 as Gilda …
Amazon, iTunes, Spotify & Co.