Lebendige Vergangenheit - Lilly Hafgren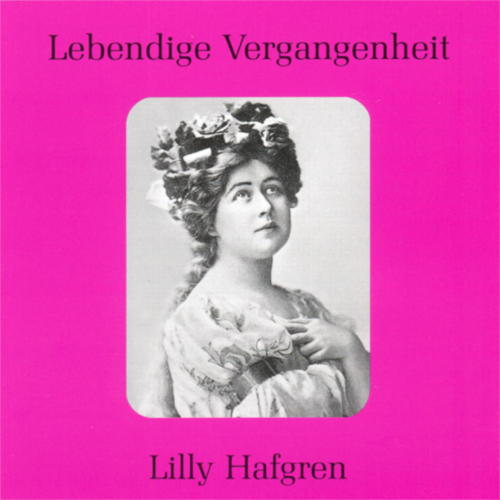 | | |
| --- | --- |
| Artist | Lilly Hafgren |
| Title | Lebendige Vergangenheit - Lilly Hafgren |
| | |
| Release Date | Thursday, August 17, 2006 |
| Genre | Classical > Choro |
| | |
| Composers | Richard Wagner, Giacomo Meyerbeer, Charles Gounod, Ludwig van Beethoven, Carl Maria von Weber, Wolfgang Amadeus Mozart, Richard Strauss, Eugen D´Álbert |
| Songwriters | Lilly Hafgren, Fritz Vogelstrom / Lilly Hafgren, Hermine Bosetti / Lilly Hafgren |
| | |
| Copyright | © Preiser Records |
| Country | AUSTRIA |
Update Required
To play the media you will need to either update your browser to a recent version or update your
Flash plugin
.
Promotion Text
Lebendige Vergangenheit
Lilly Johanna Maria Hafgren was born in Stockholm on 7 October 1884. She came from a musical family: her father, Johann Erik Hafgren, was the director of a theatre, her mother, Maria Malmgren, a concert singer and her brother, Lil Erik Hafgren, a pianist who was also known as a composer and conductor. Lilly Hafgren spent her youth in Berlin and Frankfurt am Main, where she trained as a pianist at the Raff Conservatory. During her first concert tour in 1907, she played the piano in Florence at the home of Countess Gravina, singing several pieces as well. Siegfried Wagner, who happened to be a guest of the countess, encouraged the young pianist to study singing and invited her to come to Bayreuth for an audition in the coming year. She attended the audition and made her singing debut the same year as Freia in Rheingold. Hans Richter conducted the performance, and Haftren's partners were Walter Soomer, Luise Reuss-Belze, Carl Braun and Hermine Kittel. Her debut was heard by the director of the opera in Mannheim, Carl Hagemann, who immediately hired her to sing there. Over the next four years she sang almost all of the youthful, romantic roles, and her string of successes grew constantly. In 1909 she was back in Bayreuth, where she sang Elsa in Lohengrin on short notice after a colleague fell ill. She studied the role in only six days under Siegfried Wagner, who also conducted the performance. Her partners were Alfred von Bary, Anna Bahr-Mildenburg, Rudolf Moest and Nikola Geisse-Winkel. In 1911 she sang Eva in Die Meistersinger for the first time in Bayreuth, returning to perform the role there in 1912 and 1924 as well. In 1912, Hafgren sang Elsa as a farewell to her Mannheim audience, which had enthusiastically cheered her during her four years there. Her tenor partner of many years, Fritz Vogelstrom, with whom she had shared almost every performance, also left Mannheim to go to the Staatsoper in Dresden. Lilly Hafgren was called to the Hofoper in Berlin, where she remained a member until 1920. There she expanded her repertoire considerably, finally singing the highly dramatic roles that later became her true domain. Thus she added the role of Brünnhilde to her Sieglinde, and Venus to her Elisabeth. On 18 April 1920, she sang the Empress in the first Berlin performance of Strauss's Die Frau ohne Schatten. This was followed by a new production of Jphigenie en Tauride in which she sang the title role. At the end of that season she left the Berlin Staatsoper to devote herself exclusively to guest performances and concerts. Her repertory included the following parts: Elsa, Eva, Kundry, Gutrune, Freia, Isolde, Brünnhilde in Siegfried and Götterdämmerung, Pamina and the First Lady in Zaube,flöte, the Countess in Nozze di Figaro, Agathe, Ariadne, Oktavian, Chrysotemis, Herodias in Salome, Selica in L'Africaine, Rachel in La Juive, Lotte in Werther, Carmen, Tosca, the Kaiserin in Frau ohne Schatten and lphigenie in Iphigenie en Tauride. Throughout the 1920s she was active as a concert and recital singer and often included in her pro­ grammes modern works by Strauss, Schillings and Lil Erik Hafgren. She travelled to London, Amsterdam, The Hague, Rotterdam, Stockholm, Vienna, Graz, Prague, Budapest, Zurich, Lucerne, Rome, Milan, Genoa, Venice, Bologna, Florence, Naples and all of Germany's important music centers. During seven seasons at La Scala in Milan she sang all the Wagner roles in her repertoire under Arturo Toscanini. She refused an invitation from the Metropolitan Opera because neither her brother nor her husband could accompany her to America. In 1934-5 she accepted an engagement at the Dresden Staatsoper, singing all of her great roles during that season. At a banquet following a performance of Die Frau ohne Schatten, she announced completely unexpectedly that it had been her last performance. Richard Strauss, who had personally conducted his work, tried in vain to change her mind. At the age of only 50 and at the peak of her career, Lilly Hafgren retired to private live. Until her death on 27 February 1965, she lived with her husband in Berlin.
Amazon, iTunes, Spotify & Co.