Waldträume : Musik nach Gedichten von Désirée Ruprich (1890–1918)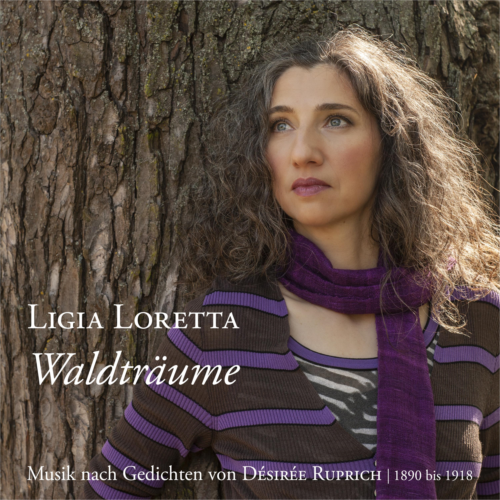 | | |
| --- | --- |
| Artist | Ligia Loretta |
| Title | Waldträume : Musik nach Gedichten von Désirée Ruprich (1890–1918) |
| | |
| Release Date | Friday, April 5, 2019 |
| Genre | Alternative > Singer-Songwriter |
| | |
| Copyright | © Minunat Music |
| Country | AUSTRIA |
Update Required
To play the media you will need to either update your browser to a recent version or update your
Flash plugin
.
Promotion Text
Waldträume - Ligia Loretta vertont Gedichte von Désirée Ruprich (1890-1918)
Poesievoll, vielschichtig, berührend, verführend Mit fünfzehn poetischen Songs voller Leidenschaft lässt Ligia Loretta mit ihrem Quartett (Emmanuel Mazé - Akkordeon und Akkordina, Georg Jantscher - Gitarre, Thorsten Zimmermann - Kontrabass, Ligia Loretta - Kompositionen, Gesang, Klavier, Perkussion) eine Brücke über ein Jahrhundert entstehen: Ihr neues Album Waldträume ist eine Hommage an die steirische Dichterin Désirée Ruprich (1890–1918) – die Komponistin und Sängerin vertonte deren Gedichte. Balladen, Stücke in Form von Suiten, Tango, Valse, Swing, Funk und Bossa Nova, kammermusikalischer Jazz und chansonesques Songwriting stehen im Zeichen der Liebe zum Wald, zur Natur, zum Menschen – zur Welt. Ligia Lorettas ausdrucksstarke, virtuos und nuanciert begleitete Stimme führt durch magische Landschaften der Natur und der Seele. Und so gewinnt die Lyrik der vertonten Texte an Intensität in den Stücken der Komponistin und Sängerin. Die musikalische Empfindung der Künstlerin ist von Romantik, Spätromantik, Impressionismus, Moderne sowie Jazz, Chanson, Tango und alten Liedern aus ihrer ursprünglichen Heimat Rumänien geprägt. Die Musik verwandelt die berührende österreichische Lyrik in eine universelle Sprache der Gefühle. Waldträume laden zum Eintauchen ein: in die Musik der Poesie und in die Poesie der Musik ...Ligia Lorettas feurige, aber auch verträumte Musik geht unter die Haut und verführt in eine einzigartige, zeitlose Welt: jene der Waldträume. Echos zur Musik dieses Albums (von den Konzerten): "Ein unvergessliches Erlebnis für die zahlreichen Besucher, da an diesem Abend ein bislang unentdeckter Schatz St. Radegunder bzw. Steirischer Literaturgeschichte gehoben und mit einzigartiger Musik von Ligia Loretta Cristea vertont wurde." (Hannes Kogler, Bürgermeister von St. Radegund)"Die Stimme ist ausdrucksstark, variantenreich, intensiv, vielschichtig, berührend, mit überraschenden Klangfarben und authentischen Interpretationen, sie lässt einen eintauchen in ungekannte Emotionen." (H.A., Sänger)"Wir wurden durch die Kompositionen und Interpretationen von Desirée Ruprichs Texten zutiefst berührt." (B. L.) Fotos: Portraits von Ligia Loretta: Peter Purgar Bandfoto: Karl CrailsheimENGLISH VERSION Poetic, multi-layered, touching, seducing With fifteen poetic songs full of passion Ligia Loretta constructs with her quartet (Emmanuel Mazé - accordion und accordina, Georg Jantscher - acoustic guitar, Thorsten Zimmermann - double bass, Ligia Loretta - compositions, musical concept, vocals, piano, percussion) a bridge over a century: her new album Waldträume (in English : Forest Dreams) is a hommage to the Styrian poetess Désirée Ruprich (1890–1918) - the composer and singer set to music her poems. Ballads, pieces in the form of suites, tango, valse, swing, funk and bossa nova, chamber musical jazz and chansonesque songwriting, all stand under the sign of love for the forest, for nature, for the human being — for the world. Ligia Loretta's expressive voice, with a nuanced and virtuosic instrumental accompaniment, leads through magic landscapes of nature and of the soul. The music transforms the touching Austrian poetry into a universal language of feelings. Her Forest Dreams invite to immersion: into the music of poetry and into the poetry of music…. Ligia Loretta's both fiery and dreamy music gets under the skin and seduces into a unique, timeless world: that of forest dreams. "With his music I pay homage to the poetess Désirée Ruprich and to all dedicated artists and people of this world." (Ligia Loretta, December 2018)
Management / Booking
Get in contact
Amazon, iTunes, Spotify & Co.