Lebendige Vergangenheit - Léonce Escalais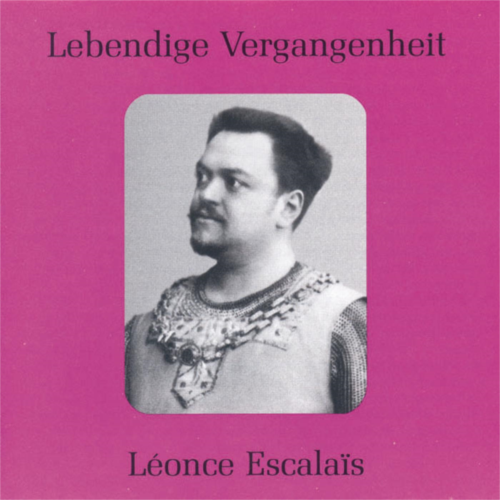 | | |
| --- | --- |
| Artist | Léonce Escalais |
| Title | Lebendige Vergangenheit - Léonce Escalais |
| | |
| Release Date | Tuesday, September 5, 2006 |
| Genre | Classical > Choro |
| | |
| Composers | Giacomo Meyerbeer, Giuseppe Verdi, Gioacchino Rossini, Jules Massenet, Flegier, Camille Saint - Saens, Granier, Georges Rupés, Jacques Fromental Halevy, Charles Gounod |
| Songwriters | Léonce Escalais, Léonce Escalais / Oreste Luppi / Antonio Magini - Coletti, Giovanni Masotti / Ferruccio Corradetti / Léonce Escalais / Oreste Luppi / Giuseppe Sala / Angelo Algos / Antonio Magini - Coletti |
| | |
| Copyright | © Preiser Records |
| Country | AUSTRIA |
Update Required
To play the media you will need to either update your browser to a recent version or update your
Flash plugin
.
Promotion Text
Lebendige Vergangenheit
Like many great French singers, the tenor, Leonce-Antoine Escalai's, was born near Toulouse, Cuxac d' Aude in his case, in 1859. He studied at the Conservatory of Toulouse, where he won the first prize in both categories singing and opera, and continued his studies at the Conservatoire National in Paris with Crosti and Obin (the latter also was the teacher of Marcel Joumet). After two years of study in Paris, he again won the first prize for singing in 1883, but only came second for opera. (The jury obviously had doubts about his stocky figure.) Escalai's won both prizes with what was to become his cheval de bataille: Arnold in "Guillaume Tell". He immediately was offered a contract by the Opera, where he made his debut on October 12th 1883, as Arnold, of course. He was an immediate. success: a voice of that quality had not been heard since the times of Nourrit or Villaret, whose successor he became. He sang all the heroic roles of the French repertory: Raoul in "Les Huguenots", "Robert le Diable", Vasco da Gama in "L'Africaine" and Eleazar in "La Juive". In 1890 he created the opera "Zaira" by Veronge de la Nux and - alternating with Vergnet, who sang the premiere - the role of Zarastra in Massenet's "Le Mage", and Samson. From 1885 on he regularly appeared at the Theatre de la Monnaie in Brussels. Following more and more frequent disputes with the direction of the Paris Opera he left in 1892 and pursued his career in Dijon, Lyon and Marseille and finally returned to ltaly. In 1888, already, he had scored a great triumph at the Scala of Milan in the role of Eleazar, which he had sung in ltalian. He was welcomed with even greater pleasure since Francesco Tamagno by then had concentrated his repertoire almost exclusively on Otello. Escalafä took over most of Tamagno's roles and was especially successful as Manrico in "II Trovatore". He did sing Otello, too, later on, although he did not really have the physique de role for it. (Unlike Bemardo De Muro, whose shortness kept him from singing the role on stage some years later.) Some other of Escala'is most important roles were the leading parts in Massenet's "Le Cid" and Reyer's opera "Sigurd", Radames and Jean in "Le Prophete". In 1896 he married the French soprano, Maria Lureau. In the years from 1892 to 1908 his performances in ltaly were much more frequent than those in his home country. All of his records were made around this time by Fonotipia in Milan. These years also saw his only appearances in the United States at the French Opera of New Orleans. Escala'is returned to Paris in 1908 and found a new direction at the Opera, with whom he was able to reach an agreement about his contract. Although he was close to fifty at that time, his voice had suffered hardly any wear and tear and especially as Arnold he won unanimous praise. In 1927 Escala'is was honored with the title "Chevalier de la Legion d'Honneur", one of the highest decorations in France. After his retirement he fully concentrated on teaching, which he had started back in 1896. Among his most famous pupils were the two tenors, Jose Luccioni and Riccardo Martin. In November 1941 Leonce Escala'is died in Paris. Voices like that of Escala'is do not seem to exist anymore today. The French heldentenor has a completely different nature than his German counterpart, who often has his roots in the baritone-Jach and whose voice, on acoustic recordings, is usually shown off to a better advantage. Escala'is never touched Wagner. His voice was clear and bright, it rang out with incredible intensity of sound and his top, which remained intact until the end of his career, was brilliant. He was the ideal interpreter for Meyerbeer and Halevy, for whose works we are short of adequate tenor voices nowadays, even in France. Through Escala'is' records, however, we are fortunate enough to get an idea what Arnold, Eleazar or Jean de Leyden must have sounded like. In his book "Voci parallele" Giacomo Lauri Volpi points out how the careers of certain singers resemble those of their predecessors. In the case of Escala'is there were even two singers, who succeeded him and who both left many records. The first one, Cesar Vezzani, took over his repertory in the years from 1911 to 1945. His vocal powers, too, were undiminished until the end and, like Escalafä, he left the Opera after various disputes with its director and continued his career elsewhere. Unlike Escalafä, though, whose physique reminded one of a bulldog, Vezzani looked great on stage. The second singer, Tony Poncet, was as short as Escalafä - when he wore high riding boots on stage he looked like Puss-in­ boots. Poncet's voice was of the same quality as his predecessor's and until his vocal powers diminished prematurely he had a short, but impressive career in some of Escala'is most famous roles. Records prove, that Leonce Escala'is surely had the most brilliant voice among French singers; he was a worthy successor to Duprez and Nourrit. In ltaly he was compared to the great Tamagno, but the Frenchman's voice was more beautiful and had a fuller sound, also he could produce the most beautiful lyrical phrases. Unsurpassed are his brilliantly ringing top notes, which like a laser-sword cut through the trio from "Guillaume ell" or the septet from "Les Huguenots".
Amazon, iTunes, Spotify & Co.