Lebendige Vergangenheit - Leo Schützendorf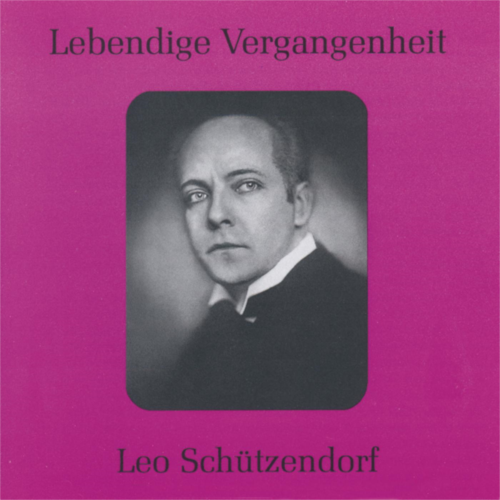 | | |
| --- | --- |
| Artist | Leo Schützendorf |
| Title | Lebendige Vergangenheit - Leo Schützendorf |
| | |
| Release Date | Sunday, September 3, 2006 |
| Genre | Classical > Choro |
| | |
| Composers | Wolfgang Amadeus Mozart, Gioacchino Rossini, Albert Lortzing, Modest Mussorgsky, Johann (Sohn) Strauß, Friedrich von Flotow, Carl Millöcker, Richard Wagner, Peter Cornelius |
| Songwriters | Leo Schützendorf / Orchestra der Staatsoper Berlin, Orchestra der Staatsoper Berlin / Leo Schützendorf, Leo Schützendorf / Berliner Philharmoniker, Leo Schützendorf, Leo Schützendorf / Orchestra der Städtischen Oper Berlin, Josef Kalenberg / Leo Schützendorf, Leo Schützendorf / Orchestra der Staatsoper Berlin / Michael Bohnen |
| | |
| Copyright | © Preiser Records |
| Country | AUSTRIA |
Update Required
To play the media you will need to either update your browser to a recent version or update your
Flash plugin
.
Promotion Text
Lebendige Vergangenheit
Although he only enjoyed a considerably short career - he died at the age of only 45 - the name of Leo Schützendorf still is very much alive in the musical world of today. He was born on May 7th 1886 in Cologne where his father owned a refinery and liquor manufactory. For three years he worked as a commercial apprentice before his outstanding talent pushed him towards an artistic profession. At the age of 18 he started to study music and dramatic theory at the Conservatory in Cologne with Professor d' Arnhals. In 1908 he was offered his first engagement at the Opera House in Düsseldorf in bass-buffo roles and the following three years saw him in Krefeld where, apart from operas by Lortzing, he was heard as Alberich and Ochs in "Rosenkavalier". Felix von Weingartner recommended him to the Opera House of Darmstadt in 1912 where he stayed until 1915 and then enjoyed his first great successes as lied-singer in Wiesbaden. During the last year of World War I Schützendorf was called into military service which left him with a serious neurosis caused by several traumatic experiences in the battle field. (The singer had to interrupt his career more than once because raving madness and later pronounced paranoia forced him to put himself under the care of doctors.) In 1919 he signed a contract with the Vienna State Opera which he annulled one year later for reason of under-employment. On September 1st 1920 Schützendorf became member of the Berlin State Opera where his career started to take off in a remarkable speed. He soon became a great favorite of the public in roles of such cheerful and good-natured characters as Baculus and van Bett. As Alberich and especially as Beckmesser he proved to be equally successful in pungent and suggestive roles. Among his most acclaimed roles during his Berlin-years were Ochs, Osmin, Bartolo, Leporello, Figaro and Klingsor. Schützendorf's extended vocal range enabled him to perform roles of both the hass and baritone repertoire. On February 22nd 1924 he gave his role debut as Mussorgsky's Boris Godunov which was regarded as a thea­ trical event of major importance in Europe. In the following year the singer set another milestone in operatic history enjoying a tremendous success in the title role of Alban Berg's "Wozzeck" on the occasion of the work's world premiere on December 14th 1925. In 1929 he was involved in a leave of absence affaire at the Berlin State Opera­ at that time the artist was already aspiring a career in operetta - which resulted in his dismissal. Schützendorf now reduced his appearances in opera to some guest tours and concentrated completely on operetta. Strenuous joumeys and the lenghthy en-suite system in operetta greatly affected his unstable health. During the last per od of his career he was heard in Berlin on the stages of the Rotter-Brothers in "Zigeunerbaron", "Hotel zur Stadt Lemberg" and "Schön ist die Welt", Max Reinhardt engaged him as Agamemnon for his production of Offenbach's "Die schöne Helena" and he sang Crespel in "Hoffmanns Erzählungen". After an operetta performance he collapsed in his dressing room and died few days later in Berlin on December 16th 1931. Albert Einstein dedicated the following lines to Schützendorf in the "Berliner Tagblatt": "He was a singer who was obsessed by the stage. -At his best when being the center of action it was at the same time impossible to overlook him in the most remote comer of the stage or in the smallest comprimario role. His Wozzeck was gripping in his bluntness, a miracle in precision of inflected speech - equal to the greatest representatives of this role on the theatre stage. His Alberich and Klingsor: highly unconventional but füll of pungent characterism, his Figaro: a cheerful, but dangerous fellow, superior to every aristocratic opponent. The power of his organ, which was never limited to mere belcanto singing, although he could sing, was over­ whelming in "Non piu andrai" as was the singer's dramatic emphasis. Equally worthy of the highest praise is the exceptional buffo-singer Leo Schützendorf: he was the most mischievous of all rascals in "Fra Diavolo", the most pleasant of all devils in "Schwanda der Dudelsackpfeifer", a Fra Melitone of both Verdian and Schiller-like "juciness". His good friend in Ibert's "Angelique", his Frosch in "Die Fledermaus" - wherever he appeared he filled the stage with overpowering tumult, he had a way of carrying along the most uninspired colleagues on stage and thrilling the most indifferent public". The festivities which took place on the occasion of the singer's 80th birthday in 1966 proved how much Leo Schützendorf's memory was still alive: the city of Berlin had erected a beautiful memorial and a street was named after him.
Amazon, iTunes, Spotify & Co.