Lebendige Vergangenheit - Lawrence Tibbett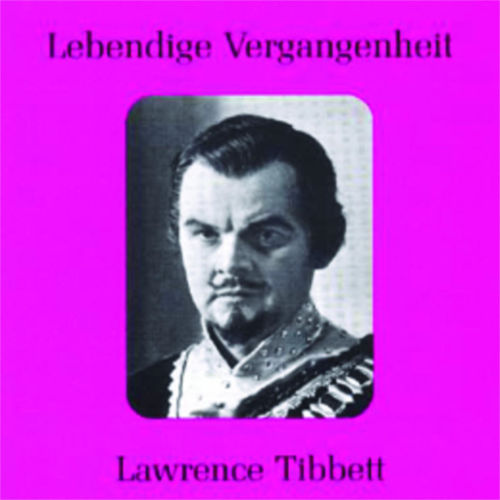 | | |
| --- | --- |
| Artist | Lawrence Tibbett |
| Title | Lebendige Vergangenheit - Lawrence Tibbett |
| | |
| Release Date | Thursday, August 10, 2006 |
| Genre | Classical > Choro |
| | |
| Composers | Ruggiero Leoncavallo, Giuseppe Verdi, Richard Wagner, Taylor, Gruenberg, Gioacchino Rossini, Giacomo Puccini, Charles Gounod, Hanson, Georges Bizet |
| Songwriters | Lawrence Tibbett, Lawrence Tibbett / Metropolitan Opera Chorus |
| | |
| Copyright | © Preiser Records |
| Country | AUSTRIA |
Update Required
To play the media you will need to either update your browser to a recent version or update your
Flash plugin
.
Promotion Text
Lebendige Vergangenheit
Lawrence Tibbett würde am 16. November 1896 in Bakersfield in Kalifornien. Sein gesangliches und darstellerisches Talent bewährte sich schon frühzeitig als Konzertsänger und bei Mitwirkungen an Laientheatern, vorwiegend in Operetten, wobei seine Bühnenleistung als Pish-Tush in Sullivans "Der Mikado" bereits damals besondere Aufmerksamkeit hervorrief. Er würde dann unmittelbar an die Metropolitan Opera engagiert, wo er 1924 als Jesuit Lowitzkij in "Boris Godunow" und mit anderen kleinen Rollen debütierte, bis ihm am 2. Jänner 1925 als Ford in Verdis "Falstaff" und wenige Tage später als Valentin in Gounods "Faust" der endgültige künst¬lerische Dnrchbruch gelang. Lawrence Tibbett war vor allem in den ersten Jahren seiner Laufbahn ein Meister bei der brillanten Behandlung seiner kraftvollen Stimmmittel, verbunden mit der musikalischen Intelligenz eines von dramatischer Intensität und Spontanität erfüllten Individualisten, der auch nach 1940, als sich bei ihm eine kaum mehr zu verbergende Stimmkrise bemerkbar machte, nach wie vor die Lebenskraft und den geistigen Elan eines außergewöhn¬lichen Bühnendarstellers bewahren konnte. Die auf einen überdurchschnittlich überlegenen Scharfsinn basierende Ausstrahlung des Künstlers und dessen blendende Bühnenfigur verstärkten zusätzlich noch diesen Eindruck, der Tibbett in Kürze zum unumschränkten Herrscher im Fach des Kavalier- und Heldenbaritons auf den amerikanischen Bühnen machte. Hier war es vor allem seine viel bewunderte Vielseitigkeit, die sich auf alle Gebiete der Vokalkunst erstreckte und deren Spektrum die Klassik ebenso, wie die Moderne einschloß. Eine nicht geringe Anzahl von Ur- und Erstaufführungen blieb für immer mit Tibbetts Namen verbunden, darunter auch Werke amerika¬nischer Komponisten, von denen Deerns Taylors "The King's Henchman" und "Peter Ibbetson", sowie Louis Gruenbergs "Emperor Jones" am erfolgreichsten waren. Vor allem aber sind es die Werke italienischer Meister gewesen, die den Kern des umfangreichen Repertoires dieses Sängers bildeten. Am 28. Jänner 1932 sang Lawrence Tibbett den ersten Simone Boccanegra der Metropolitan Opera und gestaltete unter anderem mit mächtiger Tonfülle und ausgestattet mit allen Attributen eines großartigen Schauspieler-Sängers den Tonio, Scarpia, Rigoletta, Amonasro, sowie Germont und nicht zuletzt einen von der verantwortungsvollen Hingabe an die Menschlichkeit erfüllten Rene in Verdis "Ein Maskenball". Lawrence Tibbett was born on 16 November 1896, in Bakersfield, California. His singing and acting talents soon became evident in his performances as a concert singer and in amateur theatre, for the most part in operettas, where he attracted special attention with his portrayal of Pish-Tush in Sullivan's The Mikado. He moved to New York in 1922 in order to continue his vocal studies with Frank La Forge. He was soon hired by the Metropolitan Opera, where he made his debut in 1924 as the Jesuit Lovitsky in Boris Godunov and sang other small roles. His artistic breakthrough came on 2 January 1925 as Ford in Verdi's Falstaff and a few days later as Valentin in Gounod's Faust. Especially in the early years of his career, Tibbett used his powerful voice in a brilliantand masterful way, drawing on highly individual musical intelligence characterised by drarnatic intensity and spontaneity. Even after 1940, while. undergoing a vocal crisis that was becoming increasingly evident, he retained the vitality and intellectual vigour of an unusually powerful stage performer. The artist's charisma, which was based on his greater than average perceptive powers, and the splendid fignre he cut on stage further reinforced this impression, soon making Tibbett absolutely supreme in the Kavalier- and Heldenbariton roles he played on the American stage. He was much admired for his versatility, which encompassed every area of vocal artistry and included both classic and modern roles. More !ban a few premiere performances remain indelibly associated with Tibbett's name, including works by American composers. The most successful among them were Deerns Taylor's The King's Henchman and Peter Ibbetson as well as Louis Gruenberg's The Emperor Jones. But the works of Italian masters in particular provided the core of the singer's extensive repertoire. On 28 January 1932, Tibbett sang the Metropolitan Opera's first Simon Boccanegra. Among the other rares he interpreted with the mighty fullness of his voice and al1 the attributes of a brilliant actor-singer were Tonio, Scarpia, Rigoletto, Amonasro and Germont and not least an interpretation of René in Verdi's Un ballo in maschera that was filled with responsible devotion to humanity.
Amazon, iTunes, Spotify & Co.