Lebendige Vergangenheit - Kurt Böhme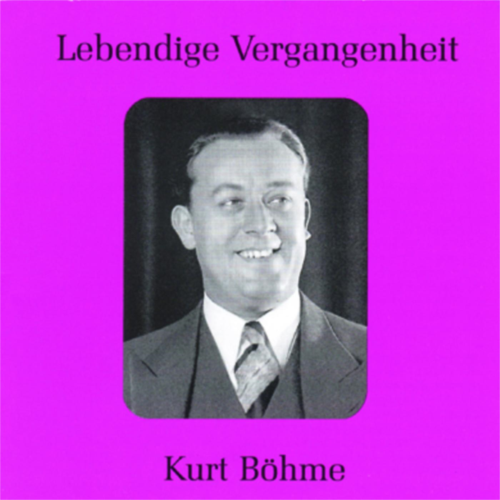 | | |
| --- | --- |
| Artist | Kurt Böhme |
| Title | Lebendige Vergangenheit - Kurt Böhme |
| | |
| Release Date | Monday, September 4, 2006 |
| Genre | Classical > Choro |
| | |
| Composers | Bedrich Smetana, Otto Nicolai, Richard Wagner, Richard Strauss, Wolfgang Amadeus Mozart, Carl Maria von Weber, Ludwig van Beethoven |
| Songwriters | Sebastian Hauser / Orchestra of the Berlin Civic Opera / Kurt Böhme, Theodor Horand / Leipzig Radio Orchestra / Kurt Böhme, Saxon State Orchestra / Karl Paul / Kurt Böhme, Margarete Bäumer / Tiana Lemnitz / Saxon State Orchestra / Kurt Böhme, Angela Kolniak / Saxon State Orchestra / Kurt Böhme, Saxon State Orchestra / Kurt Böhme, Josef Herrmann / Kurt Böhme, Leipzig Radio Orchestra / Kurt Böhme, Chorus and Orchestra of the Bavarian State Opera / Kurt Böhme |
| | |
| Copyright | © Preiser Records |
| Country | AUSTRIA |
Update Required
To play the media you will need to either update your browser to a recent version or update your
Flash plugin
.
Promotion Text
Lebendige Vergangenheit
"With him, no night was ever too long" This compliment, adapted from a Rosenkavalier quote, was paid to Kurt Böhme after his 500th performance as Baron Ochs auf Lerchenau. The comment that he was never boring is even more telling praise for a stage artist than applause received for vocal refinement, subtlety of expression or perfection of style. With his interpretation of Ochs in Richard Strauss's Rosenkavalier - a role that fit him like a glove and was a piece of bravura and a magical, brilliant character portrait - Kurt Böhme established an undisputed place for himself in opera history, much like Fritz Wunderlich as Tamino, Birgit Nilsson as Isolde or Mario del Monaco as Otello. This was the centrepiece of his career, but it was surrounded by more than 110 other roles of highly varied character: lords and vassals, priests and devils, fathers and villains side by side. Böhme's skills as a singer and actor encompassed every aspect of the dramatic art, every possibility of human character: comic and tragic, high and low, noble and common. Kurt Böhme was born in Dresden on 5 May 1908. His parents were from the Erzgebirge (Ore Mountains), a range of hills along the German-Czech border, where they made their living by running an oil mill. Böhme's interest in and talent for music were evident at an early age. He learned to play the violin, piano, trumpet and horn and was a boy alto in the church choir. At age 15, he started a jazz trio that played for dancing in cafes; other members were Will Glahe and Peter Kreuder. Although he certainly could have made a career in instrumental music, Böhme chose voice instead. He studied at the Academy of Music in Dresden, taking his final examinations at the age of 21. In 1929, his first engagement took him to the provinces, to Bautzen in Saxony. There the young beginner was confronted with a "sing-or-swim" situation, and he sang Falstaff in Die Lustigen Weiber, Landgrave in Tannhäuser, Ramphis in Aida and Van Bett in Zar und Zimmermann. When the need arose, he sometimes sang two roles in the same performance. In one example, Caspar and the Hermit in Der Freischütz, he had only one page in the piano score to transform himself from the black villain to the pious hermit. After half a year in Bautzen, Böhme was brought to Dresden by the musical director of the opera there, Fritz Busch. A world­ class ensemble had been assembled in the 1920s and 30s, and Busch used them in realizing his epoch-making Verdi renaissance as well as for numerous trendsetting performances of works by Busoni, Hindemith and Schoeck. During the almost two decades that Böhme was engaged in Dresden, he established the basic artistic style that was to mark the rest of his career. He was cast in major roles from the beginning and participated in several world premieres. The two most important were Arabella and Die schweigsame Frau, both by Richard Strauss. Under Karl Böhm, who succeeded Fritz Busch in Dresden in 1934, the young bass constantly expanded his repertoire: he sang his first Mephisto in Gounod's Faust, Stadinger in Der Waffenschmied, and his first performances as Don Pasquale, Leporello and Don Basilio. In 1949 Böhme moved to the Bavarian State Opera, where he had sung a guest performance as Caspar in 1937. Writing about this first Munich performance, the critic Alexander Berrsche wrote: "Kurt Böhme is on the mark with every nuance of complete villainy, the false tone of the petty bourgeois, the diabolical persuasiveness, the dark lurking, brutal threatening and wild brutishness. And because he is tactful enough to avoid every exaggeration, he never threatens to become the ridiculous figure implied by the words theatrical villain." At the Nationaltheater, Böhme joined the family of great Munich basses, along with Paul Bender, Ludwig Weber, Georg Hann, Max Proebstl and Gottlob Frick. In 1941 he began a series of guest appearances at the Salzburg Festival, and a year later he joined the Vienna State Opera, of which he remained a member for many years. Böhme began singing at the Bayreuth Festival in 1952. Other inter­ national centres of his career were Covent Garden in London, Teatro Colon in Buenos Aires and the Metropolitan Opera in New York, to mention only the most important. Böhme was not in special demand or particularly popular as a specialist for certain roles or composers, but rather as an all-rounder. He sang Wagner's low hass roles from Daland to Gurnemanz (his favourite), everything by Mozart from Osmin to Sarastro, along with comic roles such as Kecal, Doctor Bartolo and Laroche in Capriccio. He played villains large and small, fools, characters on the fringe of human society, and was heard time and time again as Baron Ochs in Rosenkavalier. The first time he sang the role that was to become his second identity was in 1936, in Dresden. He began his permanent engagement in Munich with the same role and sang it a total of 572 times in around 30 different productions worldwide. As early as his Munich period, Böhme's Ochs was hardly open to interpretation by the respective director. He had taken such firm possession of the role, emancipating it from any directing style, that it left its own impression on the production. In Ochs, Böhme had discovered a role that demanded his entire artistry - both vocally and dramatically. Few other singers shared his mastery of such an enormous vocal range, from low C to high G sharp, and he had the vocal flexibility to switch constantly from parlando to arioso passages with virtuosity. He had such natural and authentic command of the language and milieu of a work that he - a native of Saxony - received the following unsuspecting compliment after a London premiere: "It's obvious that you're a true Viennese!" Kurt Böhme raised Ochs to the principal figure that Strauss and Hofmannsthal had originally intended, making him the focal point of the opera. …
Amazon, iTunes, Spotify & Co.