Canticum slovenicum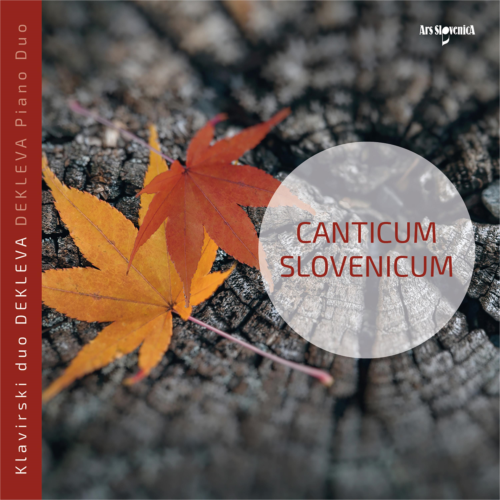 Update Required
To play the media you will need to either update your browser to a recent version or update your
Flash plugin
.
Promotion Text
Canticum slovenicum
Pianista Alenka in Igor Dekleva sta študirala klavir na Akademiji za glasbo v Ljubljani; po diplomi in magisteriju sta leta 1967 začela nastopati kot Klavirski duo Dekleva. V več kot 40-letnem delovanju sta se s koncerti, recitali, nastopi z orkestri, snemanji za radio in televizijo predstavila v Sloveniji, vseh republikah nekdanje Jugoslavije in številnih evropskih državah. Naj omenimo turnejo po Sovjetski zvezi (1981) z uvodnim recitalom v Leningradu (Sankt Peterburgu), recital v Helsinkih na Finskem (1983) v znameniti Aaltovi dvorani Finlandia, obširno turnejo desetih koncertov po Danski (1993), večkratno gostovanje v ZR Nemčiji,Avstriji, Italiji ... Pomembno je bilo gostovanje v ZDA (2006), in sicer s koncerti v Washingtonu D.C., Chicagu, Milwaukeeju ... Poleg obširnega svetovnega repertoarja za klavirski duo sta izvajala številne skladbe slovenskih avtorjev. Krstila sta mnogo del Primoža Ramovša, ki so bila posvečenanjima. Odmevna je bila izvedba integralnega opusa Mozartovih sonat za klavir štiriročno namednarodnem Festivalu Ljubljana (1979). Doslej sta posnela čez deset gramofonskih plošč, CD-jev ali drugih nosilcev zvoka. Alenka Dekleva je klavir poučevala na Konservatoriju za glasbo in balet v Ljubljani, Igor Dekleva pa na Akademiji za glasbo v Ljubljani in se pozneje osredotočil na klavirski duo. Njuno umetniško delovanje je obširno opisano v avtobiografiji Živeti z glasbo, izdani pri DZS leta 2006 (soavtor dr. Franc Križnar), v poglavju Dvoglasna partita in v Enciklopediji Slovenija,natančneje v 2. in 16. Zvezku.Pianists Alenka and Igor Dekleva studied the piano at the Ljubljana Academy of Music. After graduating and completing master's degrees, they began performing as the Dekleva Piano Duo in 1967. In their more than forty years of collaboration, they have performed concertsand recitals, appeared with orchestras, and recorded for radio and television in Slovenia, in all of the republics of the former Yugoslavia, and in many other European countries. Particular mention should be made of their tour of the Soviet Union (1981) with an opening recital in Leningrad (St Petersburg), a recital in Helsinki, Finland (1983) in Aalto's celebrated Finlandia Hall, an extensive ten-concert tour of Denmark (1993), as well as numerous performances in Germany, Austria, Italy, and so on. Particularly notable was their tour of the USA (2006), with concerts in Washington DC, Chicago, Milwaukee, and elsewhere.In addition to the extensive world repertoire for the piano duo, they have performed numerous compositions by Slovenian composers, including giving premiere performances of many works by Primož Ramovš dedicated to them. Their performance of Mozart's complete sonatas for piano four hands at the international Ljubljana Festival in 1979 attractedparticular acclaim. To date, they have recorded over ten albums, released as records, CDs or other sound media. Alenka Dekleva taught the piano at the Ljubljana Conservatory of Music and Ballet, and Igor Dekleva taught at the Ljubljana Academy of Music, later shifting his focus to the piano duo. Their artistic work is described extensively in the chapter Dvoglasna partita (Two-Part Partita) of Igor Dekleva's autobiography Živeti z glasbo (Living With Music), co-authored by Dr. Franc Križnar and published by DZS in 2006, as well as in the second andsixteenth volumes of the Encyclopaedia of Slovenia.
Management / Booking
Get in contact
Amazon, iTunes, Spotify & Co.