Klaudia Dernerová - Zo života ženy...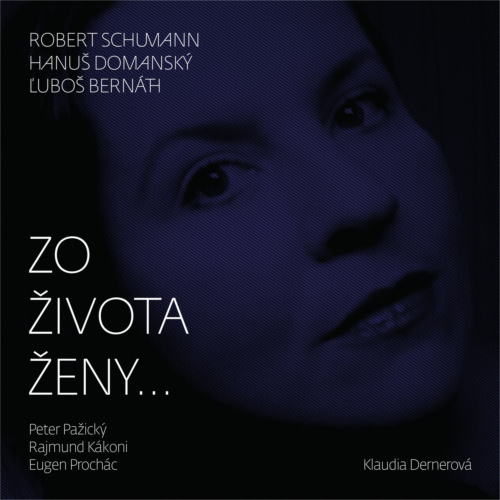 Update Required
To play the media you will need to either update your browser to a recent version or update your
Flash plugin
.
Promotion Text
Klaudia Derner - Profile CD of opera singer and soloist of the Slovak Theater
Klaudia Dernerová (spev) ROBERT SCHUMANNFrauenliebe und Leben Op.42 (klavír: Peter Pažický) I. Seit ich ihn gesehen 2:27 II. Er, der Herrlichste von allen 3:22 III. Ich kann's nicht fassen, nicht glauben 1:44IV. Du Ring an meinem Finger 2:50V. Helft mir, ihr Schwestern 2:11VI. Süßer Freund, du blickest mich verwundert an 4:41VII. An meinem Herzen, an meiner Brust 1:32VIII. Nun hast du mir den ersten Schmerz getan 3:39 HANUŠ DOMANSKÝElegická suita pre soprán a klavír(klavír: Peter Pažický) I. 4:04II. 3:04III. 2:05IV. 2:22V. 3:20 ĽUBOŠ BERNÁTHVyznania(akordeón: Rajmund Kákoni, violončelo: Eugen Prochác) I. Prelúdium 2:47II. Dar 2:47III. Povedz mi malé slovo 3:17IV. Elégia 2:09V. Vyznanie 3:37VI. Postlúdium 1:39
Management / Booking
Get in contact
Amazon, iTunes, Spotify & Co.