Lebendige Vergangenheit - Karin Branzell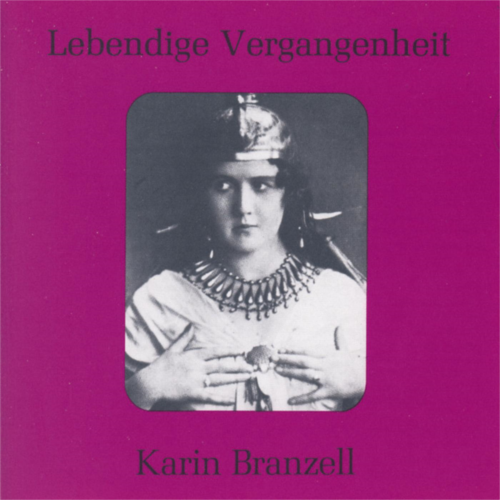 | | |
| --- | --- |
| Artist | Karin Branzell |
| Title | Lebendige Vergangenheit - Karin Branzell |
| | |
| Release Date | Wednesday, September 6, 2006 |
| Genre | Classical > Choro |
| | |
| Composers | Amilcare Ponchielli, Gaetano Donizetti, Christoph Willibald Gluck, Charles Gounod, Giuseppe Verdi, Camille Saint - Saens, Georges Bizet, Giacomo Meyerbeer, Wilhelm Kienzl, Richard Wagner, Ambroise Thomas |
| Songwriter | Karin Branzell |
| | |
| Copyright | © Preiser Records |
| Country | AUSTRIA |
Update Required
To play the media you will need to either update your browser to a recent version or update your
Flash plugin
.
Promotion Text
Lebendige Vergangenheit
Seit jeher nehmen in der Geschichte der Gesangskunst die Künstler nordischer Herkunft einen ganz besonders hohen Rang ein. An ihren Stimmen schätzt man vor allem die ungetrübte Klarheit der Tongebung, die stark ausgeprägte Musikalität, die Fülle und Kraft des Klanges. Im besonderen Maße treffen diese Charakteristika auf die Frauenstimmen zu. Bereits im vorigen Jahrhundert galten einige schwedische Sängerinnen als Königinnen des Kunstgesangs, so etwa Jenny Lind und Christine Nilsson, und in neuerer Zeit bezeugen Namen wie Kirsten Flagstad, Kerstin Thorborg, Nanny Larsen-Todsen, Julia Claussen und Birgit Nilsson die hohe Bedeutung der nordischen Frauenstimmen für das Musikleben. Eine der hervorragendsten Sängerinnen schwedischer Herkunft ist Karin Branzell, die am 24. September 1891 in Stockholm zur Welt kam. Ihre musikalische Begabung fand zunächst auf dem Gebiet der Kirchenmusik ein reiches Tätigkeitsfeld, und es hatte den Anschein, als sollte die Orgel das Instrument ihrer künstlerischen Bestimmung werden. Gelegentlich wirkte sie auch im Chor oder solistisch als Sängerin mit, und als sie sechzehn Jahre alt war, sang sie in einem Kirchenkonzert, das in Anwesenheit der schwedischen Kronprinzessin Margarete abgehalten wurde. Bereits am nächsten Tag erhielt sie vom Königshaus Nachricht, dass fortan für ihre gesangliche Ausbildung bei den besten Lehrern ihrer Heimat gesorgt werden sollte. Nach dreijährigem Studium war Karin Branzell so weit, um im königlichen Opernhaus Stockholm debütieren zu können. (Antrittsrolle: Amneris.) Von 1912 bis 1918 gehörte sie dieser Bühne an, und sang sowohl Partien des Alt- wie auch des Mezzofaches, und wagte sich sogar zu hochdramatischen Sopranrollen (Brünnhilde in Walküre) vor. Intendant Graf Hülsen holte schließlich die Sängerin nach Berlin, wo sie am 17. Dezember 1918 in der Rolle der Fricka erstmals zu hören war. Bis zum Jahre 1933 blieb sie in Berlin engagiert, und erntete hier in den großen Rollen ihres Faches (Carmen, Dalila, Ortrud, Kundry, Brangäne, Azucena, Fides etc.) große Erfolge. Zwischendurch sang sie auch oft wieder in ihrer Heimat, sie wurde anlässlich ihres Auftretens in Goeteborg (als Gluck'scher Orpheus) von Publikum und Presse gefeiert, sie sang in Kopenhagen, gab Gastspiele in Paris, Wien, Mailand, London, Brüssel, und trat 1930 und 1931 bei den Bayreuther Festspielen auf.1924 kam die Berufung an die Metropolitan Opera. Der Dirigent Artur Bodanzky hatte den Met-Intendanten Gatti-Casazza auf die großartige Sängerin aufmerksam gemacht, und somit die Vermittlung erwirkt. Unter Bodanzkys Leitung debütierte sie als Fricka am 6. Februar 1924. Bis zu ihrem letzten Auftreten an der Metropolitan Opera sang sie hier vor allem die großen Wagnerpartien, sowie die Rollen des italienischen und französischen Faches. Karin Branzell galt auch als eine hervorragende Liedersängerin, und war noch viele Jahre nach ihrem Abschied von der Bühne im Konzertsaal zu hören. Seit 1946 erarbeitete sich die Künstlerin mit ihrer pädagogischen Tätigkeit an der New Yorker Juilliard-Schule einen neuen, erfolgreichen Arbeitskreis. Durch die Berufung Karin Branzells an die Berliner Staatsoper wurde auch die Schallplattenindustrie auf die Sängerin aufmerksam…. Throughout verifiable vocal history the artists hailing from Scandinavian countries have enjoyed special acclaim. Especially appreciated is the crystalline clarity, the rarified musicality, the volume and penetrative power of their vocal emission. All this applies particularly to the female voices. Already in the 19th century some Swedish singers were regarded as supreme belcanto stylists, special cases in point being Jenny Lind and Christine Nilsson. In our century artists like Kirsten Flagstad, Kerstin Thorberg, Nanny Larsen-Todsen, Julia Claussen and Birgit Nilsson are all outstanding examples for the importance of Nordic voices in opera. One of the most acclaimed singers to hail from Sweden was Karin Branzell, who was born on 24. September 1891 in Stockholm. Initially she concentrated op church music and it seemed that the church organ would be the instrument of her choice. She sang in the church choir and occasionally took on small solos. At the age of sixteen she sang in a church concert in the presence of the Swedish Crown Princess Margret. The very next day she was informed by the Royal Court that her vocal training would henceforth be paid for and that the best teachers of Sweden were to be in charge of tuition. After a study period of three years Karin Branzell was deemed ready for her debut at the Royal Opera House, Stockholm. (Debut role: Amneris). She remained a member of the ensemble from 1912 to 1918, singing mezzo and alto roles. Eventually she even tackled Brünnhilde in "Walküre". Subsequently the director of the Berlin Opera, Graf Hülsen, engaged her and on 17. December 1918 she made her debut in Berlin as Fricka. She remained a member of the Berlin ensemble until 1933 and enjoyed enormous acclaim in mezzo roles (Carmen, Dalila, Ortrud, Kundry, Brangäne, Azucena, Fides etc.) She frequently returned to Sweden and was especially successful in Goeteborg (as Gluck's Orfeo). She was hailed in Copenhagen and also appeared as a guest artist in Paris, Vienna, Milan, London and Brussels. In 1930 and 1931 she appeared the Bayreuth Festival. In 1924 she joined the ensemble of the Metropolitan Opera, New York. The conductor Artur Bodanzsky had recommended her to Gatti-Casazza, the director of the Met. She made her debut there as Fricka on 6. February 1924, conducted by Bodanzsky. At the Met she sang all the big Wagner roles, as well as the Italian-:- and French repertoire. Karin Branzell was, moreover, a superb lieder.singer and she continued to give recitals long after bidding farewell to the stage. From 1946 onwards Karin Branzell was vocal coach at the New York Juilliard school. When Karin Branzell was engaged to appear at the Berlin State Opern the record industry began to take an interests in her. …
Amazon, iTunes, Spotify & Co.