Ayi Giri Nandini (Mahishasura Mardini Stotram)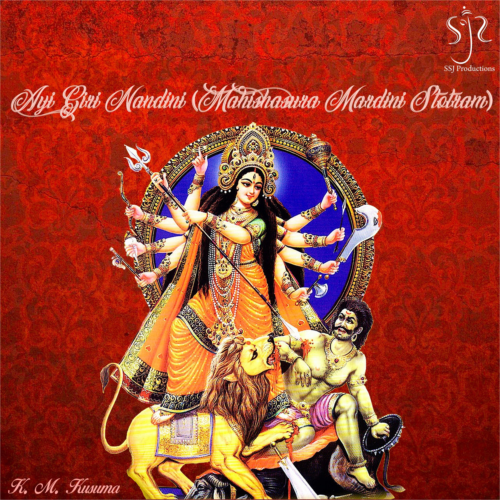 | | |
| --- | --- |
| Artist | K. M. Kusuma |
| Title | Ayi Giri Nandini (Mahishasura Mardini Stotram) |
| | |
| Release Date | Monday, May 9, 2022 |
| Genre | World > Sanskit Shokas |
| | |
| Copyright | © SSJ Productions |
| Country | INDIA |
Update Required
To play the media you will need to either update your browser to a recent version or update your
Flash plugin
.
Promotion Text
K. M. Kusuma delivers a powerful rendition of this glorious ode to Goddess Durga
Mahishasura Mardini stotram is based on Devi mahatmyam in which Devi takes the forms of Durga in Chandika Form to slay Mahishasura. This stotra is said to have been composed or been dedicated to Ramakrishna Kavi as well as Sri Adi Shankaracharya both. This stotra is named Mhishasura Mardini as Maa Durga has defeated demon Mahisasura while taking chandi form. Maa Durga is the primitive source of all power as she is Shakti avtaar; she is residing with much qualities and powers and known by various names. Maa Durga is an Adi Shakti who conquers all the fears inside any soul, who kills anger, grudge , rage and ego to driven away all the negativity reside in mind, body and soul. To get Blessings of Maa Durga one need to surrender toward her totally, then she will able to purify the devotee in her own way. To gain the powers of Maa Durga to win in any battle or conquer any fear or challenge , reciting Mahishasura Mardini regularly with much devotion is a blessing. Devi Maa will help you to win the Battle and gives victory in all your Work. Reciting Mahishasura Mardini will overwhelm all sorrows from your Life. You will be blessed by Powers of Maa Durga as she defeat demon Mahisasura. You can read Mahishasura Mardini also at your home.This stotram has vital role with Navaratri festival when devotees worship Maa durga in 9 forms of Durga, as it contains the key message of Sri Chandi Path. Sri Chandi Saptasati path tell us the story of how Divine Mother ( Maa Durga or Mahamaya) took physical form in chandi avtaar in order to destroy the demon Mahishasura, who was terrorising the Devas and all the humans. According to traditional Story, the battle of Maa chandi with Mahishasura happened during the nine days of Navaratri and finally ended with Mother's victory on the 10th Day called as Vijayadasami, the day following Navaratri. Thus, when we perform devotion throughout the Navaratri festival, Mother comes and battles all the forces of negativity in our own hearts and minds to purify our mind, body and soul. On the auspicious day of Vijayadasami, She is completely victorious as we are freed from millions of sins and forms of negativity those are hidden in our mind. chanting Sri Mahishasura Mardini Stotram throughout Navaratri, helps to invoking the divine Mother to come and destroy all of our negativity within us.This sacred and beautiful stotram has the power to destroy all the negativity residing within us.This rendering was done by Smt. K. M. Kusuma. She is a household name in Kannada Music Industry brings with her 25 years of experience in the field of Carnatic classical music, the very popular Kannada Dasa vani, Hindi and Kannada Film songs and Sugam Sangeet (including Hindi Ghazals). Through a career of more than 2 decades she has the ability to recreate an eclectic mix of meluflous songs with sheer devotion and dedication to her profession.Known for her versatility, the smiling and ever-obliging Smt. K M Kusuma renders Bhajans and Sugam Sangeet with equal elegance and finesse. Her mellifluous & powerful voice has an incredible range and leaves audiences spellbound in admiration with her renditions. Credits:Vocals - K. M. Kusuma Flute - Sandeep B. S. Mridangam - Arvind Nair Recorded by Saatish at Pareskh Studios, Bangalore, Karnataka, INDIA Programmed, Mixed & Mastered by Sahil Jagtiani at SSJ Production, Bangalore, Karnataka, INDIA
Management / Booking
Get in contact
Amazon, iTunes, Spotify & Co.