Four Golden Tenors Of The Past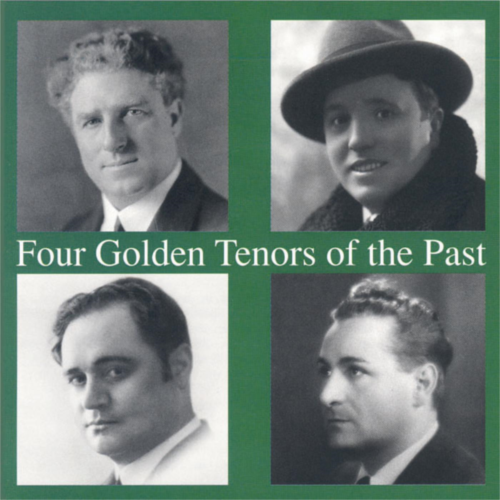 | | |
| --- | --- |
| Artist | Jussi Björling |
| Title | Four Golden Tenors Of The Past |
| | |
| Release Date | Wednesday, August 30, 2006 |
| Genre | Classical > Choro |
| | |
| Composers | Giuseppe Verdi, Giacomo Meyerbeer, Vincenzo Bellini, Umberto Giordano, Giacomo Puccini, Amilcare Ponchielli, Ruggiero Leoncavallo, Arrigo Boito, Charles Gounod, Gaetano Donizetti, Georges Bizet |
| Songwriters | Aureliano Pertile, Giacomo Lauri - Volpi, Beniamino Gigli, Giovanni Martinelli |
| | |
| Copyright | © Preiser Records |
| Country | AUSTRIA |
Update Required
To play the media you will need to either update your browser to a recent version or update your
Flash plugin
.
Promotion Text
Lebendige Vergangenheit
It could be seen as a conciliatory act of providence that in 1921, the year of Enrico Caruso's death, there was an all but incredible abundance of brilliant tenor voices. In Italy, France, Spain, Germany and many other countries, a number of young outstanding exponents of the tenor's art came forth, whose names are still mentioned today with the greatest respect. Among them there was not a "new Caruso", as had perhaps been hoped for (no tenor since him has risen to such a singular, almost mystical, elevation of importance), but they were all distinguished artists, excellent voices and they helped to make up for the loss of the "King of Tenors". This tenor "golden age", which lasted well into the 1930s, is a phenomenon which did not occur a second time in the twentieth century. In later, leaner years, when star tenors can be counted on the fingers of a hand, one thinks back longingly to a time of vocal plenty, from which, by good fortune, many fine sound documents have been preserved. This selection is limited to four of the most outstanding representatives of the Italian tenor, in whose lives and careers a number of parallels can be noticed. Giovanni Martinelli (born on 22 October 1885 in Montagnaila, died on 2 February 1969 in New York) took over Caruso's dramatic repertoire at the Metropolitan Opera, the house to which he belonged for more than three decades. Roles such as Radames (which he sang 123 times at the Met), Don Jose, Vasco da Gama, Emani, Manrico, Alvaro, Canio, Samson, and in his later years Verdi's Otello, were peaks in the career of this impulsive, exciting singer. Martinelli's voice was of great penetrating power and had a metallic, occasionally somewhat harsh, edge, but this was a sort of trade­ mark of his artistic individuality. Toscanini is said to have told him once (and he meant it appreciatively), "You sing like a police dog", that is bitingly, alertly, grippingly. Martinelli was a real phenomenon and he had an "endless" careet, as did his colleague Lauri Volpi. He was still singing opera in his eighties, last of all the role of Emperor Altoum in Puccini's "Turandot" in Seattle in 1967. Aureliano Pertile was born in the same year, 3 November 1885, and in the same place, Montagnana, as Martinelli, but in contrast to his near twin he made his career mainly in ltaly. Pertile was a favorite singer of Arturo Toscanini, who entrusted him with many important major roles at La Scala. For more than two decades, Pertile was one of the leading singers in the La Scala ensemble and he took part in several world premieres, among them Boito's posthumous opera "Nerone" (1924) and "Sly" by Wolf-Ferrari (1927). He also sang the name part in Mascagni's "Nerone" (1935). Like Martinelli, Pertile was a dramatic tenor, though he also sang many lyric roles. His voluminous voice and rapturous expression lent him the quality of unmistakability that has always been the mark of great singers. Pertile died in Milan on 11 January 1952. Giacomo Lauri Volpi was bom on 11 December 1892 in Lanuvio near Rome and died on 17 March 1979 in Valencia, his last domicile. His career, like Martinelli's, was extraordinarily long and at a quite advanced age he was still thrilling audiences with the unbroken luminosity of this tenor voice. He scored his initial successes in Rome. In 1922 he joined La Scala, remaining a member of that company until the 1940s. Lauri Volpi, who began his career as a Bellini and Donizetti singer, later expanded his repertoire to include many dramatic roles. He was considered unmatched as Manrico; Pollione, Radames, Kalaf, Raoul were among his other parts. His stunning upper range made him ideal for roles such as Arnoldo in Rossini's "William Tell". There is hardly a more telling example of the radiant Italian tenor voice than what Lauri Volpi left us on many of his recordings. He also made a name as a writer, with several highly notable books on singers and singing. Beniamino Gigli (born on 20 March 1890 in Recanati, died on 30 November 1957 in Rome) attained the greatest popularity of all the Italian tenors of his time, not least because of his many recordings of light music and his work in films. That popularity was also a drawback, for it gave Gigli something of a. reputation as a purveyor of trivia. This assessment is certainly unjust; the main part of Gigli's career was well within highly artistic bounds. In 1920 he was engaged by La Scala and a year later he made his debut at the Metropolitan. Although his soft, silken voice made him superbly suitable for lyric roles, he was also outstanding in veristic parts such as Turiddu and Canio, and a thrilling interpreter of Andrea Chenier and Puccini's Des Grieux. Like Martinelli, Pertile and Lauri Volpi, he regarded Radames as one of his favorite parts. He appeared as guest artist on almost all of the world's major opera stages and he continued giving concerts until the last years of his life. The sound quality of these recordings is of the highest possible standard, offering listeners today the chance to appreciate fully the voices and vocal art of the four Italian master tenors.
Amazon, iTunes, Spotify & Co.