Four Famous Met - Tenors Of The Past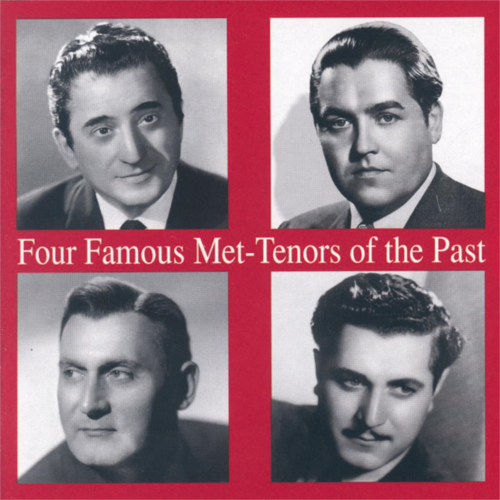 | | |
| --- | --- |
| Artist | Jussi Björling |
| Title | Four Famous Met - Tenors Of The Past |
| | |
| Release Date | Wednesday, August 30, 2006 |
| Genre | Classical > Choro |
| | |
| Composers | Giacomo Meyerbeer, Giuseppe Verdi, Georges Bizet, Giacomo Puccini, Charles Gounod, Amilcare Ponchielli, Jacques Fromental Halevy |
| Songwriters | Metropolitan Opera Chorus / Richard Tucker, Jan Peerce / RCA Victor Orchestra, Ramon Vinay / RCA Victor Orchestra, Richard Tucker / Columbia Opera Orchestra, Jussi Björling, Ramon Vinay / Florence Quartararo / RCA Victor Orchestra, RCA Victor Orchestra / Jan Peerce / Kerstin Thorborg, RCA Victor Orchestra / Jan Peerce, Richard Tucker / Metropolitan Opera Chorus |
| | |
| Copyright | © Preiser Records |
| Country | AUSTRIA |
Update Required
To play the media you will need to either update your browser to a recent version or update your
Flash plugin
.
Promotion Text
Lebendige Vergangenheit
The later Jan Peerce was born as Jacob Pincus Perelmuth in the Jewish Ghetto of Manhattan/New York on June 3rd 1904. As a child he studied violine, entered the Choir of the Jewish Synagogue and eamed some pocket money as "Pinky Pearl" by playing at weddings andin hotels. When Radio City Music Hall was opened in 1932 Peerce started his career as a highly popular radio singer where his repertory included everything from popular songs to Puccini and Wagner. Upon hearing the tenor in excerpts of,"Walküre" during one of these radio shows Arturo Toscanini's interest in this promising new singer was aroused, a meeting was arranged and the conductor finally offered Peerce the tenor part in Beethoven's 9th Symphony in 1938. lt did not take too long until Edward Johnson invited Peerce to make his debut at the MET as Alfredo in "La traviata" (with Jarmila Novotna and Lawrence Tibbett). On November 29th 1941, to Peerce's surprise, it was Ettore Panizza, with whom he had never worked before, who appeared in the orchestra pit instead of Gennaro Papi who had collapsed and was found dead in his apartment shortly before the performance.• Out of consideration for their new colleague nobody had informed Peerce about the circumstances of this sudden change of conductors. "Just before my entry in the second act a colleague told me that he. would not possibly be able to make it to my party after the performance because he was totally broken by Papi's death. In moments like these you have to be the most selfish guy in the world..." The public was instantly thrilled by the innate musicality and the light metallic top of this dashing new tenor whose voice made up by far for what his appearance on stage may have lacked. The debut of his brother-in-law, Richard Tucker, in 1945, with whom he practically shared the same repertory, meant a real challenge but Peerce successfully stayed at the MET until 1968. His roles included "Tosca", "Rigoletto", "Lucia di Lammermoor" (over 60 times), "La boheme", "Cavalleria rusticana", "Un ballo in maschera", "Faust" and "La traviata"; in 1966 he still was a highly acclaimed Don Ottavio. Both Tucker and Peerce were favourites of Toscanini who praised their perfect technique as well as their exemplary Italian diction. Peerce worked with Toscanini in the recording studio on the occasions of complete recordings of "La boheme", "Fidelio", "La traviata", "Un ballo in maschera" and the last act of "Rigoletto" (with Warren and Milanov). Peerce's guest performances in Chicago, San Fr.ancisco and Los Angeles were very well received andin 1955 he was the first American singer to appear in Moscow's Bolshoi Theatre. Up to the late seventies the tenor remained active as a concert singer and undertook extensive tours which brought him to Sweden, Austria, South Afrika, Japan and Australia. In 1984 Jan Peerce fell ill and died shortly after wards on December 15th 1984. Jussi Björling was bom as Johan Jonaton Björling on February 2nd 1911 in Borlänge (Sweden). At the age of 5 he received his first singing lessons from his father, David, who was a singer himself. Between 1918 and 1921 together with the brothers, Olle and Gösta, the "Björling Male Voice Quartet" toured the United States where their first records were produced. In 1928 Björling's musical education was taken over by the baritone John Forsell and only one year later, on July 21st 1930, the tenor made his official operatic debut at the Royal Opera House of Stockholm as lamplighter in "Manon Lescaut". Little later he enjoyed his first big success as Mozart's Don Ottavio and was equally convincing in "Wilhelm Tell". Throughout his entire career the tenor kept returning to the Opera House of Stockholm where he sang a total of 616 performances, among other operas "11 barbiere di Siviglia", "Rigoletto", "Mignon", "La traviata", "Eugen Onegirt" and even a single performance as Froh in "Rheingold". In 1936 he had his international breakthrough at Vienna's State Opera as Manrico, Rodolfo and Ra ames and again retumed to Vienna in 1937 for another 11 performances. In 1937 he gave his debut at the Chicago Opera House as Duke in "Rigoletto" and in 1939 he appeared for the first time at London's Covent Garden as Manrico which was followed by his debut at Milan's Scala in 1940. On November 24th 1938 he gave his first performance at New York's MET in "La boheme" opposite Mafalda Favero who also celebrated her MET debut on this occasion. Only few days later he went on to sing Manrico and stayed with the MET until 1941 when his American career was inter­ rupted for he was not able to leave Europe during the War. Soon afterwards he returned to the stage of the MET where his repertory included, apart from the two roles already mentioned, "Rigoletto", "Un ballo in maschera", "Tosca", "Romeo et Juliette", "Cavalleria rusticana", "Manon Lescaut", "Faust" and "Don Carlo". The tenor inaugurated three seasons at the MET: 1940/41 in "Un ballo in maschera", 1949/50 in "Don Carlo" and 1953/54 in "Faust". The 1949/50 season was also Sir Rudolf Bing's first season as General Manager and to make sure that everything went well he insisted upon three weeks of rehearsal for the opening night. Bing soon was confronted with Björling's annoyance - he loathed rehearsing and tried to avoid it whenever he could. An imploring letter, in fact, made the tenor appear at the rehearsals but he kept grumbling that "he soon would not be able to afford anymore singing at the MET." The singer actually hated travelling, signing photographs, official receptions and all uproar which "stardom" brought along. Considering also the constant pressure of doing justice to the puplic's expectations, may all this have driven Björling more and more to excessive drinking? As an actor he may not have been to everybody's satisfaction but the soprano, …
Amazon, iTunes, Spotify & Co.