Don't Stop Trying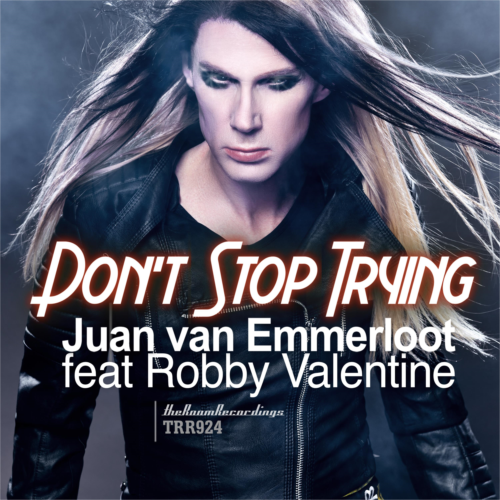 Update Required
To play the media you will need to either update your browser to a recent version or update your
Flash plugin
.
Promotion Text
DON'T STOP TRYING - Juan van Emmerloot feat. Robby Valentine
DON'T STOP TRYING - Juan van Emmerloot feat. Robby ValentineFor at least 6 years, Juan van Emmerloot was a drummer in Robby Valentine's band. The last time they played live on stage was at a reunion concert in May 2008. Juan performed on several albums, including Live & Demos, Valentine, United, Believing Is Seeing, V-Project, and The Most Beautiful Pain.Juan: "When I was working with Robby I had the opportunity to see how multi-talented he actually is; songwriting, piano, keys, guitars, bass, singing, recording, mixing... Actually, the entire package that is described best as a "Recording Artist & Producer."Robby and Juan decided to collaborate on several tracks as co-writers in 2003.Juan recorded everything on his mutlitrack machine, brought the recorder home and began working on some guitar and bass overdubs and started mixing... However, for some reason, he was unable to finish, mix, or publish these songs. Now, 18 years later, it seems that the time has come to release the first single from that special collaborationJuan: "I truly think that Robby is a good example of a genuine artist who always follows his heart and stays true to his music, no matter what other people say. Therefor I'd like to dedicate our song titled: "Don't Give Up Trying" to him especially!"Credits: composition: Robby Valentine, Juan van Emmerlootlyrics: Robby Valentine https://www.robbyvalentine.nlvocals, backing vocals, keys, lead & rhythm guitars: Robby Valentineguitar solo: Mark Bogert https://www.we-make-music.com/artist-releases/mark-bogert/ drums, bass, Moog & sound-effects: Juan van Emmerlootmusic production at https://www.vanmerlootmusicpros.com by Juan van Emmerlootmastered at TheRoomRecordings by Emile Bodefront cover picture: Hans van Eijsden https://www.hansvaneijsden.comfront cover edit: Emile Bode I https://www.vormdesign.nl label & publishing: MUSIC™ /TheRoomRecordings Publishing https://www.we-make-music.com /
Management / Booking
Get in contact
Amazon, iTunes, Spotify & Co.