Lebendige Vergangenheit - Josef Herrmann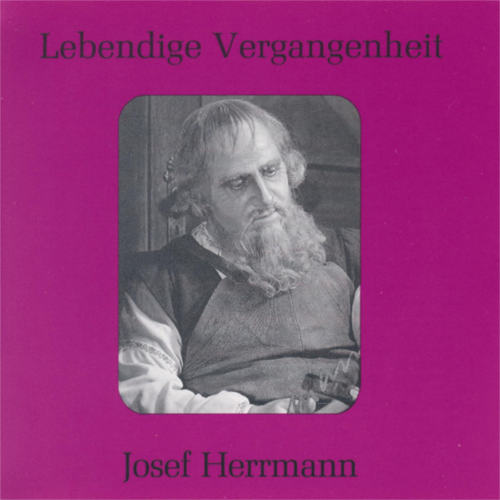 | | |
| --- | --- |
| Artist | Josef Herrmann |
| Title | Lebendige Vergangenheit - Josef Herrmann |
| | |
| Release Date | Monday, September 4, 2006 |
| Genre | Classical > Choro |
| | |
| Composers | Ludwig van Beethoven, Giuseppe Verdi, Heinrich August Marschner, Ruggiero Leoncavallo, Carl Maria von Weber, Richard Wagner |
| Songwriters | Kurt Böhme / Josef Herrmann, Willy Treffner / Josef Herrmann / Heinrich Tessmer, Orchester des Reichssenders Leipzig / Josef Herrmann, Josef Herrmann / Orchester der Staatsoper Berlin, Josef Herrmann / Margarete Düren, Josef Herrmann, Orchester der Staatsoper Berlin / Josef Herrmann, Wiener Philharmoniker / Josef Herrmann, Sächsische Staatskapelle / Josef Herrmann |
| | |
| Copyright | © Preiser Records |
| Country | AUSTRIA |
Update Required
To play the media you will need to either update your browser to a recent version or update your
Flash plugin
.
Promotion Text
Lebendige Vergangenheit
Im Alter von zweiundzwanzig Jahren hat Josef Herrmann in• Kaiserslautern als Opernsänger debütiert. Stettin, Königsberg und Nürnberg waren die weiteren Stationen seiner künstlerischen Laufbahn. Als die absolute Glanz- und Reifezeit des Sängers ist seine Wirkungsära an der Dresdner Staatsoper (von 1939 bis zum Ende des Krieges) anzusehen. Nach 1945 war Josef Herrmann Mitglied der Städtischen Oper Berlin, der Wiener Staatsoper, und weiterhin der Dresdner Oper. Im Verlauf seiner Karriere gastierte der Künstler am Teatro Colon von Buenos Aires, an der Mailänder Scala, an der Grand Opera Paris, in Rom, Neapel, London und Brüssel, er sang bei den Festspielen in Salzburg und München. Josef Herrmann war der deutsche Heldenbariton par excellence. Die üblichen Konzessionen, zu denen man als Hörer oft bei der Wagner-Interpretation gezwungen ist, waren bei Herrmann nicht vonnöten. Er war ein Sänger von nie ermüdender Kraft und Ausdauer der Stimme, von hervorragender Musikalität, glaubhaftem Ausdruck und mustergültiger Artikulation. Herrmanns Bariton kann als Modellfall einer "offen" geführten Gesangsstimme angesehen werden. Das Organ besaß Metall, war von mächtigem, männlich-rauem Klang, und in allen Lagen mit unfehlbarer Sicherheit geführt. Erstaunlich war auch die tonliche Expansion dieser Stimme, die von der extrem tiefen Bassregion bis in die Tenorlage (zu hören im präzis angesetzten hohen A in Jagos Trinklied) reichte. Es ist wohl möglich, dass sich mancher Hörer von dem etwas grobkörnigen Material der Stimme, sowie von mancher Outrage des Vortrags ein wenig irritiert fühlt, doch wird man auch trotz kritischer Einstellung zugeben müssen, dass es im deutschen Raum nur wenige Sänger gibt, die Josef Herrmann in der Intensität und der Ehrlichkeit des Vortrags nahekommen. Vor allem sein Hans Sachs konnte als Musterbeispiel einer tief erfühlten, im besten Sinne schlichten, von allen Manierismen freien Interpretation bezeichnet werden. In den großen Soloszenen (besonders im Fliedermonolog) fand er zu so innigen, tief berührenden Herzenstönen, wie sie nur ihm allein gegeben waren. Die große, expressive Phrase "Lenzesgebot, die süße Not" hat man seither nie wieder mit ähnlicher Inbrunst vorgetragen gehört. Außer dem Hans Sachs waren noch Holländer, Telramund, Kurwenal und Wotan unvergessene Gestalten aus Josef Herrmanns Wagner-Repertoire. Auch als Richard- Strauss-Interpret ist er oftmals mit starkem Erfolg in Erscheinung getreten, so als Färber Barak in "Die Frau ohne Schatten" und - als eine seiner einprägsamsten Darbietungen - der Jochanaan in "Salome". Großen Eindruck hinterließ auch die Darstellung der Titelgestalt in Mussorgskys "Boris Godunow". Nicht ganz zu Unrecht wird oft die Behauptung aufgestellt, dass im Operngesang die Deutschen die besten "Italiener" seien. Auf Josef Herrmann und auf die von ihm dargestellten Gestalten aus den italienischen Opern kann dieses Wort durchaus Anwendung finden. Er gestaltete einen unerhört dramatischen Rigoletto, und war vor allem in den Rollen mit dämonischem Charakter (Jago, Scarpia) von überwältigender Größe. … Josef Herrmann made his operatic debut in Kaiserslautern at the age of twenty-two. Subsequently he sang in Stettin, Königsberg and Nuremberg. The pinnacle of his career was his time at the Dresden Opera (1939 to 1945). Thereafter Josef Herrmann was a member of the Municipal Opera. In the course of his career he repeatedly appeared at the Teatro Colon, Buenos Aires, La Scala, the Grand Opera in Paris, as well as in Rome, Naples, London and Brussels. He also appeared at the Salzburg and Munich festivals. Josef Herrmann was the German "Heldenbariton" par excellence. The customary concessions which listeners are frequently forced to make when listening Wagner performances were quite unnecessary in Herrmann's case. He was a singer of unflagging energy and stamina, of outstanding musicality, credible expressivity with pellucid diction. Herrmann's voice may be regarded as an exemplary case of an "open" vocal style. His voice had a metal sheen - a sonorous, masculine quality - and was used with infallible security throughout its range. Astonishing was also the tonal expansion of the voice which ranged from the lowest bass region to the tenor range (a case in point is the precision of the high A's in Iago' s Brindisi). Some listeners might be irritated by the somewhat gruff quality of the vocal material as well as some excesses in the interpretation but, despite these qualifications, one must admit that in German language area there are few singers that could emulate Josef Herrmann' s intensity and honesty of rendition. Above all his Hans Sachs can be regarded as an exemplary of a deeply felt, unadorned interpretation, free from all mannerisms. In the solo scenes (especially the "Fliedermonolog") he found humane, deeply touching tones that were quite inimitable. Tue great, expansive phrase "Lenzesgebot, die süße Not" is unequalled for sheer heartfelt intensity. Apart from Hans Sachs, his Flying Dutchmann, Telramund, Kurwenal and Wotan were also unforgettable interpreations. He was a noted Richard Strauss singer, viz: "Barak in "Die Frau ohne Schatten" and - one of his most memorable performances - Jochanaan in "Salome". His portrayal of the eponymus hero of Mussorgsky' s "Boris Godunov" was also acclaimed. It is frequently claimed - with some justification - that the Germans are often the best "Italien" singers. This certainly applies to Josef Herrmann and his interpretations of Italian roles. …
Amazon, iTunes, Spotify & Co.