Lebendige Vergangenheit - Johanna Blatter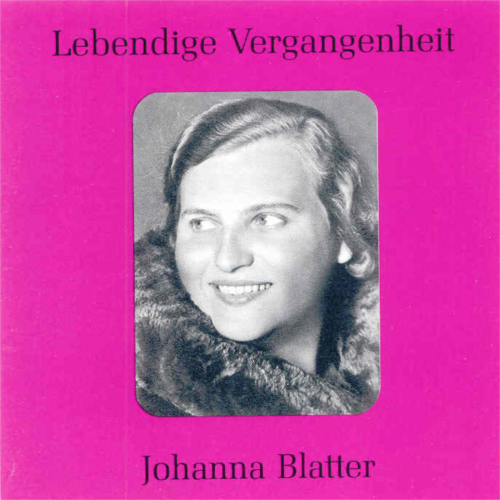 | | |
| --- | --- |
| Artist | Johanna Blatter |
| Title | Lebendige Vergangenheit - Johanna Blatter |
| | |
| Release Date | Tuesday, September 5, 2006 |
| Genre | Classical > Choro |
| | |
| Composers | Giuseppe Verdi, Richard Wagner, Wilhelm Kienzl, Camille Saint - Saens, Alessandro Scarlatti, Christoph Willibald Gluck |
| Songwriters | Orchester der Städtischen Oper, Berlin / Johanna Blatter / Leopold Demuth, RIAS - Symphonie - Orchester Berlin / Ludwig Suthaus / Johanna Blatter, RIAS - Symphonie - Orchester Berlin / Traute Richter / Johanna Blatter, RIAS - Symphonie - Orchester Berlin / Johanna Blatter, Rudolf Schock / RIAS - Symphonie - Orchester Berlin / Johanna Blatter, Orchester der Städtischen Oper, Berlin / Elisabeth Hufnagel / Johanna Blatter, Orchester der Städtischen Oper, Berlin / Johanna Blatter |
| | |
| Copyright | © Preiser Records |
| Country | AUSTRIA |
Update Required
To play the media you will need to either update your browser to a recent version or update your
Flash plugin
.
Promotion Text
Lebendige Vergangenheit
Mitte der siebziger Jahre des 20. Jahrhunderts brachte eine bekannte Schallplattenzeitschrift einen Artikel mit der Überschrift "Sängerkarrieren als Kriegsopfer". Damit waren Laufbahnen gemeint, die wegen des Krieges und der Nachkriegszeit gar nicht oder nur begrenzt zur Entfaltung kamen. Ein besonders krasses Beispiel dafür ist die dramatische Mezzosopranistin Johanna Blatter. Geboren am 29. Mai 1902 in Ludwigshafen als Tochter des Gesangspädagogen Carl Blatter, zeigte Johanna Blatter zunächst mehr Interesse für Naturwissenschaften, ehe sie mit 19 Jahren ihre stimmliche Begabung entdeckte und bei ihrem Vater Unterricht nahm. 1928 kam sie an das Stadttheater Heidelberg und 1930 nach Sondershausen, konnte sich aber erst seit 1931 in Düsseldorf durchsetzen. Zunächst noch Spielaltistin, errang sie mit der Küsterin in "Jenufa" den entscheidenden Erfolg. Sie entwickelte sich nun zu einer der stimmgewaltigsten dramatischen Mezzosopranistinnen Deutschlands. Für 1939 gab es bereits Angebote aus Frankreich und Spanien, so daß sich die Blatter schon auf eine von festen Engagements unabhängige Gastspielkarriere einrichtete. Aber der Krieg machte allen Auslandsplänen ein jähes Ende. 1941 nahm sie deshalb ein Engagement an die Wiener Volksoper an, die ihr nach einer "Troubadour" - Aufführung ein besonders günstiges Angebot gemacht hatte. 1943 schließlich gelangte sie nach Leipzig, wo sie vier Jahre lang das gesamte dramatische Fach vertrat. Mit Margarete Bäumer, August Seider und Willy Schwenkreis gehörte Johanna Blatter zu den führenden Kräften des Ensembles, das in der unmittelbaren Nachkriegszeit den Wiederaufbau des Musiklebens begann. Ein Gastspiel als Amneris an der Städtischen Oper Berlin im März 1947 führte zu ihrem Engagement, dem sie bis zum Ende ihrer Karriere 1955 treu blieb. Seit 1949 teilte sie sich - wie gut zwanzig Jahre zuvor in Mannheim - das dramatische Alt- und Mezzofach mit Margarete Klüse, die Heinz Tietjen von der Staatsoper nach Westberlin geholt hatte. Mit dem Ende der Tietjen-Ara 1955 beendete auch Johanna Blatter ihre Sängerlaufbahn und zog sich nach Heidelberg zurück, wo sie am 1. Dezember 1965 im Alter von 63 Jahren verstarb. Relativ wenig Schallplatten und Rundfunkaufnahmen haben ihre Stimme erhalten. Sie war mehr Bühnen- als Konzertsängerin, vielleicht war sie deshalb wenig an Studio-Aufnahmen interessiert. Fraglos gehörte Johanna Blatter zu den bedeutendsten Sängerinnen ihrer Zeit. Hätten die politischen ihr nicht die besten Jahre ihrer Karriere geraubt, dann hätte sie Weltruhm erlangen können. So blieb ihr Wirken auf den deutschen Sprachraum begrenzt. In the mid-1970s a well-known record magazine published an article under the heading "Singing Careers as Victims of War", in a reference to budding careers that remained largely or completely unfulfilled because of the Second World War and its aftermath. The life of the dramatic mezzo-soprano Johanna Blatter offers a particularly glaring example. Johanna Blatter was born on 29 May 1902 in Ludwigshafen, Germany, the daughter of voice teacher Carl Blatter. She initially showed greater interest in the natural sciences before discovering her singing talent at the age of 19 and taking her first voice lessons from her father. In 1928 she moved to the Municipal Theatre in Heidelberg and in 1930 to Sondershausen, but it was not until 1931 in Düsseldorf that she finally became established in her career. At first onIy as a light contralto, her decisive breakthrough came with the role of the sexton in Jenufa. From that time on, she developed into one of the most powerfully voiced dramatic mezzo-sopranos in Germany. Having received advance offers to sing in France and Spain in 1939, Blatter was on the verge of a career based solely on guest performances, independent of a fixed engagement. But the war put an abrupt end to her plans to sing abroad. In 1941 she accepted an engagement at Vienna's Volksoper, which had made her an especially attractive offer following a performance in Il Trovatore. In 1943 she moved to Leipzig, where she sang the entire dramatic repertoire over the next four years. Along with Margarete Bäumer, August Seider and Willy Schwenkreis, Blatter was one of the leading singers in an ensemble that began the restoration of musicallife in the immediate post-war period. A guest performance as Allineris at the Municipal Opera of Berlin in March 1947 led to an engagement that continued until the end of her career in 1955. When the Tietjen era came to a close in 1955, Johanna Blatter also ended her singing career, retiring to Heidelberg, where she died on 1 December 1965 at the age of 63. Relatively few records and radio recordings have preserved her voice. Blatter was more of a stage singer than a concert artist, and this was perhaps the reason she showed little interest in studio recordings Unquestionably Johanna Blatter was one of the most important singers of her time. If political conditions had not robbed her of the best years of her career, she could have become world-famous, but her significance remained restricted to the German-speaking world.
Amazon, iTunes, Spotify & Co.