Wanita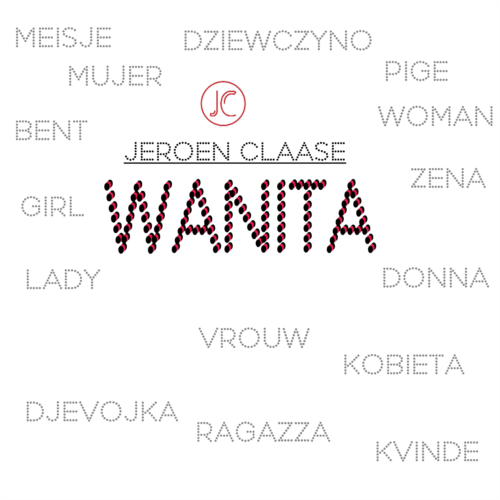 | | |
| --- | --- |
| Artist | Jeroen Claase |
| Title | Wanita |
| | |
| Release Date | Thursday, November 1, 2018 |
| Genre | Pop > Pop |
| | |
| Copyright | © JCP |
| Country | NETHERLANDS |
Update Required
To play the media you will need to either update your browser to a recent version or update your
Flash plugin
.
Promotion Text
WANITA (woman) is a special collaboration....
WANITA (3.07) ARTIST: Jeroen Claase sama BTN (BAND TANPA NAMA) LEAD VOCALS: JEROEN CLAASE // GUITARS & BASS: GEORGE MUISHOUT // ORGAN: RUDJER GLAWURTIC BACKING: STEVE BE, FARAH MUISHOUT PROD BY JC – STUDIOCLAASE 2018 LABEL: JC PRODUCTIONS JCP-1801 RELEASEDATE: 01-11-18 MANGO MANAGEMENT // ANYBODY@ENDORSEART.NL FaceBook: @jeroenclaase / @jeroenclaaseofficial Twitter/InstaGram/SnapChat: @jeroenclaase http://www.artistcamp.com/index.html?artist=Jeroen+Claase LINK VIDEOS: https://www.youtube.com/watch?v=WXF_i_9O42Ahttp://www.jeroenclaase.com Claase has been active as a singer since 1997 in the Netherlands and Indonesia, a country in which he has roots in through his father. In the Netherlands he became well known for songs like 'Sha La La' and 'Sinds jij hier verscheen' (Since you appeared here). Part of the proceeds of this last song were donated to animal welfare. Claase is involved in charity through his Jeroen Claase Foundation in Jakarta. One of the projects concerned the revitalization of an orphanage in Bogor. After a long break he started making music again in 2015. After the release of 'Met Elkaar' (With each other), on the current asylum seeker problem, he sets his mind to country- and Indonesian music. In 2018 he founded a project called BTN. This represents Band Tanpa Nama. In other words: Band Zonder Naam (Band Without Name), a nod to the Dutch 'Band Zonder Naam' (Band Without Name). With this band Claase performs, in different line-ups, with talented musicians, in and outside the Netherlands. The result of this music is characterised by Indonesian and country influences. It is a mix of English, Dutch an Indonesian songs. Well-known covers are provided with a new arrangement. In addition, BTN has and composes its own repertoire. 'Wanita'(Woman) is the first result of this special collaboration. It is the Indonesian version of the Dutch 'Sha La la'. The underlying reason for recording 'Wanita' and founding BTN was a spontaneous translation session of the original Dutch lyrics in Claase his attic room. For Claase and BTN the release of Wanita is the kick-off of a project in which we do strive for the monthly new track. We aim to take the listener into the creative journey of BTN. The product: the release of our album on November 1, 2019. Join us in our trip! INDONESIANJeroen Claase telah aktif sebagai penyanyi baik di Belanda maupun di Indonesia sejak tahun 1997. Indonesia adalah negara kelahiran ayahnya. Di belanda Claase terkenal dengan lagu seperti 'Sha La La' dan 'Sinds jij hier verscheen' (Sejak kamu muncul di sini). Sebagian dari hasil lagu ini disumbangkan untuk LSM perlindungan hewan. Di Indonesia Claase melakukan kerja amal melalui 'Jeroen Claase Foundation'. Salah satu proyek yang telah dihasilkan adalah merehab panti asuhan di Bogor. Setelah sempat istirahat cukup lama, Claase mulai kembali membuat musik pada tahun 2015. Setelah merilis lagu 'Met Elkaar' (Bersama), tentang masalah pencari suaka di eropa, dia sekarang bertujuan membuat musik country dan lagu Indonesia. Pada tahun 2018 Claase mendirikan BTN. Ini singkatan dari: Band Tanpa Nama. Nama ini merupakan terjemahan dari band terkenal di belanda. Yaitu: Band Zonder Naam (Band Tanpa Nama). Dengan Band ini dia tampil di dalam dan di luar negeri Belanda, dengan anggota yang berbeda. Musik yang dihasilkan ditandai oleh pengaruh musik Indonesia dan country dan merupakan campuran antara lagu yang berbahasa - ingris, - Belanda dan Indonesia. Lagu-lagu terkenal diberikan wajah baru. Selain itu BTN menghasilkan lagu-lagu buatan sendiri. 'Wanita' merupakan hasil pertama dari kerja sama istimewa. Lagu ini adalah versi bahasa Indonesia dari lagu Claase berjudul 'Sha La La' yang asli bahasa Belanda. Sesi terjemahan spontan di rumah Claase pada suatu malam merupakan awal rekaman lagu 'Wanita' dan pendirian BTN. Buat Claase dan BTN rilis 'Wanita' adalah acara pembukaan proyek yang berniat un
Management / Booking
Get in contact
Amazon, iTunes, Spotify & Co.