Jaro Prohaska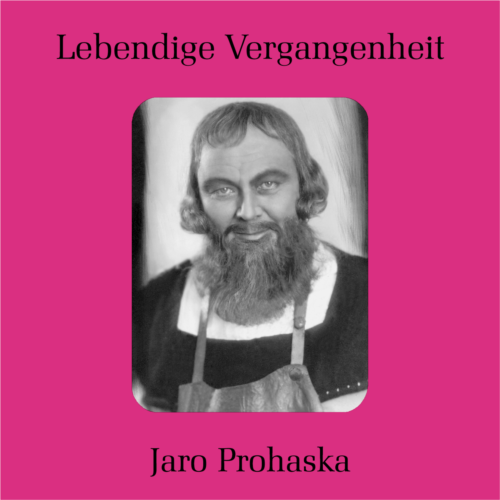 Update Required
To play the media you will need to either update your browser to a recent version or update your
Flash plugin
.
Promotion Text
Lebendige Vergangenheit
Einer der wichtigsten Heldenbaritone der Jahre zwischen 1920 und 1950 war Jaro Prohaska. Zwölf Jahre lang gehörte er zu den hervorragenden Künstlern der Bayreuther Festspiele; was die Schallplatte von ihm bewahrt hat, ist unvergleichbar spärlich und wird diesem interessanten Darsteller dramatischer Heldenrollen nur teilweise gerecht.Für das internationale Musikleben gilt Prohaska als der reinste Vertreter des Darstellungsstils, den Heinz Tietjen seit 1933 in Bayreuth und Berlin entwickelte. Gastspiele führen den großen Heldenbariton zu Beginn der dreißiger Jahre nach Wien, München, an die Opernbühnen Italiens und Frankreichs und 1935 bis 1937 an das Teatro Colón in Buenos Aires. 1953 beendet er seine aktive Bühnenlaufbahn, um an der Musikhochschule in Berlin pädagogisch tätig zu sein. Im Oktober 1965 ist er in München verstorben. One of the most outstanding bass-baritones between 1920 and 1950 was Jaro Prohaska. For twelve years he was among the leading performers at the Bayreuth Festival. What has been preserved of him on record is meagre and does not do justice to this fascinating interpreter of dramatic Wagnerian roles. In international music circles Prohaska is considered the truest representative of the Heinz Tietjen school developed after 1933 in Bayreuth and Berlin. At the beginning of the Thirties, guest performances took this great bass-baritone to Vienna and Munich, to the opera houses of Italy and France and from 1935-37 to the Teatro Colón in Buenos Aires. In 1953 he retired from the stage in order to teach at the Berlin School of Music. He died in Munich in October 1965
Amazon, iTunes, Spotify & Co.