Lebendige Vergangenheit - Jacques Urlus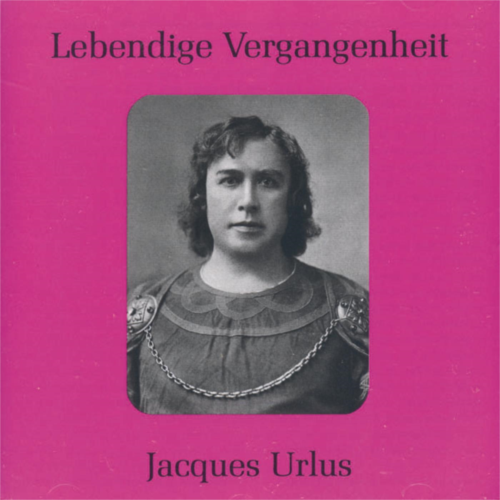 | | |
| --- | --- |
| Artist | Jacques Urlus |
| Title | Lebendige Vergangenheit - Jacques Urlus |
| | |
| Release Date | Saturday, September 9, 2006 |
| Genre | Classical > Choro |
| | |
| Composers | Giuseppe Verdi, Richard Wagner, Wolfgang Amadeus Mozart, Georges Bizet, Jacques Fromental Halevy, Eugen D´Álbert, Ruggiero Leoncavallo, Giacomo Meyerbeer, Carl Maria von Weber |
| Songwriters | Jacques Urlus, Melanie Kurt / Jacques Urlus / Desider Zador, Melanie Kurt / Jacques Urlus |
| | |
| Copyright | © Preiser Records |
| Country | AUSTRIA |
Update Required
To play the media you will need to either update your browser to a recent version or update your
Flash plugin
.
Promotion Text
Lebendige Vergangenheit
There have been many designated "Kings" among the greatest tenors in operatic history, absurd and inexpressive as this kind of tribute may be. Until today, there has been little controversy about Enrico Caruso being the "King of all Tenors", even though his repertory was largely restricted to Italian and French Opera and the truly heroic roles were hardly his domain. The title "King of Hernie Tenors" was assigned to Lauritz Melchior whose repertory, even in the Wagnerfach, was relatively small but who, of course, impressively reigned his empire as Tristan and Siegfried. If one wanted to pursue this "game" and make an ultimate choice, the pretender to the crown would have to be an artist who has made both extraordinary and exemplary achievements in different vocal fields. As fas as versatility is concerned the Dutch tenor, Jacques Urlus, would, undoubtedly, be a highly qualified candidate. Of all tenor-voices which have been preserved on record Urlus' was the most versatile one. He was a brilliant belcanto-singer and had a captivating intensity in heroic roles, at the same time he could be a Mozart-singer of lyric intimacy and was able to perfectly master the coloraturas of Rossini and Bellini. Jacques Urlus was born on January 6th 1867 in Hergenrath near Aix-la-Chapelle. His parents were of Dutch origin and Urlus spent his early years in Tilburg and Utrecht where he worked in a steel-production and sang in the local church choir. During the time of Military Service his voice attracted the attention of an Officer who offered to cover the costs for his vocal-training which Urlus, to his regret, was unable to accept since it would have left him without any regular income. 1892 was the turning point when Urlus met with the director of the Dutch National Opera House at an amateur concert. Without having received any regular vocal training he made his debut in Amsterdam on September 20th 1894 as Beppo in "I Pagliacci". He then studied with Hugo Nolthenius, Anton Averkamp and Cornelie van Zanten but this regarded almost exclusively interpretation and diction, as far as vocal technique was concerned he can be considered largely self-taught. As early as 1898 he was invited to Bayreuth above all to restudy his repertory of Wagner Operas in German which he had hitherto sung in Dutch language. Since he was offered no binding contract for the 1899 season – in the summer of 1898 no·performances had taken place - he left Bayreuth prematurely and was re-engaged by Siegfried Wagner only 13 years later. By 1900 Urlus had become the leading heroic tenor at the Leipzig Opera House where he remained until 1914. During this period his fame started to spread intonationally: he gave guest performances in Berlin and Vienna and at all significant stages in German-speaking countries. In 1909 he appeared for the first time at the Munich Opera Festival as Tristan, London heard him as Tannhäuser and Tristan-in 1910 and in 1911 he officially returned to Bayreuth as Siegmund and stepped in for Alfred von Bary as Siegfried. The year 1912 brought his debut in the role of Tristan at the Metropolitan Opera where he not only performed his repertory of Wagner roles but also excelled as Tamino, Adolar and Samson. Urlus sang all of his roles in at least three languages; Dutch, German and the actual original language. Saint-Saens, himself, considered Urlus to be one of the ideal interpreters of his Samson and in Brussels and Paris Urlus' interpretation of the role of the "Cid" was as successful as his Wagner roles. He can be counted among those few Wagner singers who were able to preserve their international fame throughout the War years. In 1922 he returned to the United States with Sol Hurok's German Opera Troupe, his comeback at Covent Garden took place in 1924 and in 1930, at the age of 63, he appeared for the first time at the Teatro Liceo in Barcelona as Tristan. Tue splendor of Urlus' voice remained completely intact until his death. Up to 1934 he sang at the Amsterdam Opera House where all his performances were declared gala-events. He was one of the first singers at the Zoppot Wagner-Festival where in 1923 he was heard in the second act of "Tristan" with Helene Wildbrunn, Otto Helgers and Margarete Arndt-Ober and in 1925 altemated as Tannhäuser with Richard Schubert. In Berlin he was not only celebrated as an opera singer but also excelled on concert stage where his repertory was equally versatile: it contained the role of the Evangelist in Bach's "Matthäuspassion", the tenor parts in Beethoven's Ninth Symphony and the "Requiem" by Verdi as well as Mahler's "Lied von der Erde" which he performed for the last time in Amsterdam in 1934. When Jacques Urlus died on July 6th 1935 in Noordwijk the Dutch Nation mourned for him like for a national hero. Until today his name lives on in operatic centers all over the world, such as London, New York and Milan.
Amazon, iTunes, Spotify & Co.