Ivar Andresen - The early recordings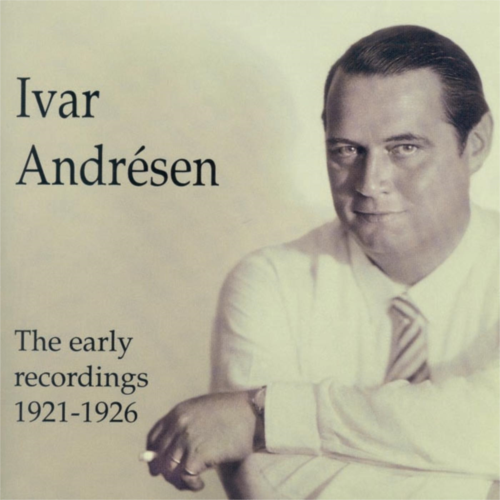 | | |
| --- | --- |
| Artist | Ivar Andrésen |
| Title | Ivar Andresen - The early recordings |
| | |
| Release Date | Wednesday, September 20, 2006 |
| Genre | Classical > Choro |
| | |
| Composers | Richard Wagner, Oskar Merikanto, Wilhelm Stenhammar, Otto Nicolai, Giuseppe Verdi, Eyvind Alnaes, Elling, Halfdan Kjerulf, Christian Sinding, Ragnar Althen, Wolfgang Amadeus Mozart, Ludwig van Beethoven, Giacomo Meyerbeer, Ludwig Fischer, Richard Nordraak, Ferdinand Gumbert, Peter Ilyich Tchaikovsky, Svensk Folkvisa, Otto Lindblad, F.A. Reissinger, Ejnar Eklöf, Franz Abt, Johan Nybom, J.W. Larsson, Adrial Dahl, Edward Grieg, Gunar Wennerberg, Algot Haquinius, Carl Collan, Isidor Dannström, Giacomo Puccini, Johan Selmar, Felix Mendelssohn Bartholdy, Th Lammers, Friedrich von Flotow, Ambroise Thomas |
| Songwriter | Ivar Andrésen |
| | |
| Copyright | © Preiser Records |
| Country | AUSTRIA |
Update Required
To play the media you will need to either update your browser to a recent version or update your
Flash plugin
.
Promotion Text
Lebendige Vergangenheit
In those years when Siegfried Wagner ruled the roost at Bayreuth and Toscanini and Furtwängler set new standards of interpretation, the exceptional artistic stature of the bass Ivar Andresen played a vital part in the renewal of that Wagner style customary at the time. Between 1927 and 1936 Andre,sen was a pillar of the Bayreuth ensemble. He bestrode the stage like a colossus and when he raised his towering voice in Pogner's address in "Meistersinger" the meaning of the text and the stature of the artistic statement entailed therein culminated in a portrayal that was the very embodiment of dramatic verisimilitude. Andresen was the proto­ type of a Wagner bass. The driving force of his characterizations was a strongly developed spiritual element which enabled him to fully comprehend the metaphysical content of Wagner's philosophy. Thus he very soon set new standards, blessed as he was with one of the most outstanding bass voices in recorded· history. The dramatic bent Ivar Andresen evinced in Wagner roles was evident quite early on. Already his debut at the Royal Opera, Stockholm in 1919 as the Landgraf in "Tannhäuser", aroused great interest. The natural, humane art of Ivar Andresen was always at the service of an idealistic attitude towards artistic endeavors. By inclination not particularly given to pathos, he also evinced more than usual vocal agility, which enabled him to portray buffo roles as well. Andresen was an outstanding Osmin and Abul Hassan in "Barbier von Bagdad", as well as an amiable, bear-like, Plumkett in, Flotow's "Martha". His philosophical Sarastro also became orie of his greatest portrayals. He frequently sang this role not only in Germany but also in London (1928 - 1931) and later, in 1935, at the Glyndebourne Festival. lvar Andresen was born on 27. July 1896 in Oslo. After tuition from Gillis W. Bratt at the Royal Opera Academy in Stockholm he was engaged to appear at the Royal Opera there. Already in 1925 he was engaged to appear at the Staatsoper in Dresden and, from 1931 onwards, he was also under contract to the Städtische Oper in Berlin. Considering the relatively short span of his career (he died on 26. November 1940 at the age of 44) that is success indeed. Especially in Dresden he consolidated not only his reputation as a Wagner singer, but also as one of those who contributed considerably to the Verdi renaissance that started in Dresden at the time. Andresen's Padre Guardiano in "Forza" and Banquo in "Macbeth' are still considered exemplary. His international engagements naturally contributed to spreading his fame. In 1927 Andresen appeared in Vienna as well as the Teatro Liceo in Barcelona. After his appearances in Great Britain he joined the ensemble of the MET, where he sang Wagner roles from 1930 to 1932. He also appeared in Paris in 1931 in two of his most famous roles, King Mark and Hagen. Although, after 1934, Ivar Andresen's nominal artistic home was the Berlin Staatsoper, he continued to appear regularly at the Bayreuth Festival - meanwhile an almost legendary association. Andresen sang the great roles of his repertoire for almost a decade and his rotund basso profundo voice imbued his portrayals with a majesty of towering singularity. He had few peers as far as the spiritual characterization of the role of Gurnemanz or the poignant resignation of King Mark are concerned. Ivar Andresen's voice was a cataract of vocal splendor that might have overwhelmed the artist himself had he not cultivated pellucid diction that enabled him to retain his natural reticence. Thus he succeed in not only doing full justice to the often despairing philosophy of Wagner's view of the world but also in depicting the wondrous conflicts retained therein. lvar Andresen was prodigal with his vocal resources, as if aware of his vocation. In the brief span of his career he managed to enhance his artistic capabilities to the point where he actually achieved something like perfection.
Amazon, iTunes, Spotify & Co.