Lebendige Vergangenheit - Ivar Andrésen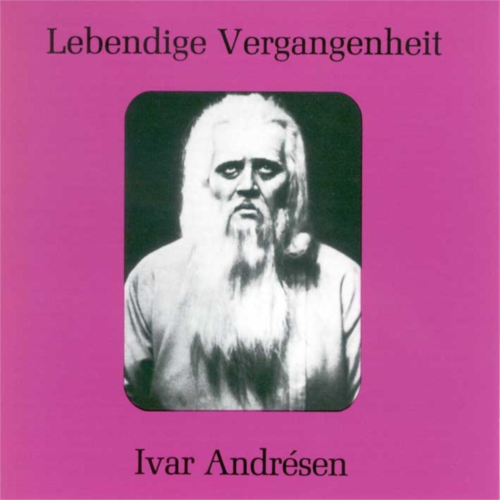 Update Required
To play the media you will need to either update your browser to a recent version or update your
Flash plugin
.
Promotion Text
Lebendige Vergangenheit
In den Jahren, als noch Siegfried Wagner die Geschicke der Bayreuther Festspiele lenkte und Toscanini und Furtwängler neue Interpretationsmaßstäbe setzten, hatte das ungewöhnliche künstlerische Format des Bassisten Ivar Andresen einen wesentlichen Anteil an der Erneuerung des damals propagierten Wagnerstils. Andresen zählte in den Jahren 1927 bis 1936 zu den gefeierten Stützen der Bayreuther Festspiele. Seine imponierende Persönlichkeit beherrschte souverän die Bayreuther Szene und wenn er mit mächtiger Stimme die Ansprache des Pogner in den "Meistersingern" sang, so vermochte die Gesinnung und Größe der künstlerischen Aussage ein Höchstmaß an dramatischer Konzentration hervorzubringen. Andresen hatte eine erstaunliche Beziehung zu den Werken des Bayreuther Meisters. Die Triebfeder seiner intensiven Gestaltungskraft war ein starkes geistiges Element, dessen er sich bediente und das ihn mühelos das umfangreiche Gedankengut Wagners erfassen ließ. So wurde er in kürzester Frist zum Prototyp eines glänzenden Wagner-Interpreten, der neue Maßstäbe zu setzen vermochte und dessen Bassstimme zu einer der schönsten gezählt werden kann. Die dramatische Veranlagung, die Ivar Andresen zu den großen Wagner-Partien besaß, reicht bis in seine Anfänger-Jahre zurück. Bereits bei seinem Debüt an der Königlichen Oper in Stockholm hatte er 1919 als Landgraf in "Tannhäuser" berechtigtes Aufsehen erregt. Die einfache und natürliche, von menschlicher Wärme erfüllte Vortragskunst Ivar Andresens war stets der Aus­ druck einer idealen Kunstgesinnung. Jedem Pathos abhold, besaß sie ebenso eine durchdachte Beweglichkeit, die sie befähigte auch manche buffoneske Rolle zu gestalten. So war Andresen ein glänzender Osmin oder Abul Hassan in "Barbier von Bagdad" und nicht zuletzt ein kraft­ strotzender, von liebenswürdigem Humor erfüllter Plumkett in Flotows "Martha". Aber ebenso zählte sein von tiefer Humanität zeugender Sarastro zu den bedeutensten Rollen seiner großen Gestaltungskunst. Er hat diese Partie nicht nur oft in Deutschland, sondern auch in den Jahren 1928 bis 1931 in London und später, 1935, bei den Festspielen in Glyndebourne gesungen. Ivar Andresen wurde am 27. Juli 1896 in Oslo geboren. Nach seiner Ausbildung an der Königlichen Opernschule in Stockholm bei Gillis W. Bratt, folgte seine mehrjährige Verpflichtung an die dortige Königliche Oper und damit begann auch seine kometenhafte Karriere. Schon 1925 wurde Andresen an die Dresdener Staatsoper engagiert und hatte ab 1931 eine gleichzeitige Verpflichtung an die Städtische Oper in Berlin. In der verhältnismäßig kurzen Laufbahn dieses bedeutenden Künstlers, der am 26. November 1940 in Stockholm bereits im Alter von 44 Jahren starb, waren diese Jahre sichtbare Zeichen einer glänzenden Sängerkarriere. Besonders Dresden festigte nicht nur seinen Ruf als Wagner-Interpret, sondern auch als einen jener Sänger, die maßgebenden Anteil an der von Dresden ausgehenden Verdi­ Renaissance jener Jahre hatten. Unvergesslich blieb dabei bis heute Andresens Pater Guardian in "Die Macht des Schicksals" und sein Banquo in "Macbeth". … In those years when Siegfried Wagner ruled the roost at Bayreuth and Toscanini and Furtwängler set new standards of interpretation, the exceptional artistic stature of the bass Ivar Andresen played a vital part in the renewal of that Wagner style customary at the time. Between 1927 and 1936 Andre,sen was a pillar of the Bayreuth ensemble. He bestrode the stage like a colossus and when he raised his towering voice in Pogner's address in "Meistersinger" the meaning of the text and the stature of the artistic statement entailed therein culminated in a portrayal that was the very embodiment of dramatic verisimilitude. Andresen was the proto­ type of a Wagner bass. The driving force of his characterizations was a strongly developed spiritual element which enabled him to fully comprehend the metaphysical content of Wagner's philosophy. Thus he very soon set new standards, blessed as he was with one of the most outstanding bass voices in recorded• history. The dramatic bent Ivar Andresen evinced in Wagner roles was evident quite early on. Already his debut at the Royal Opera, Stockholm in 1919 as the Landgraf in "Tannhäuser", aroused great interest. The natural, humane art of Ivar Andresen was always at the service of an idealistic attitude towards artistic endeavors. By inclination not particularly given to pathos, he also evinced more than usual vocal agility, which enabled him to portray buffo roles as well. Andresen was an outstanding Osmin and Abul Hassan in "Barbier von Bagdad", as well as an amiable, bear-like, Plumkett in, Flotow's "Martha". His philosophical Sarastro also became orie of his greatest portrayals. He frequently sang this role not only in Germany but also in London (1928 - 1931) and later, in 1935, at the Glyndebourne Festival. lvar Andresen was born on 27. July 1896 in Oslo. After tuition from Gillis W. Bratt at the Royal Opera Academy in Stockholm he was engaged to appear at the Royal Opera there. Already in 1925 he was engaged to appear at the Staatsoper in Dresden and, from 1931 onwards, he was also under contract to the Städtische Oper in Berlin. Considering the relatively short span of his career (he died on 26. November 1940 at the age of 44) that is success indeed. Especially in Dresden he consolidated not only his reputation as a Wagner singer, but also as one of those who contributed considerably to the Verdi renaissance that started in Dresden at the time. Andresen's Padre Guardiano in "Forza" and Banquo in "Macbeth' are still considered exemplary. His international engagements naturally contributed to spreading his fame. …
Amazon, iTunes, Spotify & Co.