Lebendige Vergangenheit - Inge Borkh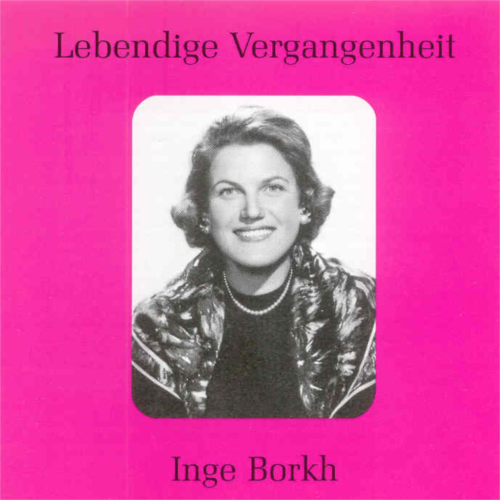 | | |
| --- | --- |
| Artist | Inge Borkh |
| Title | Lebendige Vergangenheit - Inge Borkh |
| | |
| Release Date | Friday, October 20, 2006 |
| Genre | Classical > Choro |
| | |
| Composers | Max von Schillings, Richard Strauss, Giuseppe Verdi, Ludwig van Beethoven, Gian Carlo Menotti |
| Songwriters | Inge Borkh / Orchester der Städtischen Oper, Berlin, Inge Borkh / Sinfonieorchester des Hessischen Rundfunks, Inge Borkh / Sinfonie-Orchester des Süddeutschen Rundfunks, Orchester der Städtischen Oper, Berlin / Inge Borkh, Inge Borkh / Chicago Symphony Orchestra |
| | |
| Copyright | © Preiser Records |
| Country | AUSTRIA |
Update Required
To play the media you will need to either update your browser to a recent version or update your
Flash plugin
.
Promotion Text
Lebendige Vergangenheit
The name Inge Borkh is connected with the renewal of the opera that took place shortly after World War II. The catchword then was "Entrümpelung" or "cleaning out", begun with Wieland Wagner's efforts in Bayreuth. It characterizes the changes that began at that time which brought a conscious renunciation of all that was obsolete and out-of-date. A new way of viewing the well-known repertory operas came to life, as well as a clear change in music making. Due to these changes the singers - or better the "singing actors" - were given new tasks. The "cleaning out" was evident here as well: Those who only possessed a beautiful voice - the "singing statues" - were finished. Intelligence, versatility, and flexibility were the qualities with which the young artistic generation made its way. Inge Borkh represents this "modern" type of singer in an exemplary fashion. In her stage appearances throughout the world she was never conventional. She always managed to bring something to the role that was special to her, something that was almost impossible to compare to the performances of others. Her performance of Elektra was so individual and so different from the norm, that one can understand the admiration that she earned from the inter­ national opera world for this role. Her physical appearance, with her majestic stance, her radiant glance, and her long blonde tresses, was already different from the traditional image of the ancient Greek avenger. It is no wonder that Inge Borkh felt herself drawn to the stage at an early age. At first she wanted to be an actress. She was born in Mannheim, the daughter of a Swiss father and an Austrian mother. While still young she came to Vienna where she studied at the Reinhardt Seminar. Her first engagement was in Linz in 1937. The following year she began a contract in Basel, which led to her being able to spend the years of World War II in Switzerland. After studying voice for a short time in Italy and at the Mozarteum in Salzburg, she debuted as an opera singer in Luzern in 1940 as Agathe in Weber's "Freischütz". These years in Switzerland were very important for her future career since she learned a wide repertoire of opera roles including Leonore in "Fidelio", Aida, the Composer in "Ariadne auf Naxos", and Marie in "Wozzeck". Her gradual change from lyric to dramatic soprano already began at this time. The international opera world became aware of Inge Borkh when she performed the role of Magda Sorel in the German-language premiere of Gian Carlo Menotti's opera "The Consul" (Basel 1952). She then received a contract for Munich, where she soon made a name for herself as an interpreter of the large Richard Strauss roles: Salome, Elektra, Färberin, the Egyptian Helena. Following this Inge Borkh sang in all the major opera houses in Germany, the State Opera in Vienna, London's Covent Garden, La Scala in Milan, in Spanish and French opera houses, at the Maggio musicale in Florence, and the festivals in Bayreuth, Edinburgh, and Salzburg. Her American career began at the San Francisco Opera in 1953, where, after her sensational debut as Elektra, she also had an incredible success as Puccini's Turandot. Her performance as Lady Macbeth in the American premiere of Verdi's "Macbeth" was praised as a major event. Between 1958 and 1971 she was engaged at the Metropolitan Opera where she debuted as Salome, and also sang Leonore, Elsa, Sieglinde, and Färberin. Inge Borkh also sang important roles in the operas of the 20th century: the part of Cathleen in the world premiere of Werner Egk's "Irische Legende" (Salzburg 1955), a role in the America premiere of Britten's "Gloriana" (Cincinnati 1956), and roles in works by Shostakovitch, Orff, Bloch, Louise Talma, etc. After she ended her singing career Inge Borkh returned to acting and allowed her intense acting abilities to continue to live in character roles. That she also appeared as a singer of chansons - and that with great success - is another proof of her inexhaustible versatility.
Amazon, iTunes, Spotify & Co.