Wiener Bonbons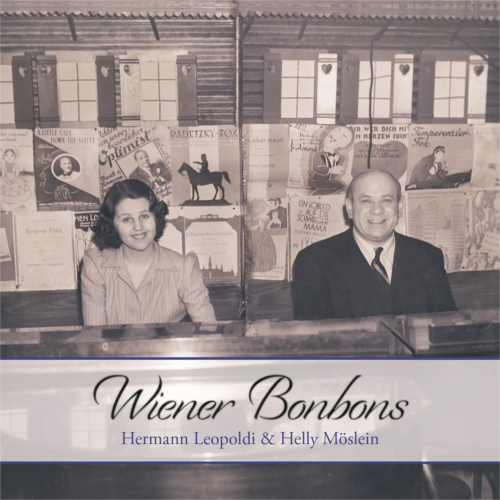 Update Required
To play the media you will need to either update your browser to a recent version or update your
Flash plugin
.
Promotion Text
Best of & Rarities from Hermann Leopoldi
Hermann Leopoldi war ein Meister des Taktes. Ein großes Taktgefühl, ein G'spür, hatte er außerdem in der Wahl gesellschaftlicher Themen und deren musikalischer Bearbeitung, was ihn während der Zwischenkriegszeit zum bedeutendsten Wiener Volkssänger machte. Vertrieben aufgrund des Kriegs traf Hermann Leopoldi im März 1939 in New York ein. Als "famous refugee" wurde er von der amerikanischen Presse willkommen geheißen und im "Alt Wien", einem Lokal in Manhatten, trat er bald darauf wieder auf. Dank seiner künstlerischen Fähigkeiten gelang es Hermann Leopoldi wieder Fuß zu fassen. Hier traf er auch auf die junge Sängerin Helly Möslein. Zusammen schrieben sie Leopoldis beliebteste Wienerlieder ins englische um. So wurde aus "In einem kleinen Café in Hernals" "A little café down the street". Diese Doppel-CD ist der Gegenüberstellung Leopoldis Lieder aus unterschiedlichen Abschnitten seines Lebens gewidmet. Unter den insgesamt 45 Titel finden sich Raritäten und lange nicht verfügbare Aufnahmen wie "Ein warmer Ofen - a Schalerl Kaffee", "Der Krankenkassenpatient" oder "Jedlersee". 45 Wiener Bonbons, mit Bedacht gewählt und zusammengestellt von Sohn Ronald Leopoldi. Das Booklet führt, die Musik begleitend, ausführlich durch Hermann Leopoldis und Helly Mösleins Leben. Geschrieben von Ronald Leopoldis Frau Elisabeth verleiht diese der Doppel-CD einen persönlichen Einblick und eine familiäre Note.Hermann Leopoldi was a master in achieving the right pulse in his pieces of music. "Tactful" he was in more than one sense of the word. Many of his hits were played as dance music and even performed with dance orchestras. His great feeling or "G'spür" for tact is shown in his choice of social topics and their discussion through music, which made him one of the most significant Viennese folk singers during the interwar period. Displaced by War Hermann Leopoldi arrived in New York in March 1939. He was welcomed by the american media as "famous refugee" and soon after gave his first performances at the "Alt Wien" ("Old Vienna"), a bar in Manhatten. Due to his artistic abilities he quickly gained a foothold in the new world. When he met the young singer Helly Möslein they translated his most popular songs into English. The song "In einem kleinen Café in Hernals" became "A little café down the street". Their son Ronald Leopoldi has now chosen the tracklist of this Double CD intending to show the contrast of Leopoldis songs from different phases of his life. The 45 songs overall contain classics like "Ein warmer Ofen - a Schalerl Kaffee", "Der Krankenkassenpatient" or "Jedlersee" which have not been available on CD for a while.
Management / Booking
Get in contact
Amazon, iTunes, Spotify & Co.