Four Famous German Baritones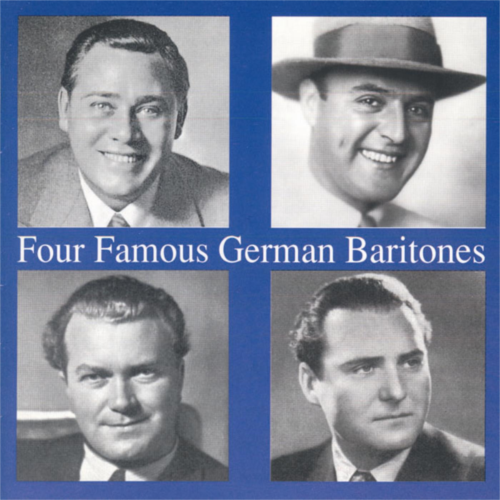 | | |
| --- | --- |
| Artist | Herbert Janssen |
| Title | Four Famous German Baritones |
| | |
| Release Date | Saturday, September 30, 2006 |
| Genre | Classical > Choro |
| | |
| Composers | Engelbert Humperdinck, Albert Lortzing, Richard Wagner, Charles Gounod, Erich Wolfgang Korngold, Conradin Kreutzer, Jaromir Weinberger, Otto Nicolai, Ferdinand Gumbert, Gioacchino Rossini |
| Songwriters | Gerhard Hüsch, Hans Wocke, Karl Hammes, Herbert Janssen, Gerhard Hüsch / Eugen Fuchs |
| | |
| Copyright | © Preiser Records |
| Country | AUSTRIA |
Update Required
To play the media you will need to either update your browser to a recent version or update your
Flash plugin
.
Promotion Text
Lebendige Vergangenheit
As a result of the fact that Herbert Janssen spent the largest part of his career abroad, the' memory of this excellent artist is more vivid in England and the United States than in his home country, Germany. Janssen initially aspired to become a lawyer but soon devoted himself entirely to music. Oscar Daniel took charge of his vocal training in Berlin and Max von Schillings offered him a contract at Berlin's State Opera after a successful audition. In 1922 the singer made his debut in Franz Schreker's opera "Die Schatzgräber". In the following years Janssen worked on enlarging his repertory: he studied a great variety of roles from the lyric and heroic baritone repertoire and soon started to occupy himself with the important Wagner baritone roles. At Covent Garden Janssen appeared for the first time in 1926 where he continued to be particularly successful in the Wagner repertory. An extensive touring activity brought him to Paris, Barcelona, Vienna, Munich and Dresden. From 1930 to 1937 he was one of the most significant members at the Bayreuth Festival where he made his debut in "Tannhäuser" under the direction of Arturo Toscanini. After the outbreak of World War II the artist left for the United States and was celebrated at the Philadelphia Opera House and equally at the MET. From 1940 on Janssen regularly appeared at the Teatro Colon in Buenos Aires. During the post-war years the singer could still be heard at numerous opera houses in Europe and in the United States. Herbert Janssen also established himself as a highly noted lied singer. The programmes of his concerts were mostly dedicated to works of Franz Schubert and Hugo Wolf. Karl Rammes was born on March 25th 1896 in Zell an der Mosel. He joined the Army during World War I and afterwards studied at the Conservatory of Cologne; it was in Cologne where he was offered his first engagement which was followed by a short-term one at the Kroll Oper. He introduced himself in Vienna as Don Giovanni which continued to be his best interpretation. In consequence to this guest performance, Vienna's director, Franz Schalk, recruited the singer for the lyric baritone repertoire. Rammes' smooth and substantial voice, his impulsive histrionic talent and facial expressiveness made him a promising successor of Hans Duhan. Further guest performances confirmed the critics' favorable impression; in September 1929 Karl Rammes became an official member of Vienna's State Opera which he remained until the summer of 1934, singing an average of 70 performances each season. During these years about 50 roles were a permanent part of his repertory. His most popular role in Vienna surely was his witty impersonation of Schwanda, the bagpiper, which he performed with Margit Angerer, Gertrud Rünger, Alfred Piccaver and Richard Mayr under the direction of Clemens Krauss. As long as Rammes sang at the Staatsoper this role was exclusively his. The artist always was aware of his voice's limitations and only exceptionally did he go beyond them. That way, the art of this outstanding singer and actor was always remembered in the best possible light. From 1934 on Rammes was a member of the Ensemble of the State Opera in Berlin. Having obtained the military rank of an Officer in the Royal Air Force in World War I, Karl Rammes was immediately called to the Army after the outbreak of World War II. After only a few days, on September 10th 1939, his plane was shot down during an aerial combat over Warsaw. The name of Gerhard Hüsch is always likely to come up when speaking of a typical German singer and a typically German voice. With his pithy, sonorous voice and intellectual delivery he was the prototype of the German master singer as characterized by Richard Wagner in the figure of Wolfram von Eschenbach. Gerhard Hüsch was born in Hanover and grew up in Gardelegen/Altmark. Initially he wanted to be an actor. At the age of 19 he was taken on at Hanover's Residenztheater as an acting student. At this time he also began to study singing with Professor Emge. After three years of lessons he had advanced far enough to perform smaller and larger baritone roles in addition to his parts as an actor. From his second engagement on (Osnabrück 1923/24) he worked only as a singer. Hüsch was in Bremen from 1924 to 1927,. and in Cologne from 1927 to 1930. In 1930 he got a contract in Berlin and stayed there until 1944, singing at the Städtische Operand the Staatsoper. The years in Berlin were the zenith of Hüsch's stage career; it was then that he won the greatest respect as an interpreter of the big baritone roles, first and foremost in the German opera repertoire. From 1930 to 1938 Hüsch, apart from his work in Berlin, was also a permanent member of the Covent Garden Opera in London, where he made extraordinarily successful appearances under such conductors as Bruno Walter and Sir Thomas Beecham. In 1930 and 1931 he sang the role of Wolfram at the Bayreuth Festival under Arturo Toscanini and Siegfried Wagner, respectively. Guest tours took Hüsch to the opera houses in Hamburg, Dresden, Munich and Vienna, and to La Scala in Milan. He was a dedicated proponent of ensemble theatre and did not return to the operatic stage after the Second World War, when the old-style ensemble ideal began to fade. Hans Wocke was bom in Cologne in 1904. From 1927 on he worked as a choir member at the West German Broadcast of Cologne where he increasingly was cast in solo parts. In the years from 1933 to 1935 …
Amazon, iTunes, Spotify & Co.