Lebendige Vergangenheit - Herbert Ernst Groh (Vol.2)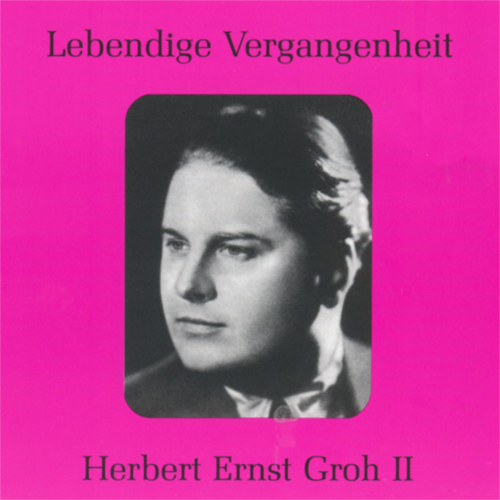 | | |
| --- | --- |
| Artist | Herbert Ernst Groh |
| Title | Lebendige Vergangenheit - Herbert Ernst Groh (Vol.2) |
| | |
| Release Date | Friday, August 25, 2006 |
| Genre | Classical > Choro |
| | |
| Composers | Jules Massenet, Richard Wagner, Nicolai Rimsky - Korsakov, Richard Strauss, Borella-Mariotti, Giacomo Puccini, Ernesto De Curtis, Herbert Ernst Groh, Victor Ernst Nessler, Enrico Toselli, Ruggiero Leoncavallo, Pietro Mascagni, Georges Bizet, Albert Lortzing, Marchesi, Peter Ilyich Tchaikovsky, Adolphe Adam, Eugen Hildach, Georg Friedrich Händel |
| Songwriters | Herbert Ernst Groh, Herbert Ernst Groh / Pia Tassinari, Herbert Ernst Groh / Maria Cebotari |
| | |
| Copyright | © Preiser Records |
| Country | AUSTRIA |
Update Required
To play the media you will need to either update your browser to a recent version or update your
Flash plugin
.
Promotion Text
Lebendige Vergangenheit
The advent of acoustical recording brought with it a new type of vocal artist, the "microphone singer". Radio, gramophone records and sound films made possible careers that could not have been achieved in the more traditional ways. The best-known example of this new type of singer is Josef Schmidt, but there are many others who belong to the category, either wholly or in part. Among them are the Caruso-era baritone Emilia de Gogorza, the tenor Alessandro Valente and, later, Mario Lanza. All these artists owed their careers to gramophone records, radio or films, and much less - if at all - to appearances in opera or concert. In fact, some of them never sang in public. In the early days of radio, it was the "resident tenors" of the various broadcasting stations, more than anyone else, who gained great popularity. Cologne Radio had a much admired tenor, Leonardo Aramesco, whose name appears in no other connection; in Vienna, Franz Borsos was a favorite with audiences, and in Hamburg the tenor Herbert Ernst Groh became immensely popular at "Radio NORAG", the forerunner of Nordwest Deutscher Rundfunk. Groh was Swiss by birth, trained in Zurich and Milan, and made his debut as an opera singer in 1927 in Darmstadt. Further engagements followed in Frankfurt am Main and Cologne. Unlike the purely "microphone singers", then, he had a career in Opera, even if it lasted just three years. As one can see from the sound films in which Herbert Ernst Groh played, he was a good-looking man and a fairly capable actor. From 1930 onwards he turned away from opera, devoting himself entirely to operetta and the then fashionable hybrid, the musical revue. He scored especially notable successes in ltaly and it was there that he made his first records under the name Ernesto Groh. Then he returned to Germany, where he became one of the most successful radio tenors of his day. Many recordings date from this time, with Groh singing opera scenes, operetta melodies, hit tunes and folksongs. On the radio there were no limits to the tenor roles he could sing, and he appeared in several highly regarded opera productions, among them Rossini's "Semiramis". He also recorded an aria from that opera. In the thirties and forties Groh was a frequent guest at all the radio stations in Germany, and he occasionally took part in variety programmes, the so-called "Bunte Abende". After the Second World War he appeared as an entertainer in many European countries. His career lasted until the 1960s. Herbert Ernst Groh's manner of singing is clearly modelled on that of Richard Tauber. He was by no means alone in this, for there were many tenors then ·and later who adopted Tauber's inflections. But Groh's emulation went so far that even people who are quite knowledgeable about voices would find it difficult, when listening to some recordings, to say for certain who was who.
Amazon, iTunes, Spotify & Co.