Lebendige Vergangenheit - Helene Wildbrunn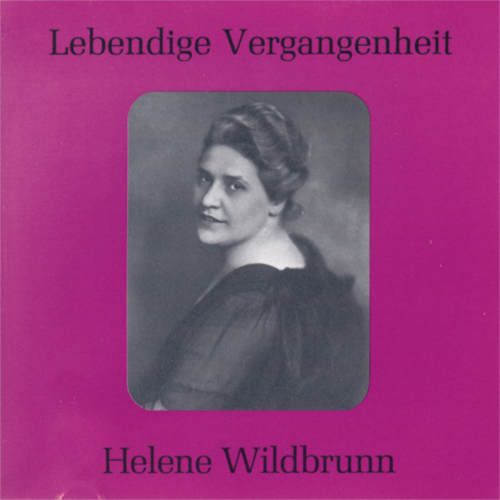 | | |
| --- | --- |
| Artist | Helene Wildbrunn |
| Title | Lebendige Vergangenheit - Helene Wildbrunn |
| | |
| Release Date | Saturday, September 2, 2006 |
| Genre | Classical > Choro |
| | |
| Composers | Richard Wagner, Wolfgang Amadeus Mozart, Amilcare Ponchielli, Carl Maria von Weber, Giuseppe Verdi, Christoph Willibald Gluck, Pietro Mascagni, Ludwig van Beethoven, Giacomo Puccini |
| Songwriter | Helene Wildbrunn |
| | |
| Copyright | © Preiser Records |
| Country | AUSTRIA |
Update Required
To play the media you will need to either update your browser to a recent version or update your
Flash plugin
.
Promotion Text
Lebendige Vergangenheit
Helene Wildbrunn, born April 8, 1882 in Vienna started her vocal tuition with Prof. Rosa Papier­ Paumgartner at the Conservatory "Gesellschaft der Musikfreunde". In 1907 she joined the ensemble of the Municipal Theatre in Dortmund, singing contralto and mezzo roles. Already during her first year - in a season lasting eight months - she sang twenty-three roles, including Amneris, Ortrud, Dalilah, Azucena, Adriano, Fricka, Brangäne and compario roles. Having married her tenor partner Karl Wildbrunn, she remained in Dortmund for six years, increasingly concentrating on dramatic soprano roles. She sang Martha in "Tiefland", Selika in "L'Africane" and the "Queen of Sheba". Her vocal range even enabled her to sing Brünnhilde (Walküre). The Stuttgart Court Theatre now invited her to give a guest performance as Brünnhilde. Her success was overwhelming and she signed a five-year contract. Her subsequent roles were Rezia in "Oberon", Amelia in "Ballo en Maschera", Fidelio, Brünnhilde in "Siegfried" and "Götterdämerung", Valentine in "Les Huguenots", Kundry and Marschallin. A benchmark of her career was when Max von Schillings entrusted her with the role of Isolde. She was now regarded as one of the outstanding "Hochdramatische" sopranos of her era. The press wrote at the time: "Yesterdays performance of Wagner's "Tristan" with Helene Wildbrunn as Isolde was a high point not only of the season but in the performance history of this opera." Despite the turmoil of the war she managed to take part in the memorable "Tristan" performance given by the Gewandhausorchester in neutral Switzerland, conducted by Arthur Nikisch. This proved a triumph of German art and was eventuall repeated in war-tom Brussels and Antwerp. She was now appointed 'Court Opera singer of Württemberg'. In 1918 Georg von Hülsen, the Intendant of the Berlin Opera 'Unter den Linden', engaged her to join the ensemble' after her successful guest appearance as Selika and Isolde. Her revered colleagues at that time included Hermann Jadlowker, Joseph Schwarz, Heinrich Schlusnus and Barbara Kemp. Conducted by Max von Schillings and Leo Blech she sang all her great roles and was soon a favorite with the audience. She made frequent guest appearances abroad. In 1922 she took part in a South America tour where Wagner's "Ring" was staged, sung in German. In Buenos Aires alone there were seven sold out performances, rapturously received by the local audience. The last "Ring" cycle - Felix Weingartner conducting the Vienna Philharmonie Orchestra - was generally deemed a sensation. Helene Wildbrunn also sang Kundry and Maestro Bellezza. Further guest appearances at La Scala as Kundry, conducted by Ettore Panizza, in Madrid, Stockholm, Amsterdam (cond. Karl Muck), Covent Garden (cond. Bruno Walter), Barcelona and Paris with the Vienna ensemble (cond. Franz Schalk) and subsequent appearances throughout Germany further enhanced her reputation. In 1925 she was engaged at the "Städtische Oper" in Berlin, at that time headed by Bruno Walter. Here she sang her first Elektra, a performance that was enormously acclaimed. The press wrote: "lt was a profound artistic experience. The pent-up tension was released in enthusiastic gratitude not only for an 'Elektra' performance that was heart-wrenchingly moving and imbued with sheer genius but also with gratitude to Richard Strauss (who was personally present) as well as for the 'creator spiritus' of this performance, Bruno Walter." In 1919 Helene Wildbrunn sang both in Berlin and Vienna. Conducted by Richard Strauss and Franz Schalk she made guest appearances as Isolde and enthralled the Vienna audience. The operas scheduled necessitated her staying in Vienna for several months and she was soon an established star in the legendary ensemble consisting of such world-famous singers as Maria Jeritza, Maria Gutheil-Schöder, Selma Kurz, Elisabeth Schumann, Leo Slezak, Alfred Piccaver, Richard Schubert, Karl Aagaard Oestvig, Emil Schipper and Richard Mayr. She remained a member of the Vienna State Opera ensemble until 1932. In 1929 she was appointed Austrian "Kammersängerin". After her retirement she became an honorary member of the Institute. Already in 1931 she was engaged to head the masterclasses at the State Academy of Music and dramatic Art. In 1932 she was appointed professor and passed her considerable knowledge and expertise to numerous grateful students. In 1951 she bade farewell to the State Academy.
Amazon, iTunes, Spotify & Co.