Famous German Baritones of the Past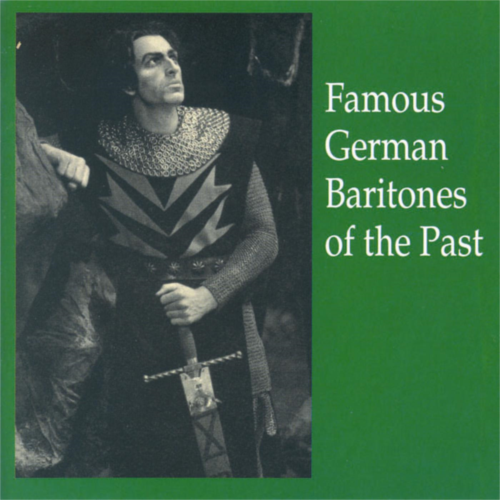 | | |
| --- | --- |
| Artist | Heinrich Schlusnus |
| Title | Famous German Baritones of the Past |
| | |
| Release Date | Monday, September 11, 2006 |
| Genre | Classical > Choro |
| | |
| Copyright | © Preiser Records |
| Country | AUSTRIA |
Update Required
To play the media you will need to either update your browser to a recent version or update your
Flash plugin
.
Promotion Text
Lebendige Vergangenheit
"The most beautiful of all male voices, combining as it does the dignity and power of the bass with the brilliance of the tenor" - that is how Hugo Riemann described the baritone voice in his famous Musical Encyclopaedia (first edition, 1882). lt could be added that this "middle" vocal register-like the mezzo soprano among the female voices - is the "normal" human voice and is thus met with much more frequency than the extreme high and low registers. In opera the baritone voice is one of the relatively "young" species; not until the Gluck operas was it entrusted with important tasks. Mozart is another composer who, with Count Almaviva and Don Giovanni, wrote starring roles for the baritone voice, though it must be noted that both of these parts were often sung by tenors in earlier times. The tenor Manuel Garcia (1775-1832) for example, was considered one of the most outstanding interpreters of Don Giovanni. In German opera houses, too, it was very often the tenors who, until the middle of the 19th century, excelled in these and other parts which later were sung exclusively by lower voices. In more recent times, Mozart's Don Giovanni has migrated almost entirely to lower regions, that is, the bass register - evidence as to how the perception of an opera role can change over the years. A large number of recordings by outstanding singers from bygone epochs provide a clear demonstration of the qualities Riemann praised in the baritone voice. However, in this vocal category many nuances and differentiations are possible. There are voices which have a pronounced bass tendency; the singers usually started out, in fact, as basses. Others just as clearly have a tenor orientation. Special characteristics can be defined in terms of regions: the Italian baritone is a standard concept for which there are many brilliant examples, and so is the German, the French, and the Russian baritone. The main features of the German baritone are generally considered to be dignified manliness, warmth and expressive power, traits that probably appear at their most beautiful in the minnesinger Wolfram von Eschenbach in Richard Wagner's "Tannhäuser". It should be noted, however, that precisely this role was a favorite of Italian bei canto singers (Battistini and others). This shows in turn that, despite the distinctions"touched on here, what is decisive in the end is artistic unity. In earlier times, that unity was present in performance practice: singing all operas in German in German-speaking countries tended to do away with boundaries, and singers had to be at home in all categories. Therefore, German singers were always outstanding intermediaries for Italian, French and all other imaginable operatic species. The programme of "Famous German Baritones of the Past" gives an idea of the wide variety of the repertoire of German singers at the time. lt also constitutes an operatic panorama which is typical of musical life in the 21 years (1926-1947) in which these recordings were made; two decades marked by the most powerful convulsions in German history in this century. In the earliest recordings we meet works by composers of Jewish origin (Meyerbeer, Offenbach, Brüll, Weinberger), operas which shortly thereafter could not be performed in the "Third Reich". We also come across once familiar and highly regarded operas which have since disappeared from the repertoire: works such as Konradin Kreutzer's "Das Nachtlager in Granada", Heinrich Marschner's "Hans Heiling" and Ignaz Brüll's "Das goldene Kreuz" were still present in the minds of audiences at the time of these recordings; at the very least, this or that number recalled the former long-running successes. Other recordings have close connection with outstanding new productions and revivals, for example Emil Schipper's recording from 1929, which recalls the performance in that year of Gluck's "Iphigenie in Aulis" at the Vienna State Opera. Hans Reinmar's scene from "Simone Boccanegra" is likewise a sort of echo of the notable production of that Verdi opera at the Deutsches Opernhaus in Berlin (1930). Apart from Gluck and Mozart, these recordings mostly contain music of the 19th century. Only one piece belongs to the "modern" era, the aria of the eponymous hero of Jaromir Weinberger's hit opera "Schwanda the Bagpiper", performed for the first time in 1927. The singers assembled here performed at the major German-language opera houses, predominantly in Berlin, where such fine artists as Theodor Scheidl, Wilhelm Rode, Heinrich Schlusrius, Michael Bohnen, Rudolf Bockelmann, Willi Domgraf-Fassbaender, Karl Schmitt-Walter, Gerhard Hüsch and Hans Wocke constituted a really overwhelming force of German baritones. But Dresden (Arno Sehellenberg, Josef Herrmann, Mathieu Ahlersmeyer), Munich (Heinrich Rehkemper, Hans Hermann Nissen, Hans Hotter) and Vienna (Emil Schipper, Karl Rammes, Paul Schöffler, Erich Kunz) are also represented as leading opera centers. Obviously, this categorization is only partly correct, for many of the artists named above had contracts with several opera houses in the course of their careers. A special case is the Cologne-born baritone Herbert Janssen, most of whose career took place outside Germany, in England and America. And finally, it should be mentioned that many of our artists - Heinrich Schlusnus, Heinrich Rehkemper, Karl Schmitt-Walter, Gerhard Hüsch, Herbert Janssen· and Hans Hotter - gained great fame as interpreters of the German art song.
Amazon, iTunes, Spotify & Co.