Lebendige Vergangenheit - Harry de Garmo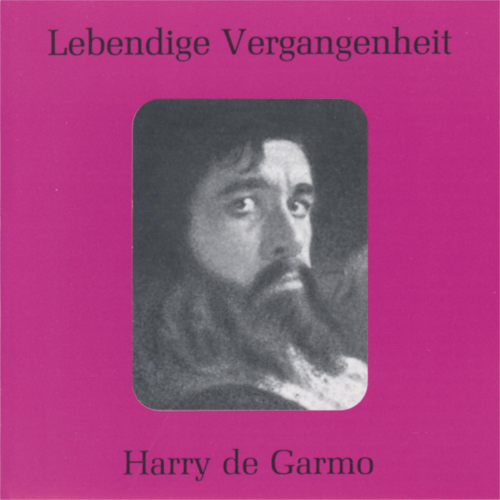 Update Required
To play the media you will need to either update your browser to a recent version or update your
Flash plugin
.
Promotion Text
Lebendige Vergangenheit
Harry de Garmo was born on 19 April 1887 to an English mother and a Spanish father. There is disagreement as to his birthplace: his personal file gives Merchantville in New York State; an advertising poster names New Jersey, and Kutsch/Riemens has Detroit. At his parents' wish, Harry de Garmo studied medicine for two years in Michigan, and there his voice was discovered. He got his vocal training from Maestro Hoche in Germany. His debut took place in 1910 at the Hamburg Stadttheater, where he stayed until 1912. From 1912 to 1914 he sang at the Stadttheater in Lübeck, where one of his colleagues was Hermann Weigert, who was later married to Astrid Vamay. On 20 August 1914 he began a five-year contract at the Royal Court Theatre in Wiesbaden. Guest appearances took him to the major German opera houses, among them the Berlin Court Opera (in 1911 as Wolfram), the opera houses in Frankfurt am Main and Cologne (1914). In 1914 he married the soprano Tilly de Garmo-Jonas. Despite his youth he already had an extensive repertoire, as his Wiesbaden personal file shows: Don Giovanni, the Speaker in "The Magie Flute", the Count in "Figaro", Pizarro in "Fidelio", Fluth in "The Merry Wives of Windsor", St. Bris in·"The Huguenots", Dapertutto in "The Tales of Hoffmann", and the big Wagner roles such as Wolfram, Kurwenal, Wotan in "Das Rheingold" and "Die Walküre", the Wanderer in "Siegfried", Hans Sachs in "Die Meistersinger von Nürnberg", and Amfortas in "Parsifal". Added to all these was Francesco in Max von Schillings' "Mona Lisa". For the 1917/18 season, he had a contract with the Metropolitan Opera, but when the United States entered the First World War he could not travel to New York. He was already in contact with the Metropolitan Opera for the time after his engagement in Wiesbaden ended, when, in the prin1e of life and at the peak of his artistic career, he died tragically on 21 April 1919, two days after his 32nd birthday, of complications following a diphtheria vaccination. lt can be assumed that he would have had a virtually incomparable career. That career was made instead - with some delay - by another singer. There are uncanny parallels between Harry de Garmo and Michael Bohnen, and not only the striking similarity of their voices at the time of their first recordings. Both were born in 1887, thirteen days apart. Both made their debuts in 1910, and both were engaged by the Royal Court Theatre in Wiesbaden, which had always been considered as a springboard to the Court Opera in Berlin. Their recording careers were also similar: the first recordings of the two singers were produced, probably in 1913, by the Favorite Company, and were issued under the Luxus label. Michael Bohnen was still singing bass roles, while Harry de Garmo was already a heroic baritone. One item on the labels of this series is misleading: "Harry de Garmo vom Stadttheater Cöln". He never belonged to the Cologne company, though he did make frequent guest appearances in the Stadttheater. Possibly an engagement was under discussion, which was then abandoned in favor of Wiesbaden. Both singers also appear at the same time in the catalogues of the Odeon and Grammophon companies, with Bohnen now in the same vocal category as de Garmo. This CD contains almost all the recordings made by de Garmo; one more record is known of a Favorite disc with Pizarro's. aria from "Fidelio" (2-15091) and the Count's aria from "The Marriage of Figaro" (2-15092). However, the gap between 2-15049 and 2-15052 suggests that a "Wahn" monologue exists. The Dutchman's monologue is certainly not apart of this series: the disc itself has no information that would point to Favorite matrixes, and the hardly legible matrix numbers under the labels do not fit. In the absence of further information, this title was therefore left as a Parlophon recording.
Amazon, iTunes, Spotify & Co.