Lebendige Vergangenheit - Hans Hermann Nissen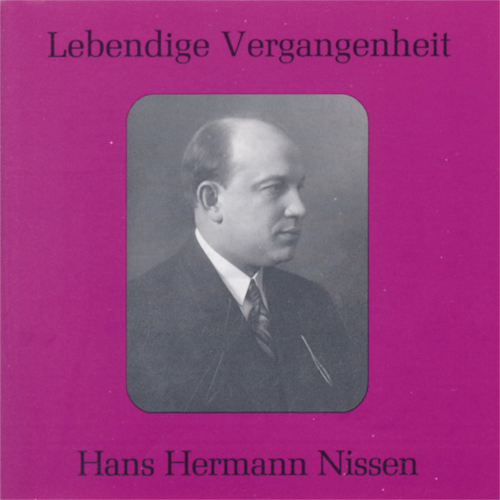 | | |
| --- | --- |
| Artist | Hans Heinz Nissen |
| Title | Lebendige Vergangenheit - Hans Hermann Nissen |
| | |
| Release Date | Thursday, August 31, 2006 |
| Genre | Classical > Choro |
| | |
| Composers | Heinrich August Marschner, Richard Wagner, Carl Loewe, Charles Gounod, Giacomo Meyerbeer, Hans Pfitzner, Robert Schumann, Hugo Wolf |
| Songwriters | Hans Heinz Nissen, Johann N. Vogl, Aloys Schreiber, Joseph von Eichendorff, Eduard Mörike |
| | |
| Copyright | © Preiser Records |
| Country | AUSTRIA |
Update Required
To play the media you will need to either update your browser to a recent version or update your
Flash plugin
.
Promotion Text
Lebendige Vergangenheit
Listening to a few recordings made by Hans Hermann Nissen, his interpretations of the Loewe ballads, the Wagner monologues or his inimitable assumption of Hans Sachs (in the 1937 broadcast from the Salzburg Festival) the question immediately arises: how come that the recording companies took such few opportunities of capturing the talents of this superb singer? Maybe for two reasons - the first being that the singer himself valued a stage career more than a reputation as a recording artist and secondly the fact that at the time there was a plethora of German baritones and the recording companies had already engaged their popular favorites. Hans Hermann Nissen's (care must be taken not to confuse him with Hans Heinz Nissen - 1906-1969) contemporaries must be mentioned: Wilhelm Rode, Rudolf Bockelmann, Josef Herrmann and - later - Hans Hotter, Paul Schöffler and Ferdinand"Frantz. In this proud gallery, Nissen assumes a special position as genuine "cavalier baritone". As far as the warmth of his vocal style, the art of musical phrasing, the ability of perfect legato singing is concerned, Nissen was unequalled. Tue voluminous, noble tone, the exemplary pronunciation and the spiritual concept of the roles - these were the preconditions that predestined him to become the perfect Wagner baritone. His rendition of "Amfortas' lament" - one example of his mastery as a Wagner singer - has been preserved. It is an interpretation still regarded as exemplary. Hans Hermann Nissen's recordings are extremely rare and are much-sought collector items. With the present collection of opera and lieder recordings an attempt has been undertaken to present a comprehensive documentation of this eminent artist. Hans Hermann Nissen was born in Danzig. Initially set on a business career, he staned his vocal studies in Berlin in 1916 with the famous oratorio and lieder singer Joachim Raatz-Brockmann. On terminating his studies he started touring as a concert artist in 1920 and made his stage debut in 1924 at the Berlin Volksoper. One year later he was engaged to appear at the Bavarian State Opera in Munich, remaining a member of the ensemble for four decades - until 1967, in fact. A rare instance of artistic allegiance, indeed. Especially during the Clemens Krauss era (as of 1937) he was acclaimed in performances that have become part of operatic legend. Nissen was a leading Wagner singer but also sang Verdi roles (Philipp), and Cardinal Borromeo in Pfitzner's "Palestrina". As Barak in Strauss' "Frau ohne Schatten" he had full opportunity of displaying his vocal and histrionic talents. His Mozart roles - Almaviva and Don Alfonso - are also cherished memories of older opera goers. Nissen was truly a grand seigneur of the operatic stage, unsurpassed· in the characterization of cavalier and royal roles. He made numerous guest appearances abroad ,i.e. Covent Garden,· the Paris Grand Opera, the houses of Stockholm, Brussels, Antwerp and Barcelona. Between 1936-38 he appeared at La Scala; in th 1938/39 season he was a member of the Metropolitan ensemble. His most famous role was Hans Sachs, which he sang in 1936 in Salzburg under Arturo Toscanini and in 1943 at the Bayreuth Festival. After World War II he sang in various German cities and continued making guest appearances. Apart from his stage career he was also an acclaimed lieder and oratorio singer. Nissen was a favorite with the Munich opera and concert public. When he bade farewell to the stage, as the Minister in Beethoven's "Fidelio", honors and acclaim aplenty were bestowed on him.
Amazon, iTunes, Spotify & Co.