Lebendige Vergangenheit - Günther Treptow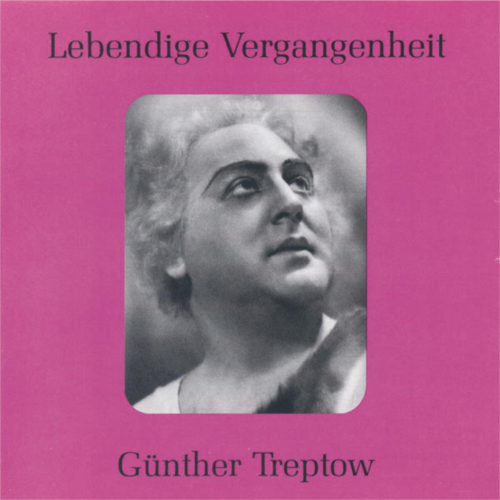 | | |
| --- | --- |
| Artist | Günther Treptow |
| Title | Lebendige Vergangenheit - Günther Treptow |
| | |
| Release Date | Tuesday, September 5, 2006 |
| Genre | Classical > Choro |
| | |
| Composers | Ruggiero Leoncavallo, Richard Wagner, Wilhelm Kienzl, Rubin Goldmark, Eugen D´Álbert, Franz Lehar, Giacomo Puccini |
| Songwriters | Günther Treptow / Orchester des Deutschen Opernhauses Berlin, Günther Treptow / Marie-Luise Schilp / Orchester des Deutschen Opernhauses Berlin, Günther Treptow / Rundfunk - Sinfonieorchester Leipzig, Günther Treptow / Trude Eipperle / Symphonieorchester des Hessischen Rundfunks, Günther Treptow, Günther Treptow / Symphonieorchester des Hessischen Rundfunks, Günther Treptow / Berliner Rundfunk-Sinfonie-Orchester, Günther Treptow / Das große Wiener Rundfunkorchester, Günther Treptow / Paul Kuen / Orchester des Bayerischen Rundfunks |
| | |
| Copyright | © Preiser Records |
| Country | AUSTRIA |
Update Required
To play the media you will need to either update your browser to a recent version or update your
Flash plugin
.
Promotion Text
Lebendige Vergangenheit
Treptow, am 22. Oktober 1907 in Berlin geboren, studierte zunächst als Bariton bei dem italienischem Bassisten Giovanni Scarneo, begann aber seine Karriere am 20. Mai 1936 schon in der hohen Tenorpartie des Italienischen Sängers im "Rosenkavalier" am Deutschen Opernhaus Berlin. Es war für den aufstrebenden Nachwuchssänger nicht einfach, sich gegen die Konkurrenz so namhafter Tenöre wie Hans Fidesser, Valentin Haller und Gotthelf Pistor durchzusetzen. Da traf es sich günstig, daß man in Wien die großen Zeiten der Volksoper der Ära Rainer Simons wieder aufnehmen und eine Konkurrenz zur Staatsoper etablieren wollte. 1938/39 sang Treptow im dann so genannten "Opernhaus der Stadt Wien" Florestan, Pedro, Stolzing, Max und den Jörg in Bittners "Bergsee". Im Sommer 1939 war er als Tannhäuser bei den Münchner Festspielen und in der Zoppoter Waldoper zu hören und gehörte seitdem zur Prominenz deutscher Wagnertenöre. Clemens Krauss erkor ihn zu Münchens neuem Wagnerhelden. Treptows damit sicher scheinende große, internationale Karriere wurde durch den Kriegsausbruch entscheidend beeinträchtigt. In der ersten Berliner Opernvorstellung nach dem Kriege am 5. September 1945 sang er den Florestan und wirkte am Wiederaufbau des Berliner Opernlebens mit, bis er 1947 an die Wiener Staatsoper engagiert wurde. Von hier aus begann seine um fast zehn Jahre verzögerte Weltkarriere als Wagnersänger. 1949 gab er in Bologna und Venedig seine ersten Gastspiele in Italien und wurde 1950 von Wilhelm Furtwängler für die "Ring"-Aufführungen an die Mailänder Scala verpflichtet. Im Februar 1951 debütierte er als Siegmund an der Metropolitan Opera in New York und war der erste Sänger, den die Wagnerenkel für das "Neue Bayreuth" verpflichteten. In den nächsten zehn Jahren hat er zwischen Moskau und Paris, Buenos Aires und London an allen großen Bühnen der Welt seine Heldenpartien dargestellt. Am 30. Juni 1973 beendete er seine Sängerkarriere; am 28. März 1981 ist er in Berlin gestorben. Treptow was born on October 22nd 1907 in Berlin and began his vocal studies as a baritone under the Italian bass, Giovanni Scarneo. His career opened on May 20th 1936 at the Deutsches Opernhaus in Berlin already in the high tenor role of the Italian Singer in "Der Rosenkavalier". It was quite a challenge for this aspiring newcomer to establish himself within the company of such well known tenors as Hans Fidesser, Valentin and Gotthelf Pistor in the Wagner repertoire. It was a lucky coincidence that right then the Volksoper in Vienna was planning to re-evoke the great days under the direction of Rainer Simons and enter into competition with the State Opera. At the Volksoper, Treptow was heard in 1938/39 as Florestan, Pedro, Stolzing, Max and Jörg in Julius Bittner´s "Bergsee". In the summer of 1939 he sang Tannhäuser at the Festivals in Munich and Zoppot, where he proved himself as one of the leading German Wagner tenors. Clemens Krauss chose him to become Munich´s new Wagner hero. Like so many great international careers, however, which were on the outset at that time, Treptow´s, too, was greatly hampered by the outbreak of World War II. In the first post-War operatic performance in Berlin on September 5th 1945 he sang Florestan and helped greatly to re-establish Berlin´s operatic life in until his engagement with the Vienna State Opera in 1947. It was Vienna which became the starting point for Treptow´s international career as a Wagner singer after a delay of almost a decade. In 1949 he made his first guest appearances in Italy in Bologna and Venice, in 1950 Wilhelm Furtwängler secured his services for the "Ring" cycle at La Scala of Milan. In February 1951 he made his debut at the Metropolitan Opera in New York as Siegmund and was the first singer in "New-Bayreuth" to be engaged by Wagner´s grandsons. For the next ten years he was celebrated in the heroic repertoire at all major international opera houses from Moscow to Paris and Buenos Aires to London. On June 30th 1973 he bade farewell to the stage and died in Berlin on March 28th 1981.
Amazon, iTunes, Spotify & Co.