Lebendige Vergangenheit - Gotthelf Pistor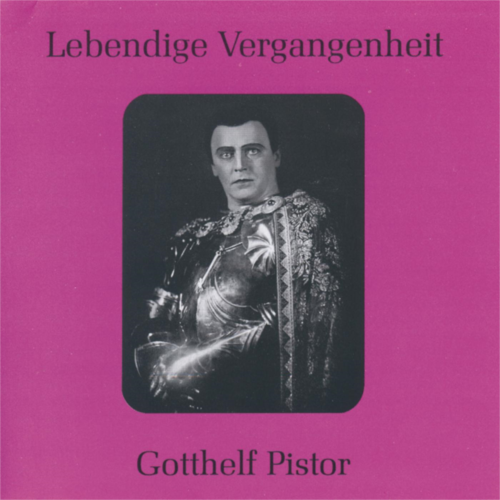 | | |
| --- | --- |
| Artist | Gotthelf Pistor |
| Title | Lebendige Vergangenheit - Gotthelf Pistor |
| | |
| Release Date | Sunday, September 3, 2006 |
| Genre | Classical > Choro |
| | |
| Composers | Richard Wagner, Giacomo Meyerbeer, Eugen D´Álbert |
| Songwriters | Orchester der Staatsoper Berlin / Margarete Pfahl-Wallerstein / Gotthelf Pistor, Orchester der Staatsoper Berlin / Gotthelf Pistor, Gotthelf Pistor / Orchester der Staatsoper Berlin, Sigismund Pilinszky / Orchester der Staatsoper Berlin, Orchester der Staatsoper Berlin / Margarete Bäumer / Gotthelf Pistor, Meta Seinemeyer / Sigismund Pilinszky / Orchester der Staatsoper Berlin, Ruth Jost-Arden / Sigismund Pilinszky / Orchester der Bayreuther Festspiele / Herbert Janssen |
| | |
| Copyright | © Preiser Records |
| Country | AUSTRIA |
Update Required
To play the media you will need to either update your browser to a recent version or update your
Flash plugin
.
Promotion Text
Lebendige Vergangenheit
Einer der eigenartigsten Tenöre der Bayreuther Festspielgeschichte ist der Tannhäuser der Jahre 1930/31. Es ist heute ungemein schwierig, anhand der spärlichen Tondokumente dieses Sängers ein repräsentatives Bild seiner stimmlichen Mittel zu gewinnen, denn die "Tannhäuser"-Aufnahme aus Bayreuth wurde zu einem Zeitpunkt gemacht, da sich Pilinszky in einer längeren Stimmkrise befand, aus der er sich nur sehr schwer wieder erholte. Pilinszky wurde am 19. Dezember 1891 in Budapest geboren. Nach Ausbildung in Budapest, Leipzig und bei Konrad von Zawilowsky in Berlin debütierte er mit 22 Jahren an der Nationaloper in Budapest. 1928 wurde er an die Berliner Städtische Oper engagiert, wo er als Johann von Leyden in der Meyerbeer-Oper "Der Prophet" große Erfolge feiern konnte; später gehörte er zum Ensemble der Kroll-Oper, die unter Klemperer jene skandalumwitterten Wagner-Inszenierungen herausbrachte, die nach 1933 als grobe Entartungen und künstlerische Frevel gebrandmarkt wurden. Siegfried Wagner sah in Pilinszky den Ideal-Tannhäuser für Bayreuth; die schlanke, bewegliche Erscheinung dieses intensiven Darstellers wurde durch eine durchschlagskräftige Stimme von ganz eigenartigem, gläsern-metallischen Timbre ergänzt. In der relativ kurzen Zeit seines künstlerischen Höhepunktes muss Pilinszky in der Tat ein hoch­ interessanter Tenor von ganz anderer Art als die herkömmlichen, schwergewichtigen Wagner-Sänger gewesen sein. Er wurde durch Gastspiele in Wien, London, Chicago und San Francisco international bekannt; nach 1933 kehrte er in seine Heimat zurück und sang wieder an der Budapester Oper. Nach Beendigung seiner Sängerkarriere lebte er in Budapest als Gesangspädagoge; zahlreiche renommierte ungarische Sänger sind aus seiner Schule hervorgegangen. Er starb am 9. Dezember 1957 in Budapest. One of the strangest tenors in the history of the Bayreuth Festival was the singer of • Tannhäuser in the years of 1930/31, Sigismund Pilinszky. The scarce sound documents of this singer hardly give a satisfying picture of his art and the Tannhäuser recording from Bayreuth was made at a time when Pilinszky found himself in the middle of a vocal crisis from which he recovered only with great difficulty. Pilinszky was born on December 19th 1891 in Budapest. After having studied in Budapest and Leipzig and with Konrad von Zawilowsky in Berlin he made his debut at the National Opera Budapest at the age of 22; There, he enjoyed great succes, parti­ cularely as Johann von Leyden in "Le Prophete" by Meyerbeer. Later he belonged to the Ensemble of the Berlin Kroll Oper, where he took part in those "scandalous" Wagner productions conducted by Otto Klemperer which after 1933 were stigmatized as degeneration and violation of the arts. Siegfried Wagner found in Pilinszky an ideal Tannhäuser for Bayreuth; the slim and agile physical appearance of this intense actor was paired with a penetrating voice with a strange glassy-metallic timbre. During the relatively short time of his artistic prime Pilinszky indeed must have been a highly interesting alternative to usually, both physically and vocally, "heavy weight" Wagner­ tenors. Guest performances in Vienna, London, Chicago and San Francisco made him internationally famous. After 1933 he returned to his home country and appeared at the Opera House of Budapest. After having terminated his singing career he lived in Budapest where he taught singing - numerous renown Hungarian singers have emerged from his school. Sigismund Pilinszky died on December 9th 1957 in Budapest.
Amazon, iTunes, Spotify & Co.